This is one dreamy dessert. Soft almond cake slices are served simply with fresh mango and sweetened whipped mascarpone cream.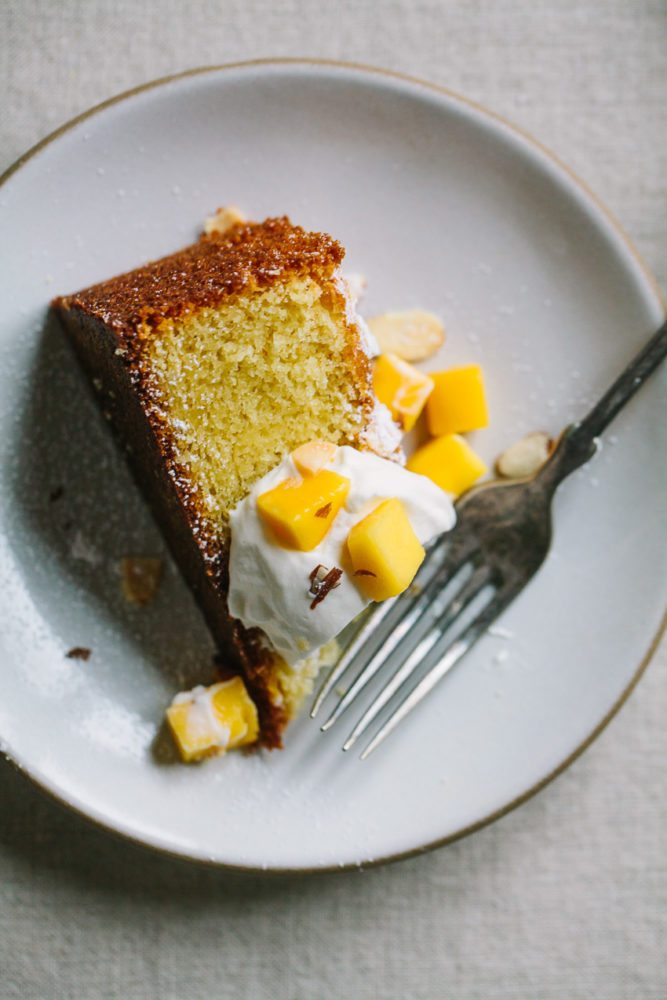 While mangos are never in season in Michigan, I do love when the ones from Mexico begin popping up in stores. I'm particularly fond of the Ataulfo variety with it's deep golden skin and a flesh much less fibrous than other varieties. Freshly cut sweet mango cubes and a dollop of mascarpone cream makes a dreamy dessert; add a slice of this light and spongy almond cake and it's even better.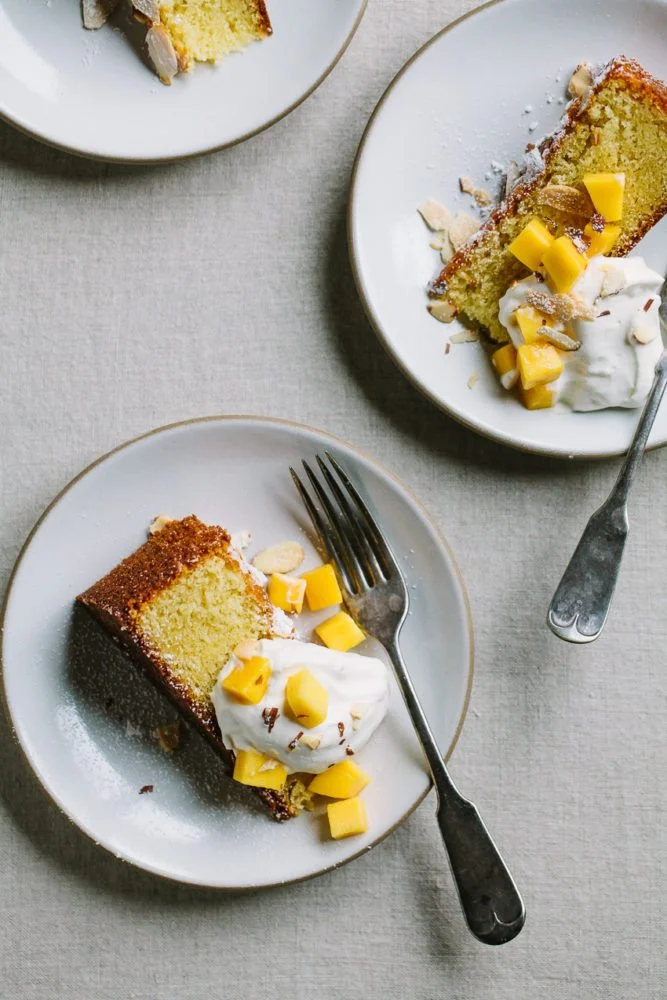 Crumbled almond paste is woven into the batter for a deep almond flavor, and despite being made with whole grain spelt flour, this cake takes on an incredibly soft and light texture. It's the same cake I used in my strawberry almond torte that I posted a few years ago. This mango version is a tad simpler yet still feels special and would make a sweet ending to any spring or Easter brunch menu.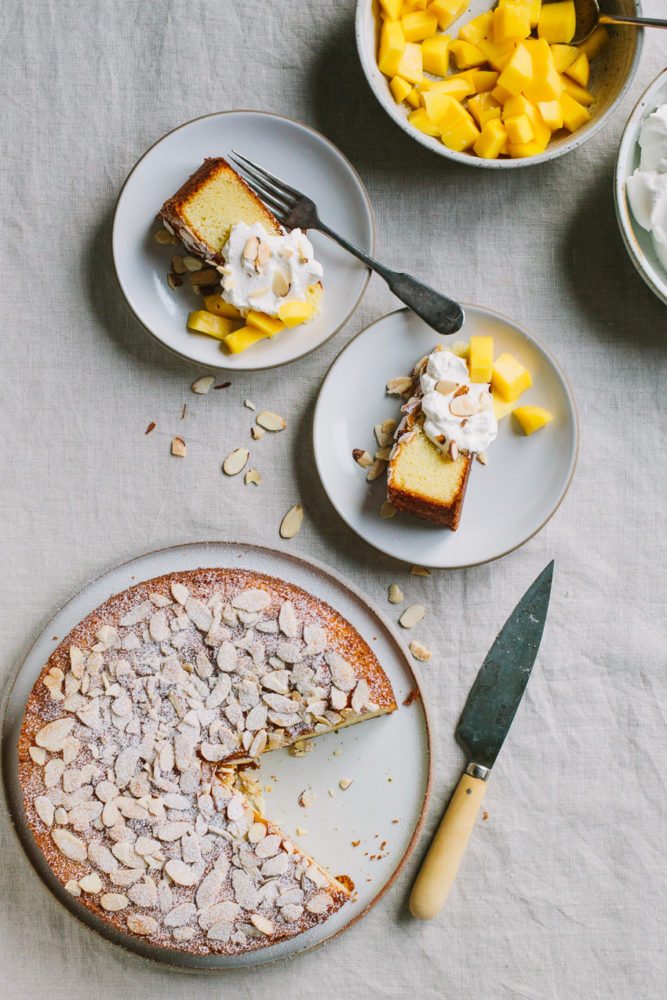 Click here for the whipped mascarpone cream recipe.
Print

Almond Cake with Mango and Whipped Mascarpone Cream
---
ALMOND CAKE
1 cup

cake flour

1½ teaspoons

baking powder

1/4 teaspoon

fine grain sea salt

7 ounces

almond paste (broken into pieces)

3/4 cup

evaporated cane juice sugar

1 cup

unsalted butter (softened (

2

sticks))

1 teaspoon

vanilla extract

6

eggs (at room temperature)
MASCARPONE CREAM
Click the link above for the recipe.
ASSEMBLY
3

ripe mangos (diced)
toasted sliced almonds (for garnish)
confectioner's sugar for dusting (optional)
---
Instructions
ALMOND CAKE
Preheat the oven to 325 F.
Butter a 9 x 3-inch round cake pan or spingform pan. Use a cake pan to trace a 9-inch diameter circle out of parchment paper. Carefully cut the circle slightly smaller than outlined and place in the cake pan. Lightly butter the parchment paper.
Sift flour, baking powder, and salt together into a medium sized mixing bowl.
In a stand mixer, mix together the almond paste and sugar on medium speed until almond paste takes on a crumbly texture. Transfer to another bowl and set aside.
Using the stand mixer again, beat the butter until creamy and lightened. Add the almond paste mixture and the vanilla. Cream together until light and fluffy, about 3 minutes. Add eggs one at a time, beating after each addition and scraping down sides of the bowl when necessary. Add flour mixture half at a time, mixing until just combined.
Pour batter into prepared pan and bake for 55-60 minutes, until a toothpick inserted in the center comes out clean. Allow cake to cool for 15 minutes and then turn cake out of the pan onto wire cooling rack and remove the parchment paper.
Serve each slice of cake with a dollop of mascarpone cream, a scattering of diced mango, a sprinkle of sliced almonds, and a dusting of confectioner's sugar.
MASCARPONE CREAM
Click the link above for the recipe.
Emily Nelson
Emily is a self-taught cook and photographer with a passion for creating beautiful and wholesome food for the family. Her focus is mostly on whole grains, fresh and seasonal produce, and naturally raised meats. When she's not in the kitchen, she loves playing music and spending time with her husband and two children.