A Bite of Britain: Rhubarb Crumble
Ruby Moukli about her journey to like rhubarb, and her go to rhubarb crumble recipe.
By Ruby Moukli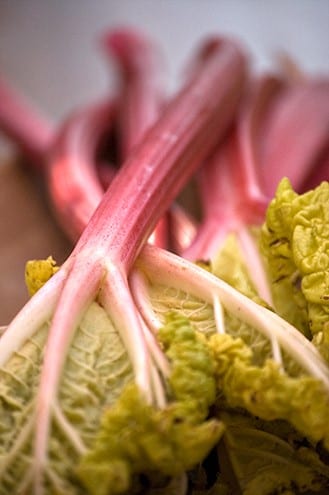 It took me a long time to come around to rhubarb. Growing up, my mom and brother were big fans, but rhubarb, like Marmite, seems to be a 'love it or hate it' kind of thing. I couldn't quite get my head around the tart, smoky flavour and the soft, almost slimy consistency. It wasn't until I moved to Britain, where rhubarb desserts abound in summer months, that I was eventually won over.
Looking a little like overgrown rainbow chard, rhubarb is a surprising plant. Unlike chard, rhubarb's foliage is poisonous, so only the pinkish-red stalks are eaten. And, although technically a vegetable, it is popularly classified as a fruit due to its uses, which are primarily in desserts.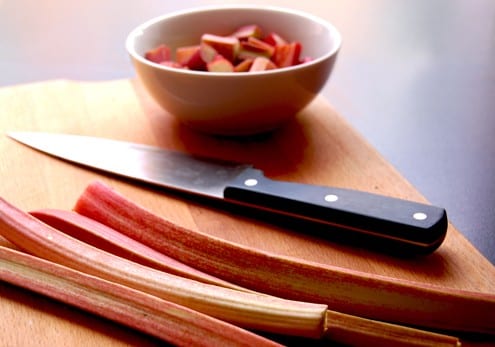 I wrote about my first experiment with rhubarb in my blog two years ago. At the time I liked it but my children didn't. Since then, they too have come around. This year, my son not only grew and harvested rhubarb at school, but begged me to bring some home and make a crumble with it. And, right on cue, that same week our neighbour Tony came around with a generous bunch from his garden. It seems my fate was sealed.
The recipe I use is from Abel and Cole (a British organic produce delivery company), written by their in-house recipe developer Rachel de Thample, who is also a cookbook author and fellow American ex-pat. It came to me in one of the weekly info sheets that accompany their fruit and veg bags and has become my go-to crumble recipe, as I love the inclusion of ground almonds. I changed it only slightly, adding cinnamon (which works especially well when using apples as the supplemental fruit) increasing the fruit content and changing the flour to a healthier spelt.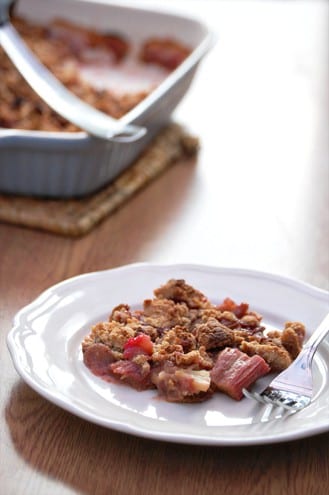 A Bite of Britain: Rhubarb Crumble
Author:
Ruby Moukli, adapted from Rachel de Thample
Ingredients
150g (1¼ cups) spelt flour
75g (1/3 cup) sugar, plus 30g (3 Tbsp) more
1 tsp ground cinnamon
Pinch of salt
100g (4 oz) cold butter, cut into pieces
100g (3/4 cup) ground almonds, divided
500g (1 lb) rhubarb, sliced in inch-long segments
250g (1/2 lb) peeled and diced apples
Instructions
Preheat oven to 200C/400F/Gas Mark 6.
In a medium bowl, mix the flour together with 75g (1/3 cup) sugar, cinnamon and salt.
Rub the butter into the mixture with your fingertips until it all looks like breadcrumbs.
Mix in half of the ground almonds and set aside.
Sprinkle the remaining ground almonds over the bottom of a medium oven dish.
Mix the rhubarb and apples together in a bowl with 30g (3 Tbsp) sugar, then spoon the mixture evenly into the oven dish.
Cover the fruit with the crumble topping and bake for about 30 minutes or until nicely browned.
Serve warm as is, or with vanilla custard or ice cream.
Ruby Rasa
Curious about her British mother's seemingly bizarre love of cheese & onion sandwiches, Ruby moved to England and discovered an island full of people eating them. She now lives among them, works as a freelance writer and photographer and yes, occasionally enjoys a good cheese & onion.