Visiting outdoor food markets is one of the best ways to find authentic foods on your travels. Explore 7 tasty markets in Bangkok.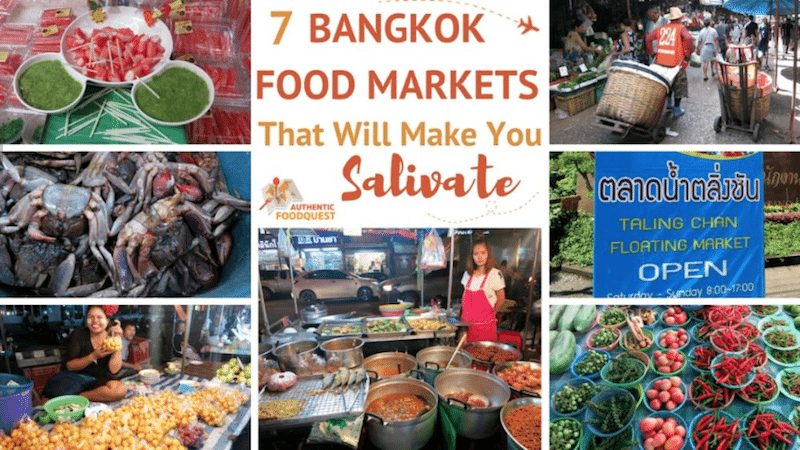 While in Thailand capital, you will find a market for everyone's taste. From antiques, flowers, clothes and bazaar markets, there is no lack of choice.
In many of Bangkok markets, food is an integral part of the market experience. So which markets are best to visit for local produce and delicious foods? With such an overwhelming choice of markets, we selected the Top 7 Bangkok markets to visit for food that will make you salivate.
1. Khlong Toei: One Of The Largest Bangkok Markets
One of the largest Bangkok market is Khlong Toei (also spelled Khlong Toey) and is a must visit for every food and market fan. It is safe to say that many of the meals you will eat in Bangkok have their origins at this famous Bangkok market.
Located near a sea port and in one of the biggest slum areas, this market is animated and always crowded. Beyond the immense size, what makes this market so attractive are the low prices. Chefs, cooks and locals frequent this market for the fresh products and low prices on the raw meat, seafood, vegetables, fruits and more.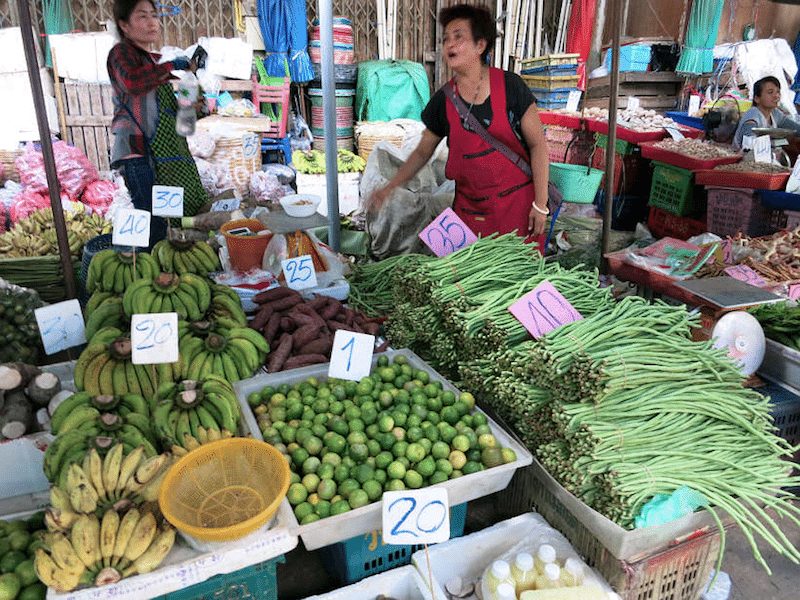 This market is huge and you can easily spend a whole morning walking through the aisles. This market is also very raw…and authentic. This means that there are some corners of the market that are bloody and filled with different cuts of raw meats. One particularly disturbing section was seeing the live turtles for sale for food.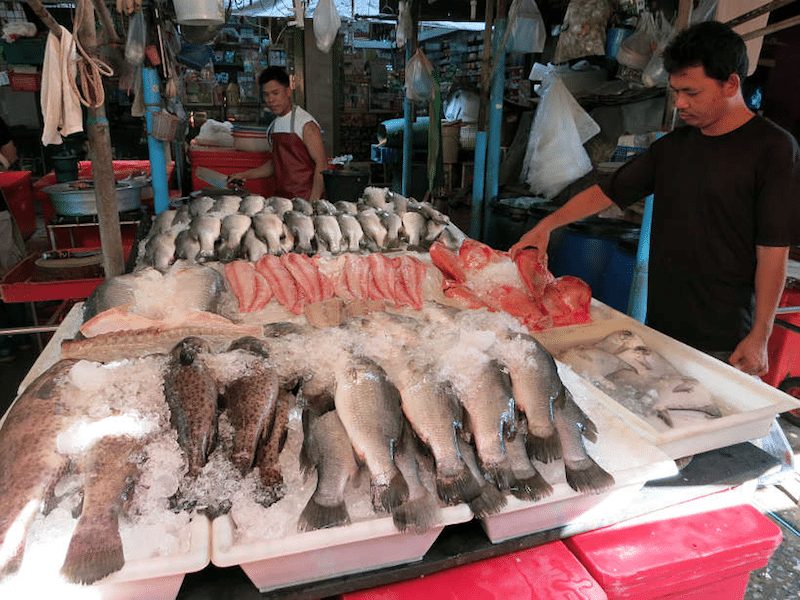 Fresh products are the main attraction. There are a couple of food stalls, where you should sample Thai dumplings, grilled meats, Thai sweets and more.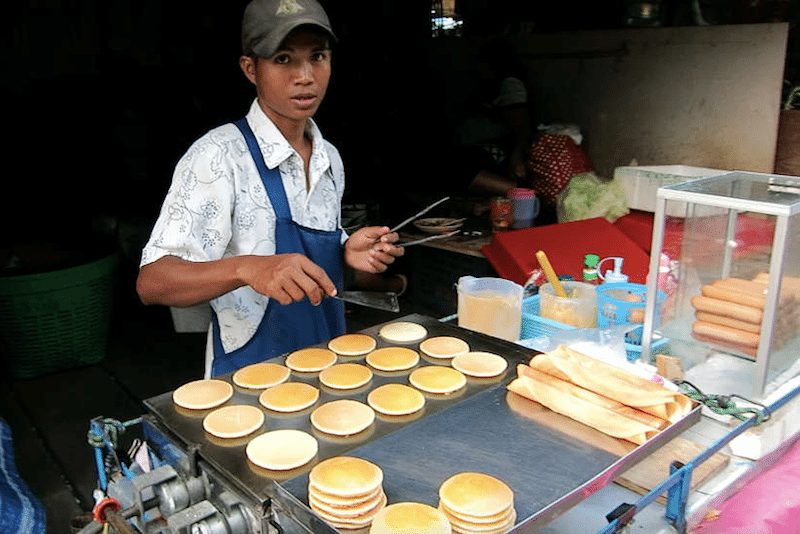 One of the unique particularities of this market are the "porters." You will notice men walking around with big baskets and dollies ready to carry all the fresh produce, meats and seafood that have been bought in bulk.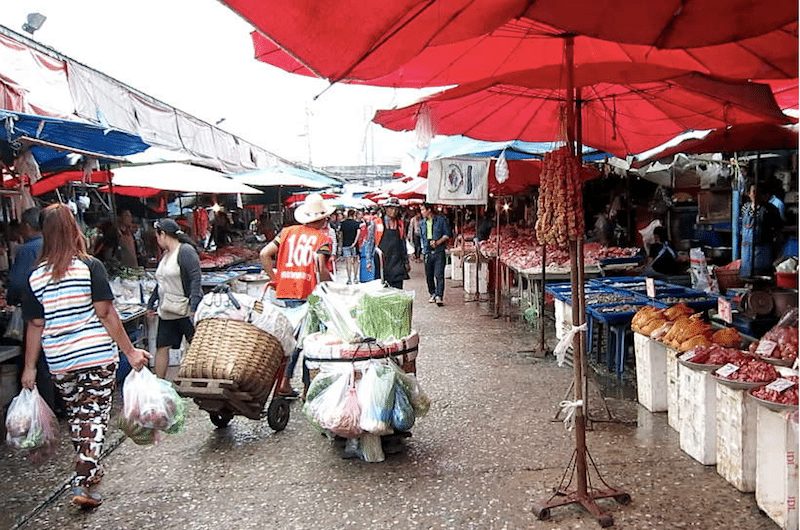 Not heavily frequented by tourists, this market is worth the trip for food lovers or visitors looking to get off the regular tourist path.
Hours:
This market never sleeps. Merchants and restaurateurs usually come around 1 am in the morning to buy goods for their shops, but the market stays open all day for people who want to get their daily cooking supply.
How To Get There:
It is located on Rama IV Road. The closest MRT station is Khlong Toei which is about 10 mins walk from the market.
Take the exit marked Khlong Toei market. Then walk east on Rama IV Road for ten minutes until you reach the large intersection of Rama IV and Narong Road. The market will be on your right-hand side.
Alternatively, you can take a bus going east along Rama IV road across the street from the MRT station (numbers 45, 46, 72, 102, or 107).
Authentic Food Quest Tips: Go early in the morning since the main action starts at 6am and lasts until noon.
2. Wang Lang Market – A Local Foodies Paradise
Across the Chao Phraya River from the Grand Palace, is one of Bangkok's best markets for food. Taking the river boat to get there is part of the experience you don't want to miss.
Wang Lang Market is a sensory overload. Down long and tight alleys, you will find street foods and restaurants taking up every available open space. Take in the different smells and whiffs of new flavors. Be tempted by the colorful foods that will grab your attention. Don't be afraid to take a sample or buy little snacks. Taste the full experience of Wang Lang market.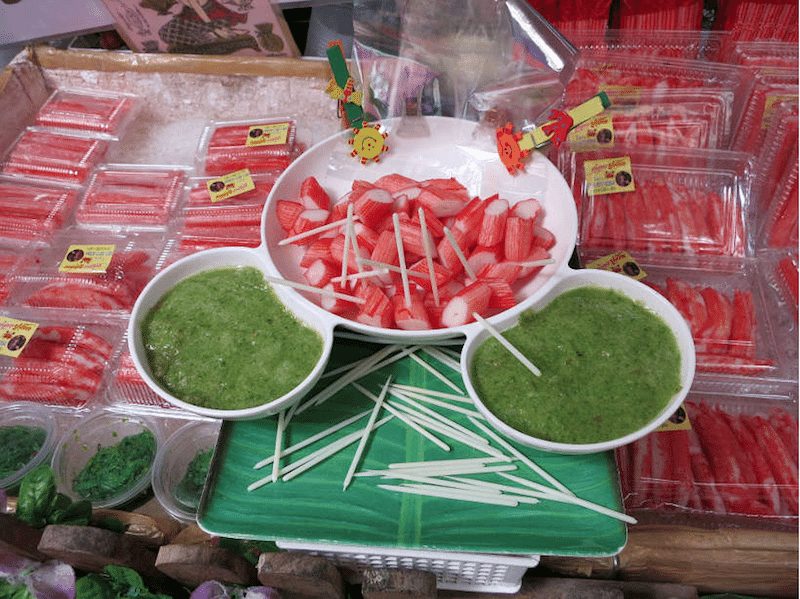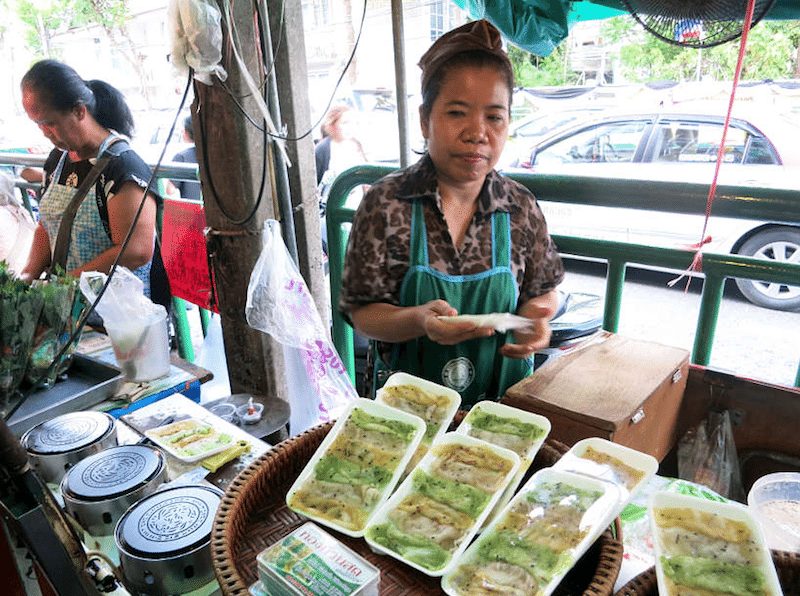 Competing for your attention will be vendors from the clothing stalls selling the latest Thai fashions, trinkets and accessories. Keep meandering your way through the alleys as you digest all the delicious foods. When you are ready for a "pick-me-up" drink, treat yourself to a Thai iced coffee or tea.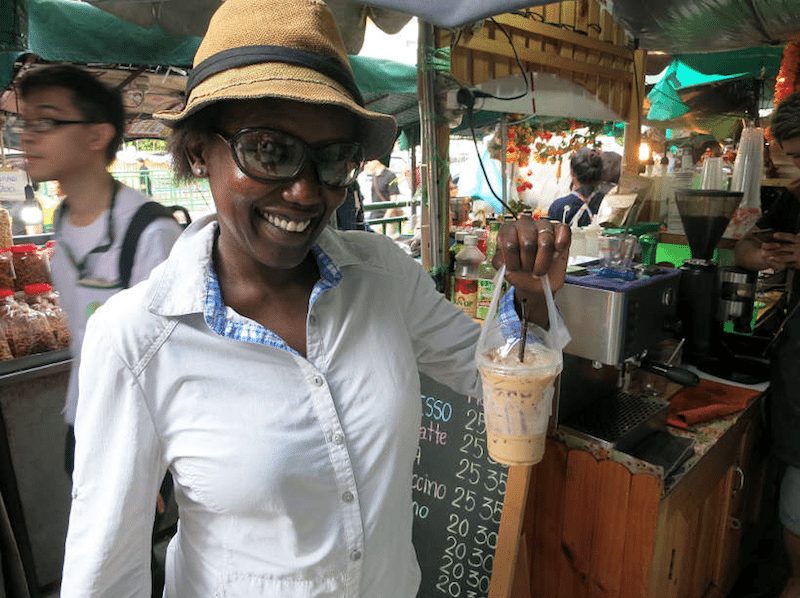 Hours: 
Wang Lang market is a daytime market, open from about 8 am to 6 pm daily.
How To Get There:
Take the boat that crosses the Chao Phraya river at Tha Chang the pier directly across the Grand Palace. Get off at Wang Lang pier. You will land right in the middle of the market.
Authentic Food Quest Tips: Go with an open stomach and adventurous mindset and snack your way through the market.
3. Floating Markets: A spotlight on Taling Chan Floating market
Like most of Floating markets in Bangkok, Taling Chan market is located on the periphery of the city while still accessible from downtown Bangkok. If you haven't tried the bus system in Bangkok, going to Taling Chan will provide you an opportunity to ride the rustic buses. If the bus isn't your thing, call an Uber for a good half hour ride to the market from downtown Bangkok.
Taling Chan market is a lovely small market with many food vendors selling fruits, juices, desserts, and meals. The section of the market that is a floating market is at the end of the main street. There you will find a long patio on the water overlooking a few boats preparing food for breakfast and lunch.
We found the food section away from the water to be more interesting than the floating market part. This is really more like a few boats cooking and selling food on water.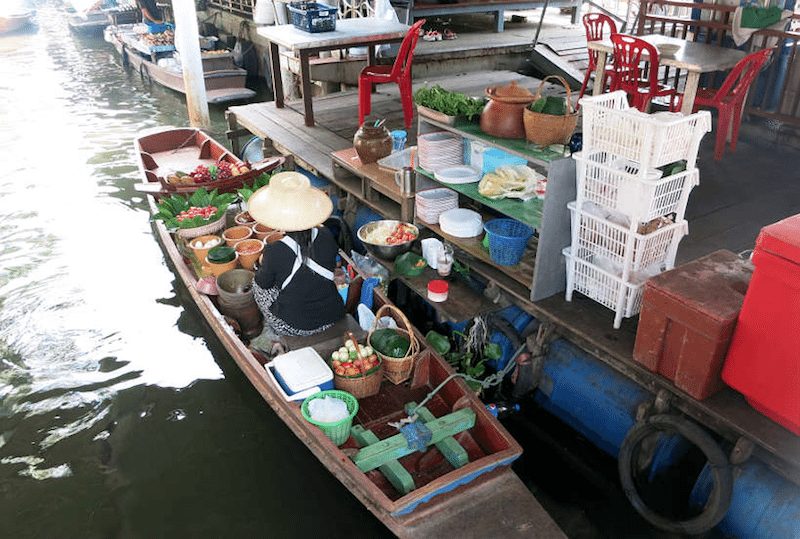 After asking locals and doing research online, it seems that floating markets around Bangkok are more of tourist events and there are in fact no "traditional" floating markets around Bangkok and more. Traditional floating markets means that Thai locals would come to sell their products directly from boat to boat.
We liked Taling Chan because of the variety and quality of the food presented. In addition, the market also has a fair share of locals shopping and eating at the market. Unlike other floating markets around Bangkok, this one caters to the local market.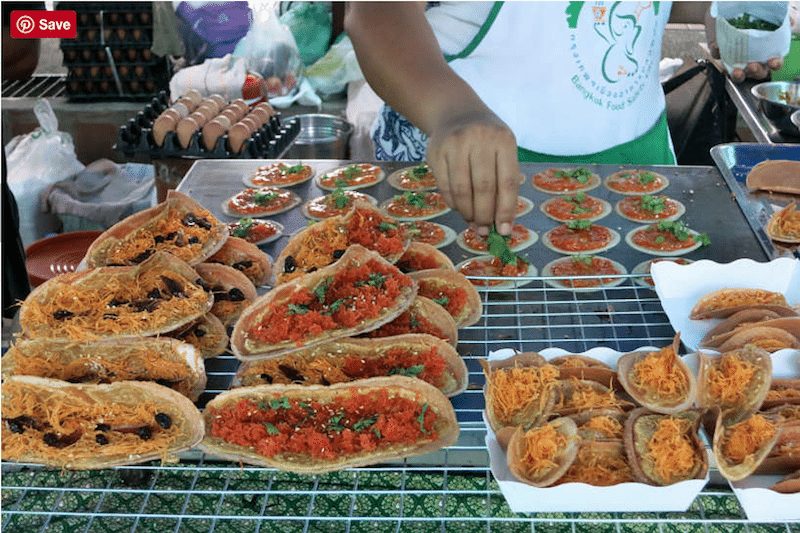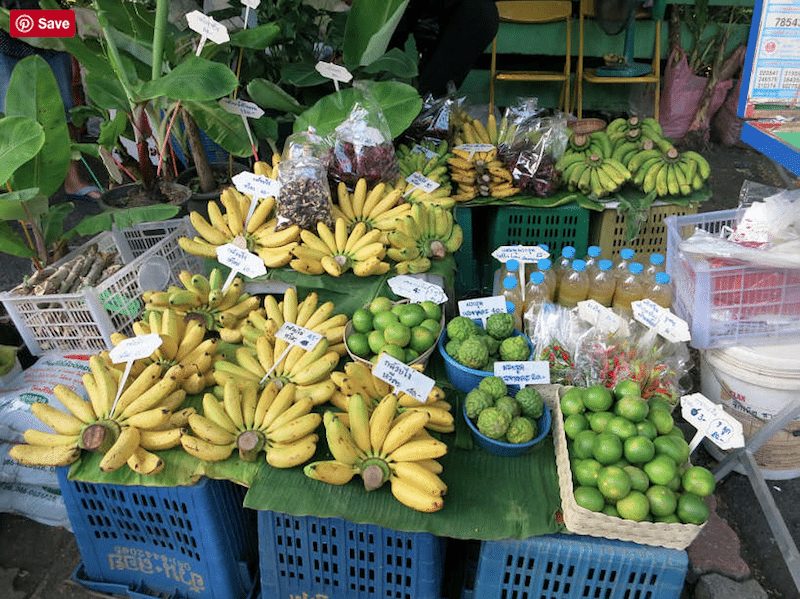 Hours:
Taling Chan market is a weekend market, open Saturday and Sunday only from about 8 am to 5 pm.
How To Get There:
From the Siam BTS Station, take the bus 79 going west that will drop you off on Chak Phra Road, a few meters or steps away from the Taling Chan market entrance on your left. On the way back, wait in front of the 7-Eleven store on Chak Phra road to be picked up by the same bus.
Authentic Food Quest tips: It is a nice market to go to at the end of the morning and to enjoy a leisurely lunch near the water.
You can get yourself tempted to another floating market close to Bangkok called Bang Nam Phueng Floating Market. It is located in Bang Kachao the green land of Bangkok. We were told it has been modernized and it is also not a traditional floating market.
The reason we are mentioning it is that it is in a very nice green part of Bangkok and a lot of eateries abound around. You can rent a bike at the pier and stroll leisurely to the market.
For more information, check Mark Wiens article Bang Nam Phueng Floating Market.
4. Bangkok Chinatown Market
No exploration of Bangkok markets is complete without a trip to Chinatown (referred to among locals as Yaowarat). Bangkok's Chinatown has a history older than the city itself and is today a renowned street food destination and the local favorite dining district.
During the day is the best time to explore the Chinatown. Make your way through the long winding alleys and discover secrets of Yaowarat market. You will see a lot of Chinese products and vendors selling dry foods, mushrooms, tea leaves and more. Make sure to sample local Chinese tea and check out the surprising products for sale.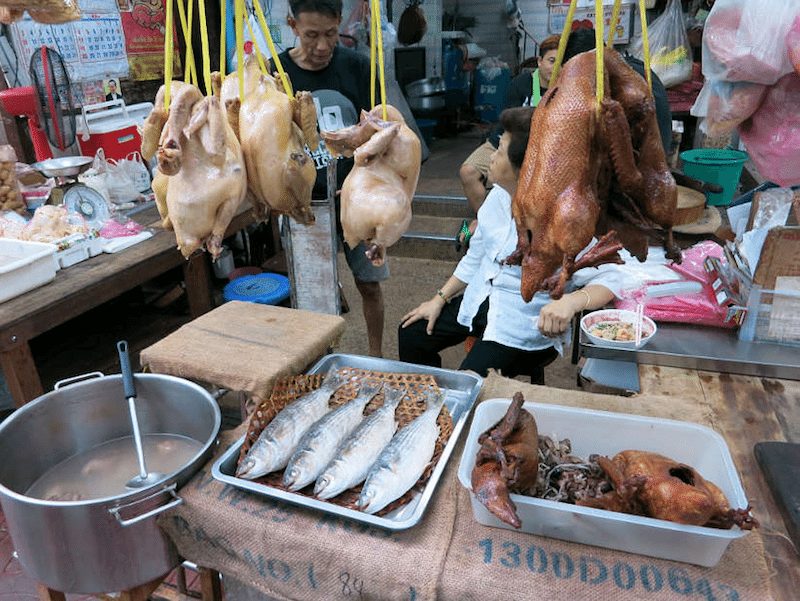 Chinatown is packed at night and that is when the street food vendors make their appearance. The energy level multiplies and the streets are bustling with locals and visitors having dinner on small street side tables and chairs.
Be sure to stick around after 6pm and catch the action as well as a delicious meal.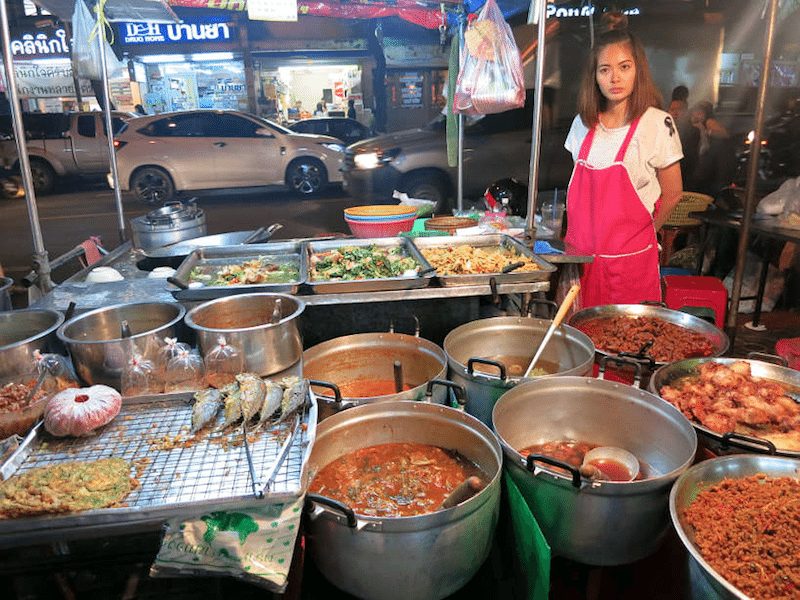 Hours:
Visit the market during the day before 6pm and experience street food at it's best after nightfall.
How To Get There:
Take the bus (number 4) to Chinatown or the MRT to the last station Hua Lamphong, and then walk about 10 mins west to Chinatown or hire a tuk-tuk to drop you off in Chinatown.
Authentic Food Quest Tips: Avoid visiting the market on Mondays because street vendors are not allowed to operate. If you want a guided experience around Chinatown, consider taking a tuk-tuk food adventure of Bangkok at night with Expique. You may read our review of a food tour in Bangkok at night.
5. An Hidden Gem: Local Bangkok Market in Sathorn District
Close to where we were staying in Bangkok was a local market that we frequented called "Marine Market." This market is an example of a typical market you may find in many of the local neighborhoods.
These markets are great for getting fresh fruits and vegetables at affordable prices. It is good to keep these types of markets in mind because the grocery stores often have a limited selection of fruits and vegetables and they are oftentimes significantly more expensive.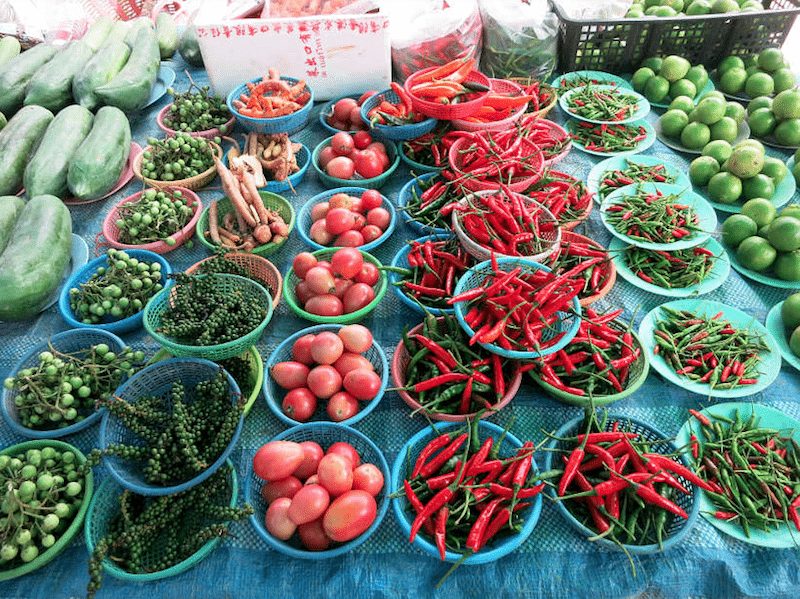 The vendors at these markets also sell hot foods. With the markets opening in the late afternoon, they are a great place to pick up dinner to go, or even eat at the market. If you want to eat Bangkok food like a local, eat at the market closest to where you're staying.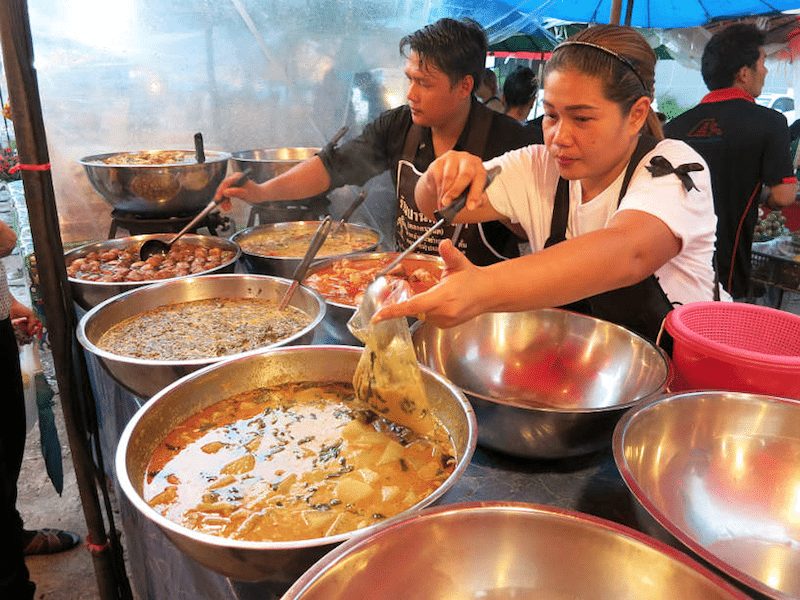 Just like the fruits, the food is also very fresh. For example at the Marine market, you can buy fresh fish and have it prepared on the grill, while you wait.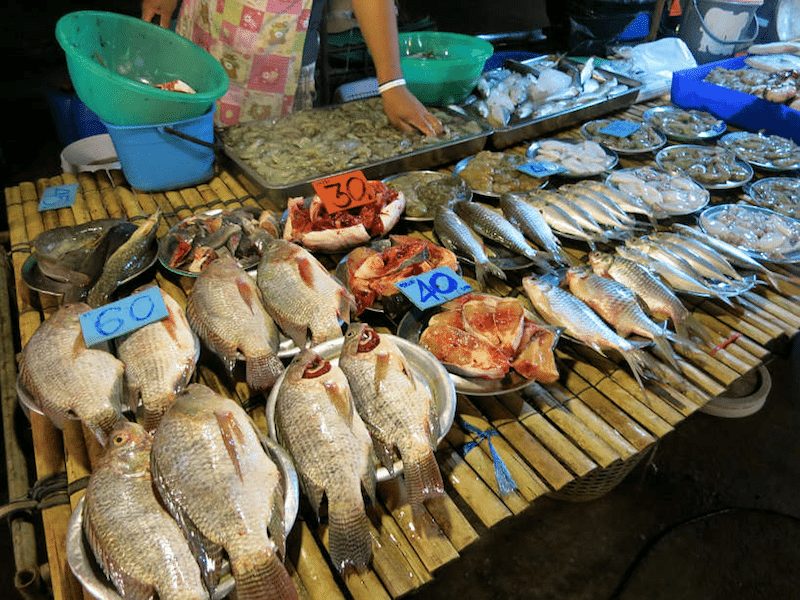 Hours:
Open on Monday, Wednesdays and Fridays from about 3 pm to 8 pm.
How To Get There:
Located across the supermarket Tops Market On Yen Akat Road in Sathorn, this market isn't easily accessible by public transportation. The bus (number 22) will drop you off near Thanon Chan & Nang Linchi Road a couple minutes away walking from the market. The closest MRT station is Lumphini and the closest BTS station is Chong Nonsi both about ½ hour walk away. Best will be to hire a taxi or tuk-tuk from there.
Authentic Food Quest Tips: Find the local market in the neighborhood where you are staying and enjoy fresh fruits, produce and food at very affordable prices.
6. Bang Rak Food Market in Silom Foodie Neighborhood
Bang Rak neighborhood also known as Silom District, has many interesting places to eat and is a must visit for any food lovers. Bang Rak market is one stop to make on your food trail in Bangkok. Although Bang Rak market is not a famous food market, it is a very local market in a historical part of Bangkok.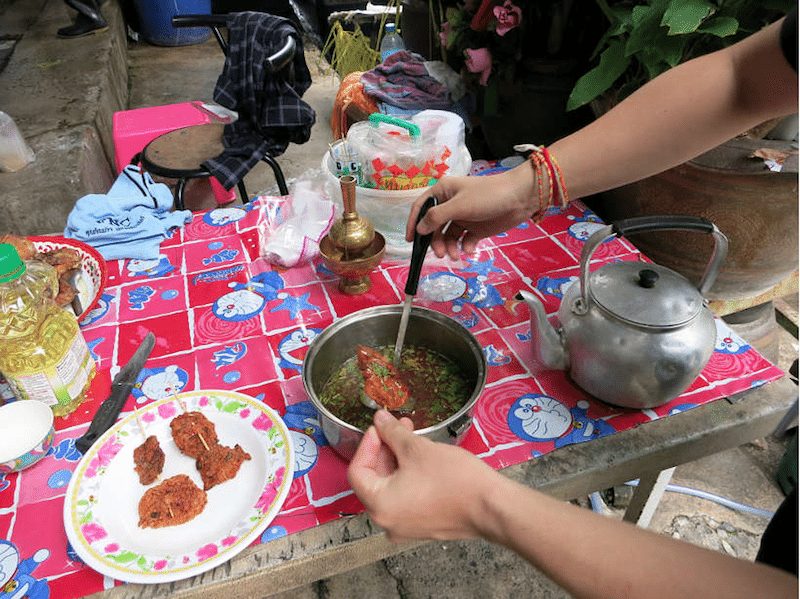 Located near the BTS station, you will find grilled pork and sticky rice vendor waiting for you at the bottom of the BTS stairs.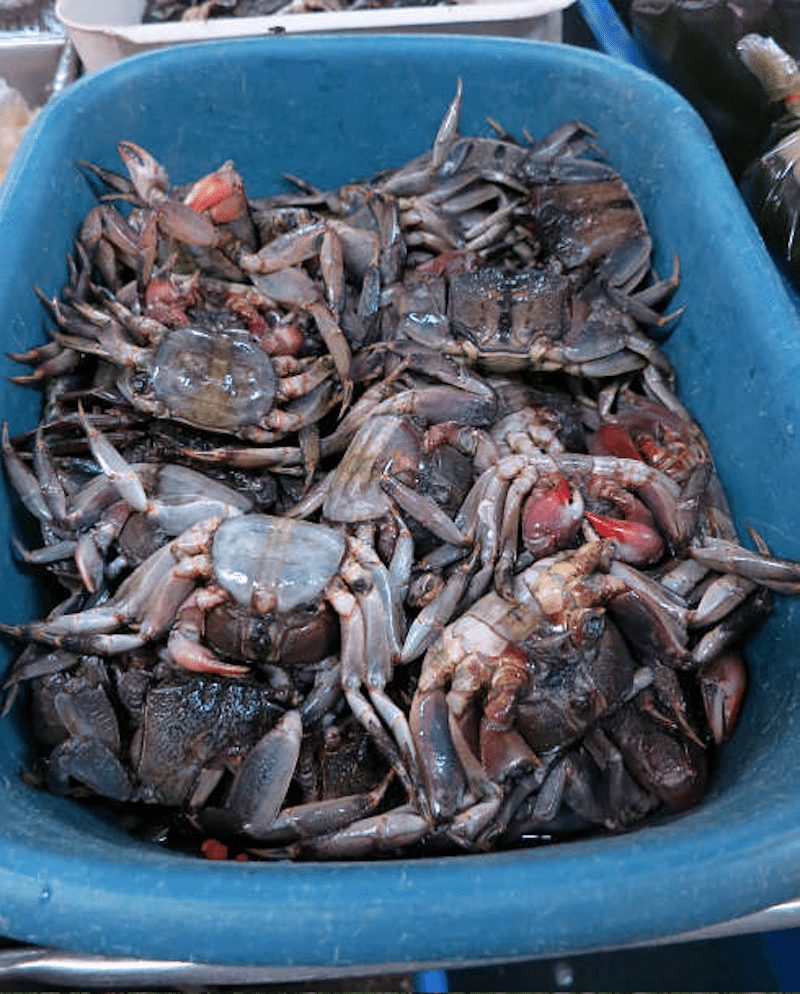 At this market you will find fruits, vegetables, seafood and meat vendors. There we tried some of the best crab cakes in Bangkok. It is a nice market to shop for products. Inside you have the wet market while outside you find food vendors and restaurants.
It is best to be there in the morning as the stall close early for lunch.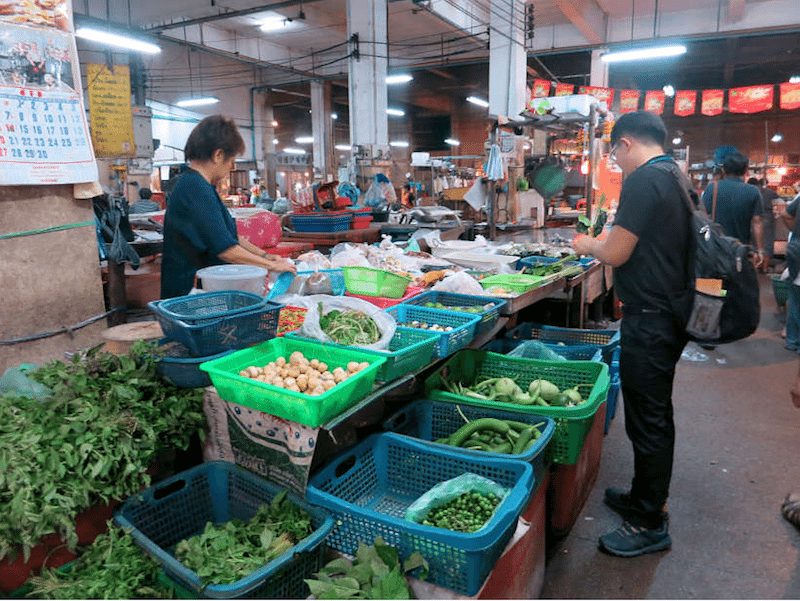 Hours:
Open from about 6am to noon daily.
How To Get There:
The market is located behind the Shangri-La in Bang Rak. It is within walking distance from the BTS station Saphan Taksin. Take the stairs down exit #3 and turn left heading north into Charoen Krung Road. You will find the entrance of the market on your left after about 10 mins walk.
Authentic Food Quest Tips: Charoen Krung Road is a foodie haven. Take the time to stroll the street, stop by the Chinese inspired medicine shops and sip some local energetic juices. If you like roasted duck, a lunch at Prachak Pet Yang is a must-do.
7. Chatuchak Market: One of the Biggest Weekend Markets
One of the best markets for souvenirs, clothes, crafts and more, is the Chatuchak Weekend Market. It is a huge market and it really caters to visitors and tourists. It is not the best market for the food, but since you will probably be visiting the market for gifts, don't miss out on sampling some of the local delights.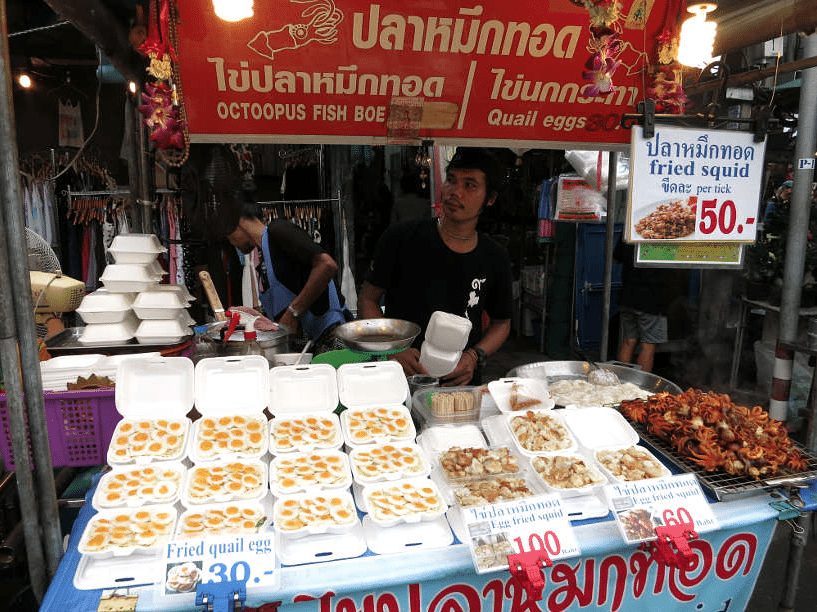 You can easily spend a full day shopping at this market. When you get hungry, let yourself be tempted by the multiple vendors you will see around. Eat grilled squid or octopus and finish your snack with fresh fruits.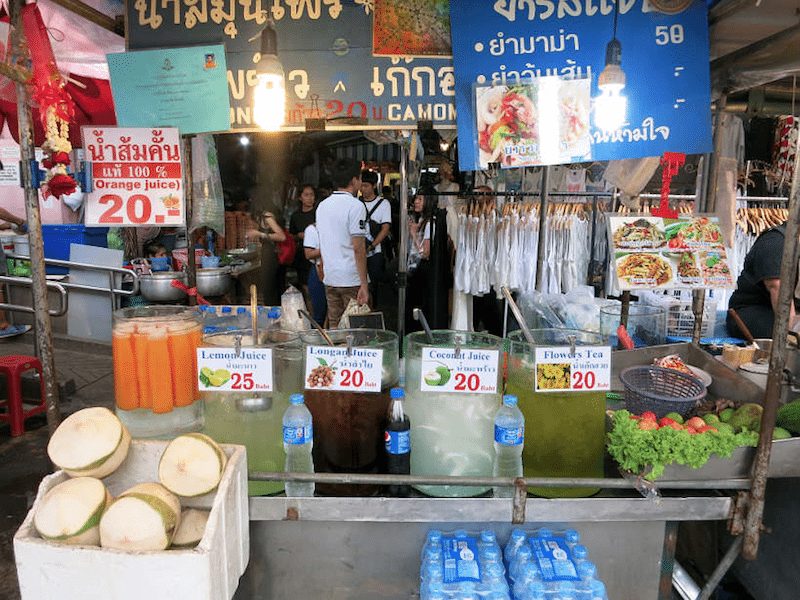 After all the walking you will at Chatuchak market, you are bound to get thirsty. Before you leave the market, try any of the delicious juices you will see around. One thing to keep in mind is to haggle. The prices at the market are "tourist prices."
Don't be afraid to test your negotiation skills and bargain for better prices.
Hours:
Saturday & Sunday, opened from 9am -6pm; Friday, opens at 6pm until about midnight.
How To Get There:
Take the BTS to Mo Chit station or the MRT to Chatuchak station.
Authentic Food Quest Tips: While the market is officially opened on Saturday and Sunday, you can shop on Friday evening, avoiding the weekend crowds and daytime heat.
In Summary:
Bangkok markets offer a wonderful scene to get a taste of Thailand.
With the 7 Bangkok food markets highlighted here, you will have a chance to try the diverse Thai cuisine. It will also give you the opportunity to observe the local Thai food culture.
From floating markets to wet markets, and the Bangkok night markets, you will get a well-rounded experience of the types of markets you will encounter in Bangkok. The video below takes you through a culinary journey of some of the markets.
Authentic Food Quest
Rosemary Kimani and Claire Rouger are co-founders of Authentic Food Quest. They traded in their corporate jobs in 2015 to eat their way around the world. Starting out in South America, they traveled to Argentina, Uruguay, Chile and Peru and spent 6 months discovering the authentic foods in the region. Their mission is to inspire people to travel through authentic food. They have just published their first book on Amazon: Authentic Food Quest Argentina: A Guide to Eat Your Way Authentically Through Argentina. Join them on their quest as they eat their way through the Philippines, Vietnam, Thailand, Cambodia and Malaysia in Southeast Asia.