A wonderful family tradition from the Van Wye Family takes on a new form in 2020. Read more recipes from the Wildwood Family Cookbook here. Bon Appetit!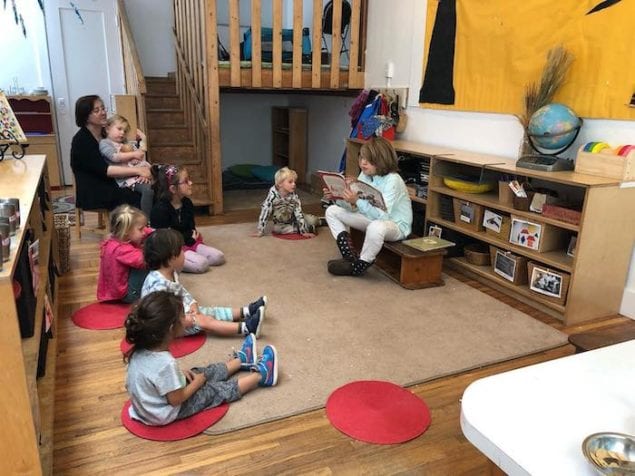 "I used to contribute recipes to Bon Appetit magazine, back when it existed.  This is one that was never published there, but which I had intended to include in a series of simple pleasures. Making Latkes together is part of the most meaningful annual tradition Meyer and I have – since 2012, Meyer and I would make an enormous batch of these Latkes and bring them to his preschool to serve to all of the teachers and children while I read them the book "Latkes, Latkes, Good to Eat." But, in 2015, I passed the mantle to Meyer. Even though he had graduated preschool, we would leave elementary school one day every December and go back to his old preschool, First Years. We'd still prepare and serve fresh hot latkes to all the kids and teachers, but beginning when he was five years old, Meyer would now be the one to read the wonderful storybook to all of the children. This year, 2020, is the very first time in eight years we're unable to continue this tradition, due to Covid. So we thought sharing the recipe with the kids and teachers of his new school, Wildwood, could be a stand-in for this annual tradition he is missing so much. I've also attached a photo of Meyer reading to the kids from last year, as well as a drawing he made of myself and him when he was tiny. We still have this drawing hanging on our wall. – Mark Van Wye"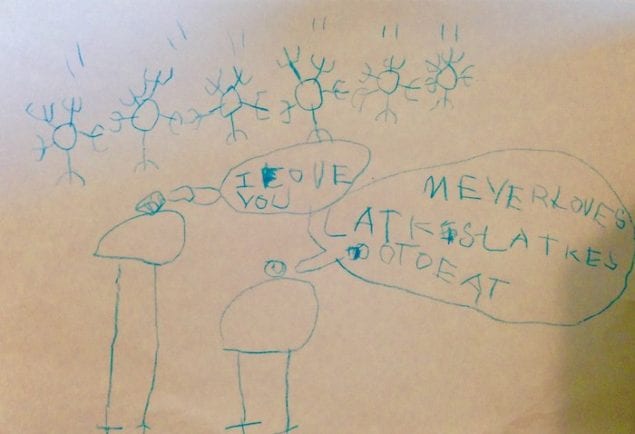 The Van Wye Family's Latkes
Ingredients
3

potatoes

1

onion

1

tbsp

matzo meal

1

egg

1/2

tsp

salt

1/4

tsp

baking powder

1

pinch

pepper
Instructions
Note: Can double or triple, but if so, and if onions are smallish, consider adding an extra onion.

Peel potatoes. Grate potatoes. Put grated potato in colander. Grab one handful of grated potato at a time and squeeze out over empty section of sink. Place squeezed potatoes into a large bowl.  Repeat until you have squeezed out all potatoes.

Peel onion. Grate. Put grated onion in colander. Grab a handful and squeeze out in sink, then deposit in bowl with the potatoes. Repeat with rest of grated onion.

Crack egg into the large bowl and break and beat roughly with a fork.  Sprinkle on the dry ingredients.  Mix all contents of bowl thoroughly with both hands.

Heat a large skillet well full with either all peanut oil or a mixture of peanut and canola oil (ok to use all canola oil if worried about peanut allergy kids). Get oil very very hot.

Grab a handful of mixture and form into a small snowball. Hold over sink or an empty workbowl and press your hands together firmly to form a patty while at the same time squeezing out most of the liquid. Place gently into the oil.
Repeat
You should be able to fit about five or more latkes in your skillet.  When edges turn a warm brown color, flip using a slotted spoon. When both sides are sufficiently browned, remove with slotted spoon, shaking excess oil back into skillet, and place on many thicknesses of paper towels to drain.
Serve hot
Just before serving, sprinkle a generous amount of ground fleur de sel on the top of the latkes.  They are best with the majority of the salt on the outside rather than the inside.
Keep overnight
Batter can keep overnight; it may turn bluish-grey, but will be just as delicious when fried.  Cold latkes should be warmed in an oven or convection oven, but not in a microwave, and should be drained a second time on paper towels before serving.