A tender, slow cooked lamb curry and potatoes is flavored with bold spices for a delicious hearty combination. Enjoy with flatbread.
By Rinku Bhattacharya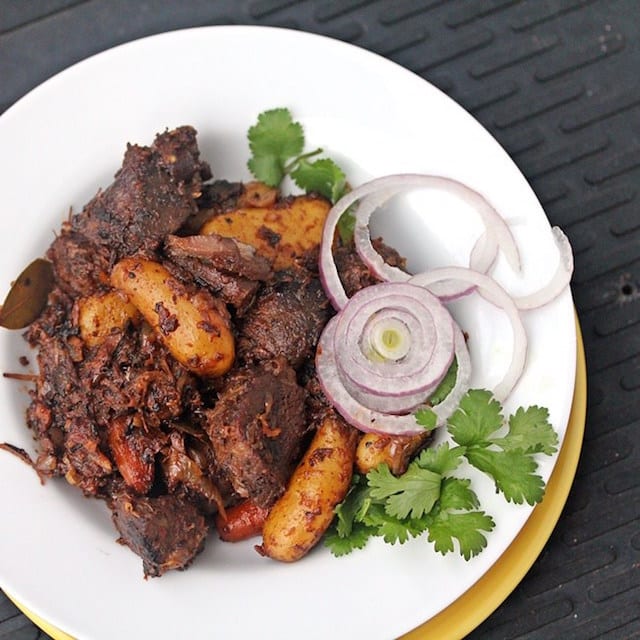 This dish is inspired by a signature class Bengali preparation of goat meat called Kosha Mangsho or Slow Cooked Mutton Curry.
What I have done to this dish is to add fingerling potatoes, baby carrots and use lamb instead of the goat meat.
The term kosha refers to a cooking process, called bhuna in Hindi, which essentially refers to slow cooking without any additional water creating a gorgeous and bold marriage of meat and the spices. There is no place for rushing with this dish, the process is not terribly complicated, but you need at least 3 hours to let this dish cook to a state of tender, well-seasoned perfection. In fact, this is one of the few dishes that is the highly regarded domain of the home cook and is reserved for very special occasions. Also, typically the Kosha Mangsho is served with luchi or the Bengali puffed fried flatbreads, other flat breads are fine, but pairing this with rice is usually a faux pas.
This dish consists of a fairly potent level of heat from both black peppercorns and some red cayenne pepper and all the beautiful fragrant spices such as cinnamon, cardamom and cloves that are so perfect for this time of the year.

Slow Cooked Lamb Curry
A tender, slow cooked lamb curry and potatoes is flavored with bold spices for a delicious hearty combination. Enjoy with flatbread.
Author:
Rinku Bhattacharya
Ingredients
4 tablespoons oil (such as mustard or grape seed oil)
1 teaspoon turmeric
1 teaspoon red cayenne pepper
3 medium sized red onions, diced (about ½ pound)
1 teaspoon sugar
2 to 3 cloves garlic, minced
1 and ½ tablespoon ginger, grated
2 and ½ pounds of cubed leg of lamb
A few pieces lamb on the bone (optional, but helps with the flavor)
1 and ½ teaspoon salt or to taste
1 teaspoon freshly ground black pepper
2 tablespoons yogurt
2 to 3 pods of green cardamom, gently bruised
2 to 3 bay leaves
8 to 10 cloves
1 large (3-inch) stick cinnamon, broken into smaller pieces
10 to 15 fingerling potatoes (note, if you are using organic potatoes, you can leave the skin on)
2 medium sized carrots, peeled and cut into 2 inch pieces
1 tablespoon clarified butter (ghee)
1 small red onion, thinly sliced
Optional Garnish
Sliced Red Onions
Chopped cilantro
Instructions
Heat the oil in a large pot (this should have a good tight fitting lid) and add in the turmeric and the red cayenne pepper. This first step adds a nice deep color to the gravy and to the aromatics as we saute them.
Add in the onions and sugar and saute for about 5 minutes, until the onions are wilted and soft.
Add in the garlic and ginger and mix well and cook for about a minute.
Add in the lamb and stir well.
Add in the black pepper, cardamom, bay leaves, cloves, cinnamon and mix well.
Cover the meat and let the meat cook on low heat for about 1 hour, stirring occasionally if desired. Remove the cover and you should the lamb much softer in a fairy saucy gravy.
Add in the potatoes and the carrots and mix well and cook for another 30 minutes.
Remove the cover, at this point, the meat and vegetables should be tender. If you feel there is some extra fat in the pan at this point you can skim some of it out.
Increase the heat just a notch to allow the sauce to begin evaporating.
In a separate pan heat the clarified butter (ghee) and begin cooking the sliced onions and cook them for about 15 minutes, until the onions are fairly golden. These onions will impart a sweetness to the sauce.
Stir in the onions and mix well. You should have meat of an almost reddish chocolate hue, coated in a onion spicy thick sauce with tender potatoes and carrots for company.
Turn off the heat.
Garnish with sliced onions and cilantro and serve with your preferred choice of bread.