Originating from the famous Harry's Bar in Venice, this raw beef carpaccio is served with oranges and a vinaigrette to be the quickest, and most delicious antipasto you can make.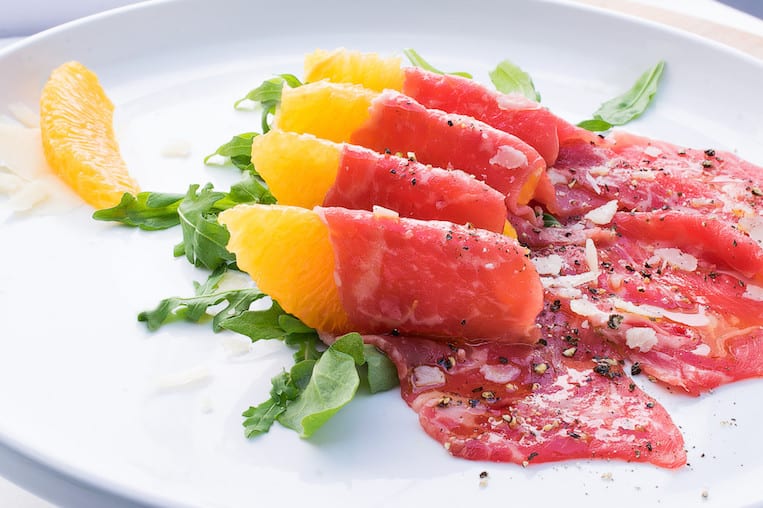 Carpaccio is thin slices of raw beef and was first presented at the famous Harry's Bar in Venice. Yes, the same place that also created the Bellini – how is that for a culinary legacy, having two legendary recipes on the same menu?
The traditional dish is made with the freshest paper-thin beef sirloin or tenderloin and served with just a squeeze of lemon, some black pepper and shaved Parmesan as an appetizer course. I took this idea and made a recipe with an orange and lemon vinaigrette marinade, but wrapping orange segments with the meat, a play on the recipe of Prosciutto and melon. Since there is no cooking involved, this is the fastest starter your can make… I like to call it "the Italian sushi".
A couple of tips and alternatives:
– One classic version of this raw meat appetizer sprinkles capers or caper berries on top of the meat just before serving. It's a great, salty addition to the dish.
– If you really want the thinnest possible slices of beef – and you haven't gotten your butcher to do it for you, you can freeze the beef just slightly, and then cut it as thin as a stamp. Just throw the steak in the freezer for about 45 minutes and you should be good to cut it super-thin with a very sharp knife.
See Also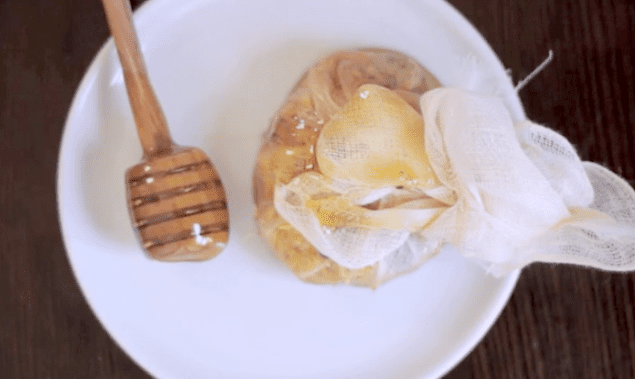 – Yes, tuna is a perfectly acceptable version of the classic beef carpaccio. So is salmon carpaccio.
– As far as sauce is concerned, please don't. The beef and the parmesan are the stars here!
– A drizzle of olive oil isn't a bad way to top things off.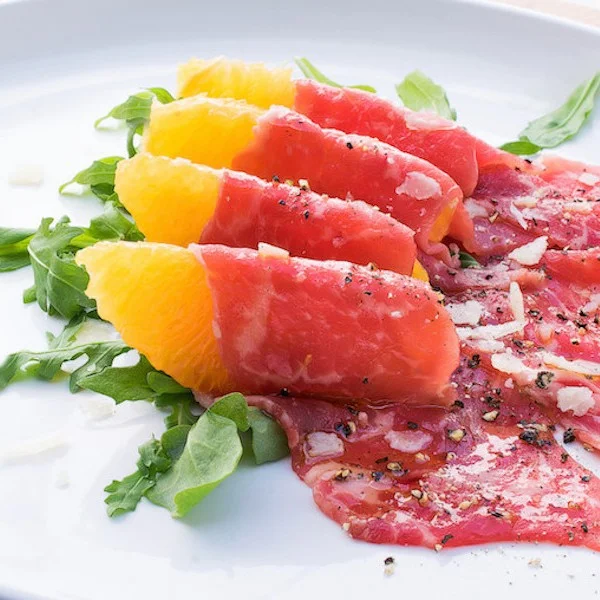 How to Serve Beef Carpaccio
Francesco Romano
The classic invention from Harry's Bar in Venice gets a gentle and respectful upgrade, to make a lighter and even more elegant appetizer.
Course
Antipasto, Appetizer
Ingredients
2

high quality NY steaks sliced very thinly

tell your butcher it's for Carpaccio

1/4

cup

freshly squeezed lemon juice

1/4

cup

freshly squeezed orange juice

2

large oranges

segmented

1/2

cup

fresh arugula

Shave of Parmigiano-Reggiano to taste

1/4

cup

extra-virgin olive oil

Sea salt and black pepper to taste
Instructions
Trim off the very top and bottom of the orange with a sharp knife.

Set the fruit on end, and cut the skin from its flesh, beginning at the top and following the curves.

Cut out each section of the fruit by inserting the blade of the knife between the flesh and the membrane on each side.

The wedges should come out easily, leaving the membrane intact. Transfer on a dry plate, discard excesses of juices, cover and refrigerate of 30 minutes.

In a medium bowl combine the lemon and orange juices, add olive oil, salt and pepper and whisk together.
ASSEMBLING
Place the arugula on a serving plate. Dip each slice of meat in the vinaigrette and then wrap it around the orange segment leaving some of the meat flat on the plate.

Repeat this step until you fill the large serving plate.

Drizzle the rest of the vinaigrette on top the meat and orange segments.

Shave and crumble some Parmigiano-Reggiano, grind some black pepper, and sprinkle with sea salt flakes to taste.
Keyword
appetizer, beef, carpaccio, italy
Francesco Romano
Francesco Romano was born in Italy and has been living in America for 25 years. As he was growing up, he didn't realize how spoiled he was! He had two of the best chefs under one roof, his Grandmother Nonna Sara and his Mama Francesca, who made every meal from scratch and with love. As a kid, he would sit in the kitchen for hours while these women were hard at work, enjoying the smells, tasting when he was allowed to, and later being put to work to help make fresh pasta. It wasn't until he was a grown up, moved away from home, and later to America, that he understood how much of his heritage and family centered on food. It was always made from fresh seasonal ingredients and was a way of bringing the family together to savor, to bond and to enjoy. On his site you WILL find mouth-watering food that is fresh, easy and authentic Italian, straight from my Mama's kitchen to yours.