They're hearty, beautiful and will please a group of vegetarian and meat-eaters. Dig into a plate of these colorful lentil tacos.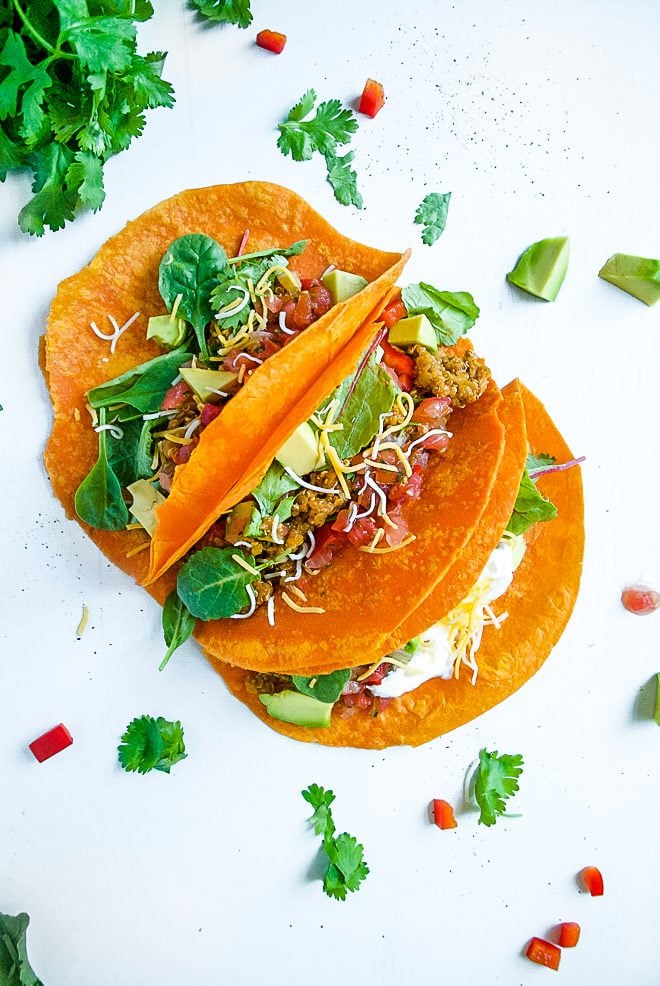 Friends, this recipe is too good not to share. These Lentil Tacos are so delicious and simple to make. Perfect for the vegetarian or non-vegetarian too.
A good friend of mine made it for my family one day and we all LOVED it. She said I could share her recipe so here it is! So flavorful and yummy! Did I mention it's kid approved too?! My toddler loved this dish. It seems that Mexican-style dishes are a favorite in our home.
Be sure to serve with your favorite taco toppings! Trader Joe's has some really great options for different tasting tortillas (habanero lime, which really aren't spicy, is what we used) that go really well with this dish. Fresh cilantro, diced red bell peppers and onions, sour cream, guacamole, salsa and cheese take this dish to the next level.
BONUS: Lentils are rich in fiber, protein and other minerals such as folate, magnesium and iron. All of this is beneficial to your health, especially your digestive and heart health. You can't go wrong with incorporating more lentils into your diet. Plus, they provide a "meaty" flavor which makes this a good and cheaper alternative to different meat options.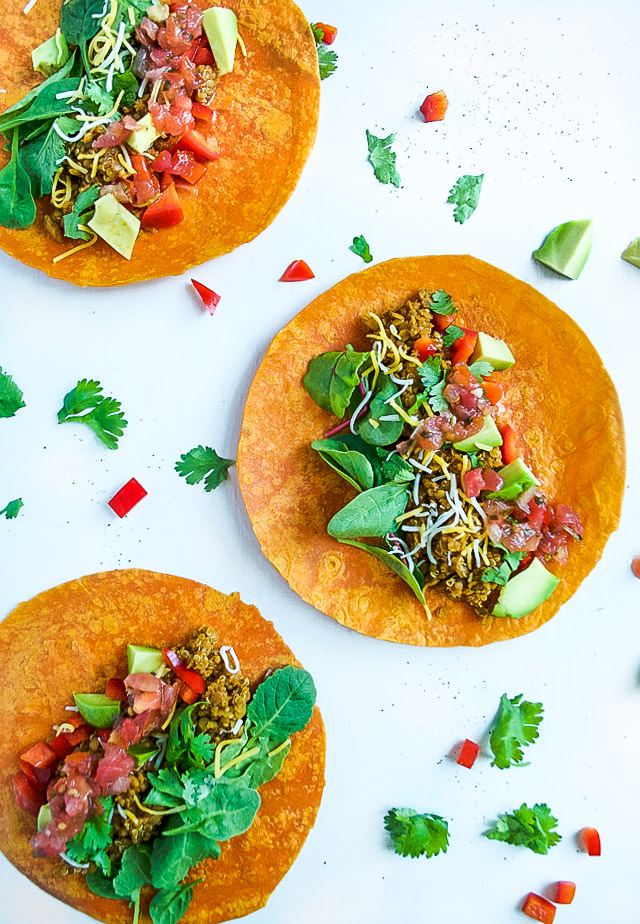 Quinoa and Lentil Tacos
They're hearty, beautiful and will please a group of vegetarian and meat-eaters. Dig into a plate of these colorful lentil tacos.
Ingredients
2 Tbsps extra virgin olive oil (or avocado oil, canola oil)
1 cup red lentils
½ cup quinoa
3½ cups vegetable or chicken broth
2 cloves garlic, minced
2½ tsps chili powder*
1½ tsps ground cumin*
¼ tsp paprika*
1 tsp dried oregano*
1 pinch salt
1 pinch black pepper
Toppings
red bell pepper, diced
cilantro
onion, diced
salsa
shredded cheddar cheese
sour cream
guacamole
limes
lettuce or mixed greens
Instructions
In a large pan over medium heat, add olive oil (or avocado oil, or other preferred oil), lentils, quinoa, and toss to coat.
Add in diced onions and 1 cup of broth. Allow to simmer for about 5-7 minutes, until onions are transparent. Stirring frequently.
Add remaining 2½ cups broth. Cook for about 20 minutes or until lentils are tender and quinoa thoroughly cooked. Stir occasionally. Make sure liquid doesn't completely evaporate. Add more broth or water as needed.
About 10 minutes into cooking add chopped garlic and seasonings. (If you have a fajita/taco seasoning packet that you normally use, feel free to use that here instead of the seasonings listed above.) Stir.
Adjust seasonings to taste.
Remove from heat and serve with desired tortillas and favorite toppings. Enjoy!
Notes
*If you have a fajita/taco seasoning packet that you normally use, feel free to use that here instead of the seasonings listed.

**This dish can easily be made gluten and diary free using gluten free tortillas and dairy free cheese