PARTNER POST: Get ready for the months ahead with new potato recipes that will inspire your spring and summer cooking.
Feature the mighty potato in Japanese okonomiyaki, a savory pancake loaded with umami flavor and fun toppings.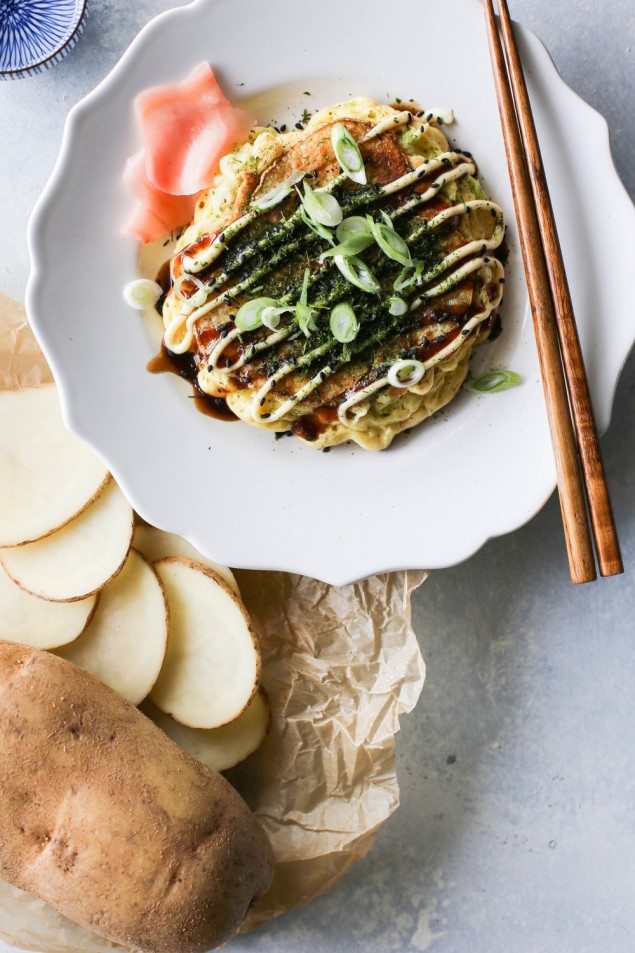 Traveling is often about the food for me. I love trying new things in new places because it helps me understand more about the culture.
In Japan, we learned very quickly how to tell the difference between an authentic Japanese restaurant and the tourist traps that made you think they were the real deal. Once we got that down, we were able to soak in so much about the culture because we got to see firsthand the way food is treated and prepared and eaten. Each step, from start to finish, is done thoughtfully.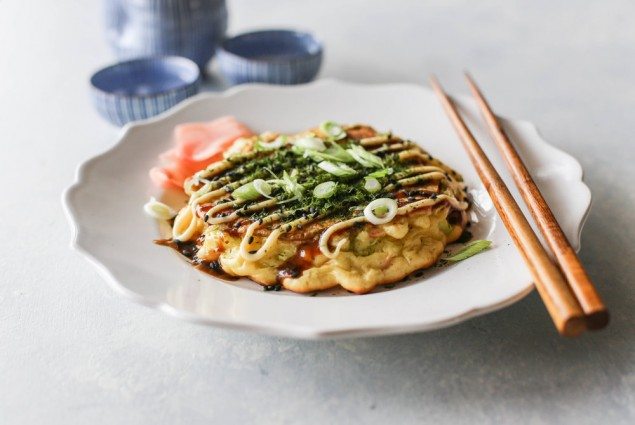 Okonomiyaki struck me as an unusual dish when we first had it. It seemed very un-Japanese to me. Some random stuff stirred together and poured into a hot griddle before being topped with more random stuff? No. This couldn't be right. But then that first bite landed in my mouth and it was hot and bursting with umami and I was hooked.
The thing I love most about making okonomiyaki at home is how versatile it is. My favorite versions are simple and showcase one ingredient, like the potatoes in this recipe. I always have a bag of potatoes around for last minute, nutritious meals and they are perfect as the star on these savory pancakes! Any variety will do, but I recommend russets or Yukon golds. These are ideal for busy weeknights and you can even get the kids involved!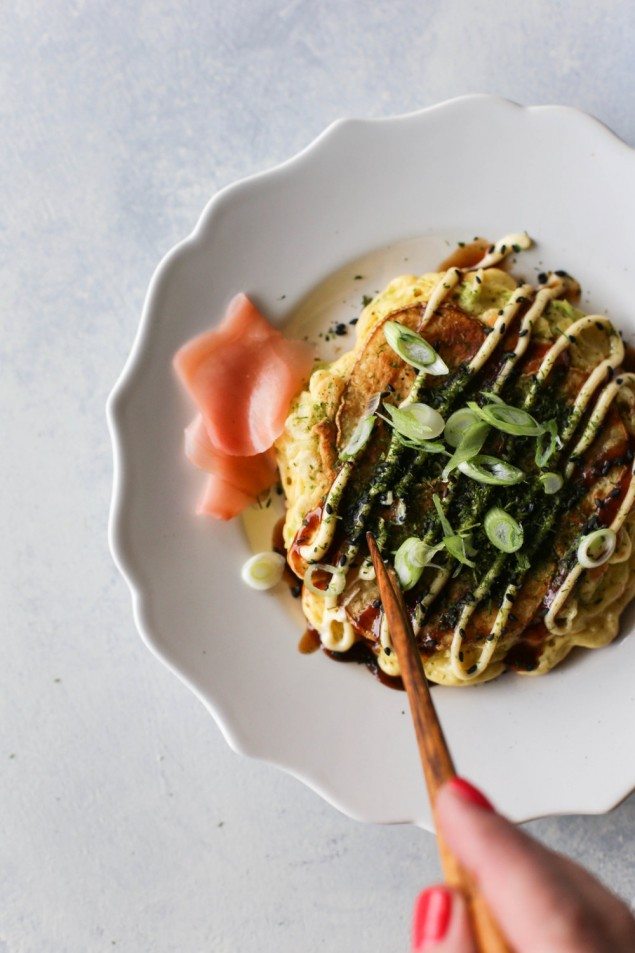 Click the banner below for more delicious potato recipes.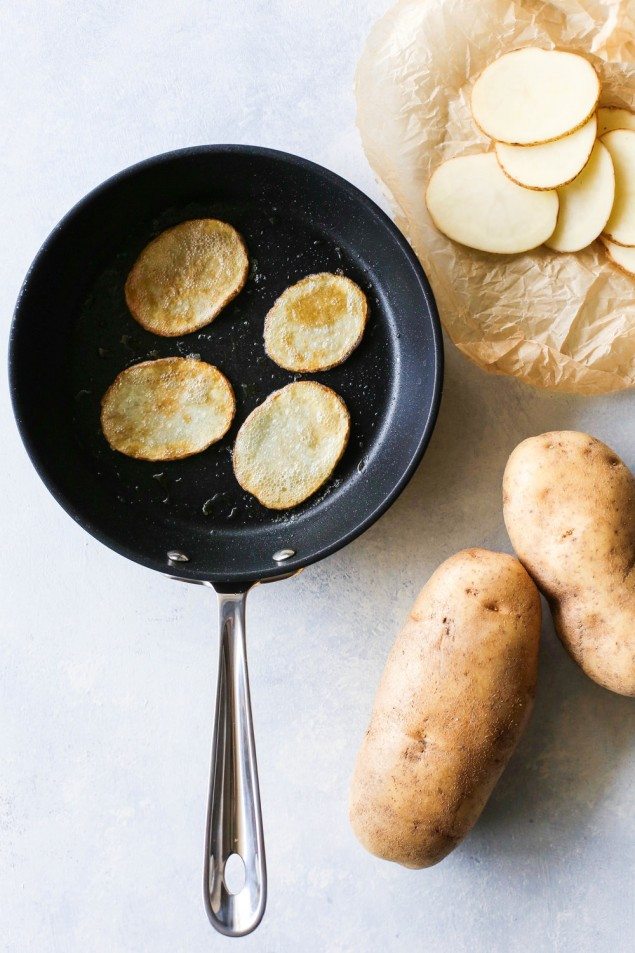 For another unique way to use potatoes, check out these truffles and find the recipe here.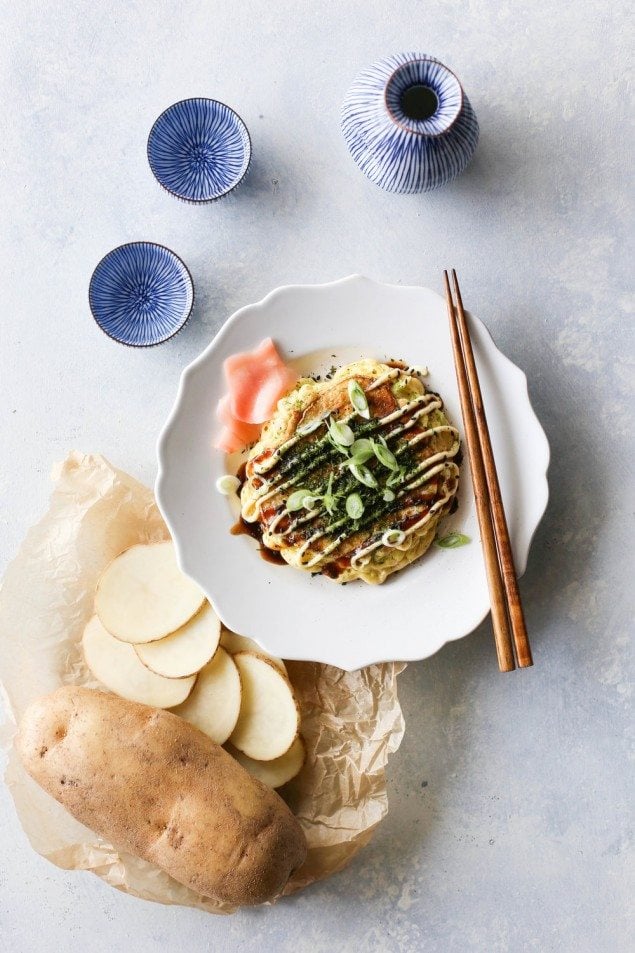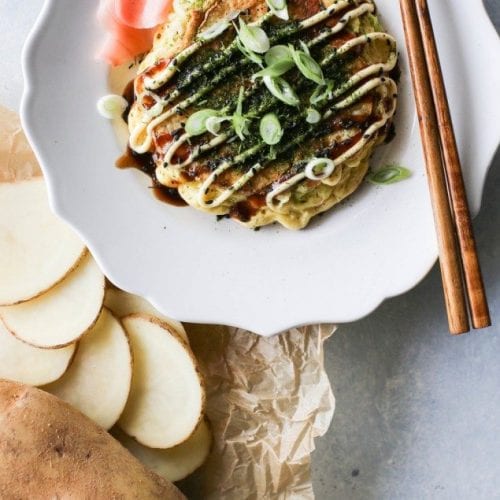 Potato Okonomiyaki
Rachael White
Feature the mighty potato in Japanese okonomiyaki, a savory pancake loaded with umami flavor and fun toppings.
Ingredients
1

cup

all purpose flour

1/2

teaspoon

salt

1/2

teaspoon

baking powder

1

teaspoon

dashi granules

3

large eggs

1/2

cup

water

2

cups

savoy cabbage

roughly chopped

2

tablespoons

pickled ginger

chopped

1

medium russet potato

scrubbed and thinly sliced

1

teaspoon

sesame oil

plus more if needed

salt
Toppings
Kewpie mayonnaise

Japanese mayo

green onions

thinly sliced

black sesame seeds

ground seaweed

katsuobushi

dried fish flakes

pickled ginger

Okonomiyaki sauce

sold in Asian grocery stores and also on Amazon
Instructions
Whisk the flour, salt, baking powder and dashi granules in a large bowl. Lightly beat the eggs and water together and add them to the dry ingredients. Use a spatula or wooden spoon to mix everything together. Add the cabbage and pickled ginger to the batter and mix well. Set aside.

In a medium nonstick skillet, heat the sesame oil over medium heat. Add some of the potato slices, only enough to fit in an even layer. Don't crowd the slices or they will not brown. Sprinkle the potatoes with a tiny bit of salt and cook for 3-5 minutes on each side or until they are golden brown. Remove the slices from the skillet and place on a paper towel lined plate. Set aside. Repeat with the remaining slices.

Reheat the same skillet over a medium high flame. Add a touch of sesame oil if there isn't any left in the pan from the potatoes. Scoop 1/4 of the batter into the skillet and top with 3 or 4 potato sliced. They can overlap slightly. Cook the pancake on the first side for 3-5 minutes or until golden brown. Carefully flip the pancake so the potatoes are on the bottom and cook for another 3 minutes. Transfer to a plate and repeat with the remaining batter.

Serve the pancakes with the toppings immediately.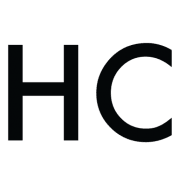 rachaelwhite
Rachael writes recipes for foods that are simple, comforting and delicious. Whether you are cooking for your family or having friends over for dinner and drinks, you'll find recipes here to fit any occasion. From cocktails to appetizers, desserts and entrees, the recipes you will find here incorporate Rachael's desire for Midwestern comfort food, love of International cuisine, and need for dishes that don't take hours to make.