Peach and Brandy Upside-Down Cake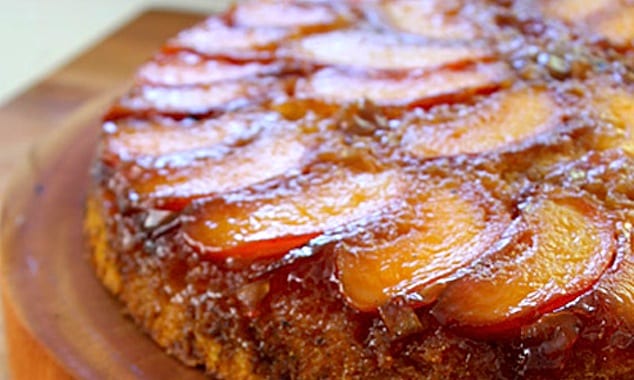 A moist cake studded with sweet, brandy peaches is just what you need to make your day. Fill with Greek yogurt between the sugary layers for a tangy contrast.
By Jessica Dady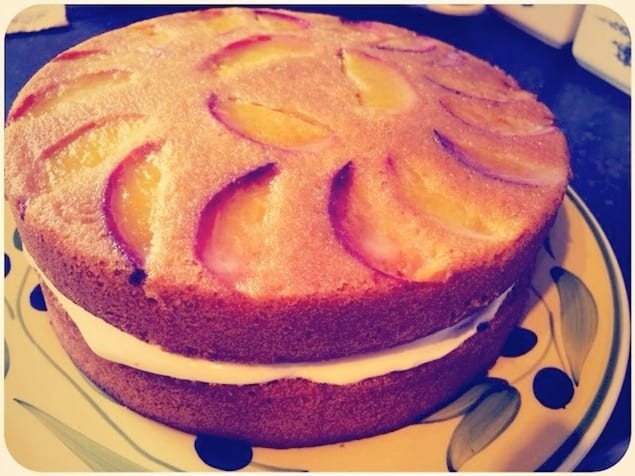 My brain really does work in mysterious ways and after spotting some peaches sitting in the fridge I thought I should make them into some sort of cake. I then went hunting around my baking cupboard to find something to go alongside it and a bottle of cheap brandy caught my eye. I've had this bottle sitting in the cupboard since making Christmas pudding last year so I thought I might as well put it to good use! One word: delicious!

Peach and Brandy Upside-Down Cake
A moist cake studded with sweet, brandy peaches is just what you need to make your day. Fill with Greek yogurt between the sugary layers for a tangy contrast.
Ingredients
8oz plain flour
8oz fine demerara sugar
8oz butter
4 medium eggs
1tsp baking powder
2-3tsp brandy
2 med peaches (destoned, sliced)
4tbsp Greek yogurt (for filling)
For the brandy glace
1tbsp brandy
1tbsp water
2 and half tbsp icing sugar
Instructions
Preheat overn 180C/350F/Gas mark 4 and line 2x 20 cm round cake tins with greaseproof paper.
In a large mixing bowl whisk all of the ingredients together with an electric hand whisk until combined.
Place the peach segments into the cake tins on the greaseproof paper - arrange into a pattern. I put most of the peaches in the tin that was going to make the top sponge. And leftover peaches I arranged in the other tin for the bottom sponge.
Gently spoon the cake mixture on top of the peaches making sure you don't move them too much to keep your pattern in place. I used a tablespoon to do this. Smooth the mixture so it evenly covers the peaches and tin. Do the same with the other tin making sure you have an even amount in each.
Bake in the oven for 15 mins until golden. If they need longer cover in tin foil and pop back in for another 5 mins. Once cooked leave to cool on the side and then turn out onto a wire rack.
Assemble the cake on a plate. Spoon the Greek yogurt onto your bottom sponge and spread evenly. Pop on the top sponge and press down firmly making sure the peaches are on the top side.
Make the brandy icing glaze and drizzle over the cake before serving.
Jessica Dady
Jessica, blogger at bakemeeatme, has always loved a spot of baking and began creating, writing and photographing her own recipes in 2011. She loves experimenting with different flavour combos, trying out latest trends and is always looking out for new inspiration. Jessica resides in London where she has bagged her dream career writing about food.