If you want to book an international culinary trip with breathtaking views, deep history, and world-renowned wine, the Portuguese island of Madeira should be high on your list. 
Madeira is nestled along the North Atlantic Ocean and is the largest island in an archipelago off the African coast. It glistens like a radiant emerald jewel bewitching anyone on its enchanting shores, majestic cliffs, and cascading waterfalls. Top all that off with its free-flowing, decades-old Madeira wine and the local culinary delights from both land and sea.
Although a quick trip for many Europeans, it's also gotten easier to get to Madeira from the States. Azores Airlines rolled out a seven-hour direct flight from New York's JFK last year. The number of flights a week is limited, so ensure enough vacation time to make it worth it. Once you fly into the capital city of Funchal, the island welcomes you with open arms and offers visitors a culinary adventure of a lifetime.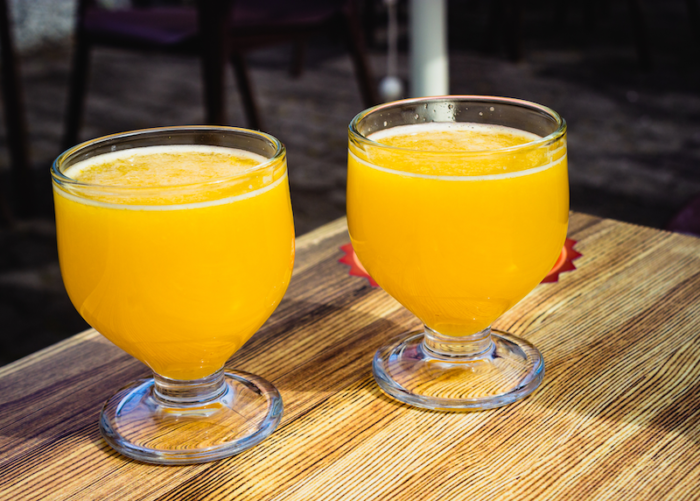 But before you take the gastronomic voyage throughout the island, there are a few activities you should be aware of. Make sure to find a place that makes poncha; you can enjoy the strong beverage with various flavors, like passion fruit and tangerine, or go the purist way and order it traditionally with just the agricultural rum, lemon juice, and sugar. Bartenders muddle the drink with a wooden contraption, and after knocking back a few, let's just say your Portuguese miraculously starts flowing better. Another activity you must make time for is riding a wooden sled called toboggan down a mountain, which began in the 19th century as public transportation. Go up the hill in a cable car. Then, men called carreiros in straw hats, and white uniforms will take you down in a wicker basket, using their thick-soled shoes as the only brakes. While you swivel left and right, hoping you get to the bottom, it's definitely a quick and exhilarating ride as cars stop to let you pass.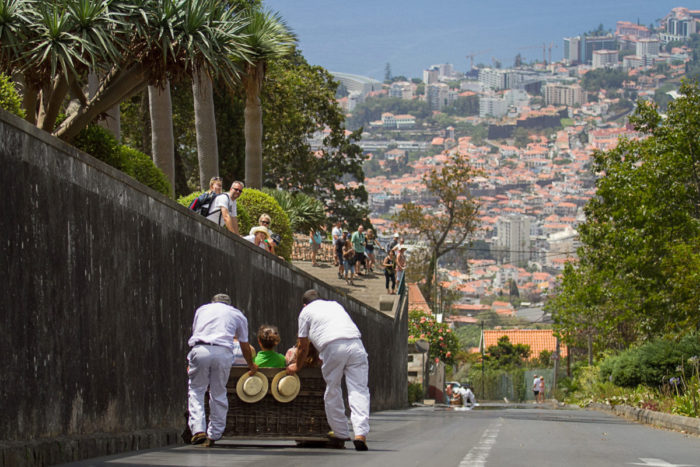 Chef Octavio Freites of Madeira said it best:
"To talk about Madeira is to talk about the sea surrounding her. It greatly influences the weather, the flavors of the products, the land, the cuisine, and the character of the people."
Here is a culinary list of where to stay and where to eat on the island of Madeira.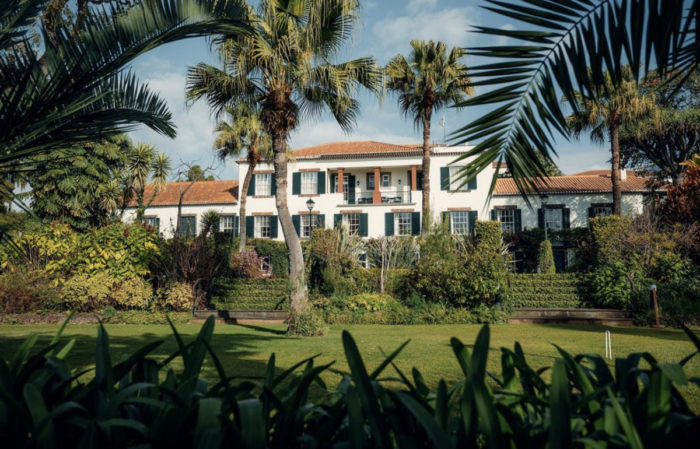 Hotel Quinta Jardins do Lago
For a charming and luxurious stay, consider Hotel Quinta Jardins do Lago. Close to the center of town, this Botanical Garden Quinta boasts over 500 different plant species and flowers surrounding the 18th-century property. All rooms have views of the luscious gardens; if you have a big group, the hotel offers a four-bedroom villa with surrounding views of the island. The buffet breakfast includes delicious local fruits and vegetables; if you're feeling ready for a mimosa, that's also available. After a day of relaxing at the pool, head to aperitivo hour with live music in the lobby.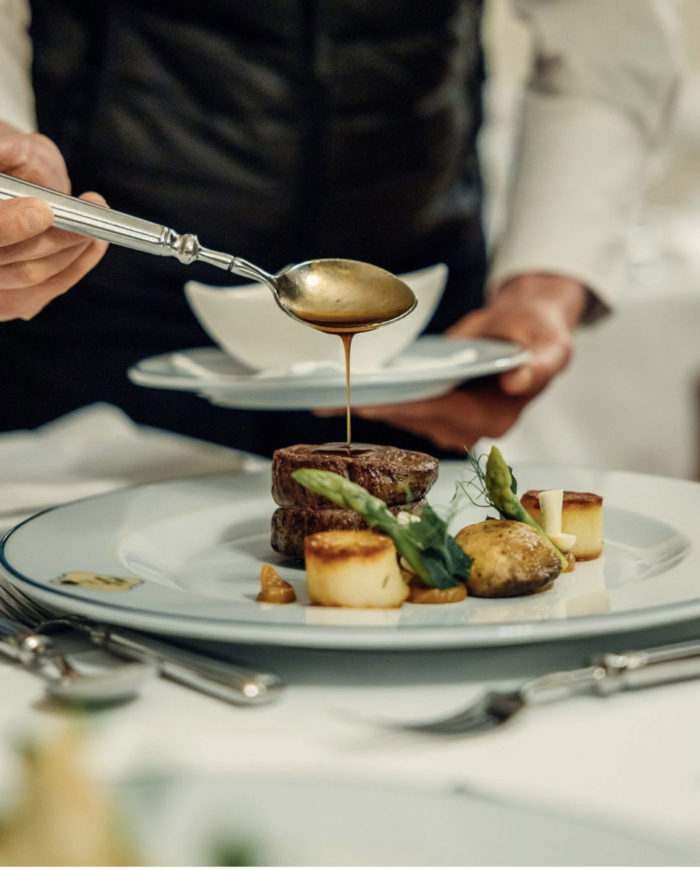 You can call the concierge for help making a reservation at The Beresford Restaurant inside the hotel. You'll feel like you've transported yourself back to the 18th century. This elegant restaurant features Madeiran food like Cuttlefish Ink Pasta, Foie Gras, and Madeira Wine Jelly as an amuse-bouche. The elevated three-course meal consisted of Scallops with Caviar foam Leek and a Venison Wellington with Celery Puree and Truffle. And for dessert, a dark chocolate, coffee, and passion fruit mousse paired nicely with Blandy's Verdelho Madeira wine.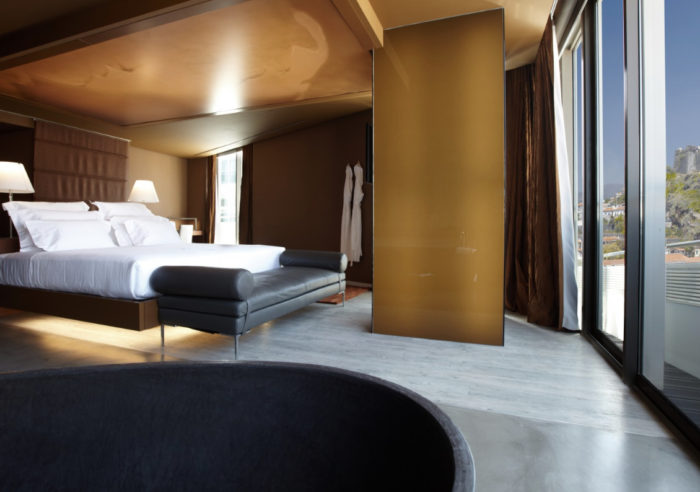 The Vine Hotel
If you love to stay in the hustle and bustle of the city, then The Vine Hotel is the place for you. It's in the heart of town and stumbling distance if you decide to imbibe in a few ponchas. The hotel is attached to a mall, so if you like shopping, it's in the perfect location. The chic modern design comes from local interior designer Nini Andrade Silva. Look forward to a buffet breakfast in the morning, so you can load up on coffee, local fruits, and handmade pastries before hitting the town.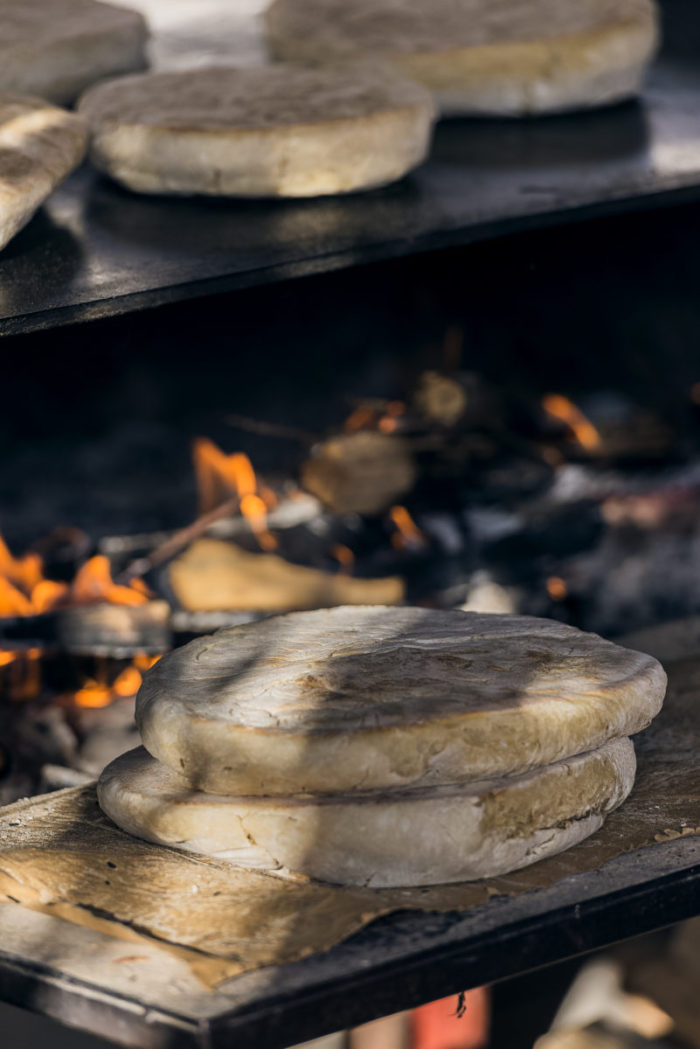 As you explore Funchal, there are a few local food spots to look out for, like the open-air market, where vendors sell fruits, vegetables, flowers, and local seafood. Next, find Casa do Bolo do Caco and try Madeiran bread, similar to garlic bread but made with sweet potatoes. You'll want to order it in sandwich form with chorizo for the ultimate snack. Afterward, head back to The Vine Hotel to relax on the rooftop pool and enjoy the island air.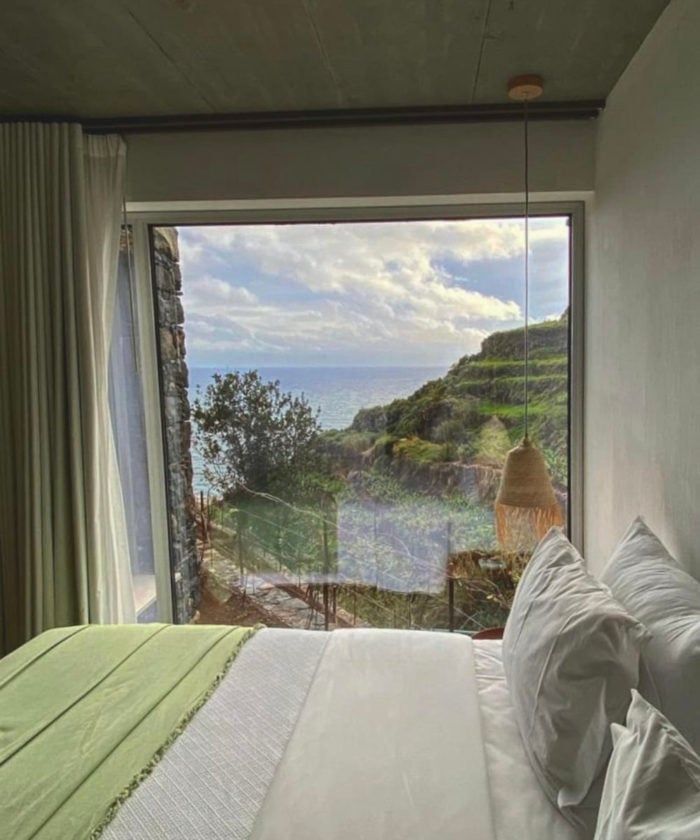 Socalco Nature Hotel
In contrast to The Vine Hotel, Socalco Nature Hotel is on the other side of the island and has a subtler feel. Away from the central city of Funchal, Socalco Nature Hotel is perfect for those who want a quieter stay away from the nightlife. Situated on a cliff, the warm wood tones calm the incredible Atlantic Ocean views making this hotel a perfect oasis. Book a massage or head downhill to the beach, a 15-minute stroll, where you can order more limpets as you relax and take in the views. However, heading back up the steep hill may not be for the faint of heart, and taxis are available. Chef Octavio Freites (Desarma Restaurant) helms the kitchen at Socalco Hotel, so you're in for a real gastronomical treat. There's nothing like waking up from a good night's sleep in a minimalistic room and heading to breakfast with gorgeous ocean views as far as the eye can see.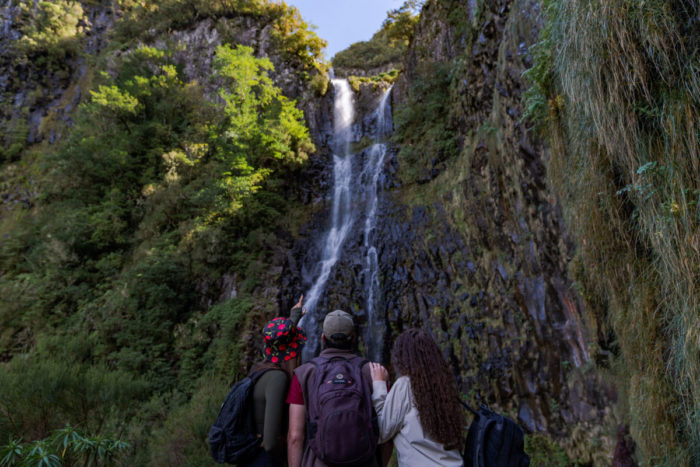 To balance out all the culinary experiences, order a car and check out an incredibly scenic levada hike near Socalco Nature Hotel. With waterfalls, spectacular views, the UNESCO Laurisilva Forest, and over 1,500 miles of irrigation channels around the island, walking alongside a water channel brings you to lush jungles at high elevations. You'll walk through a pitch-dark tunnel, where you'll need to use your phone or a flashlight, and when you're through, you'll hit dense jungle surroundings with new vegetation and the cleanest air. Walking through mountain tops in clusters of clouds brings such serenity and peace that I wish we had done a levada hike every day.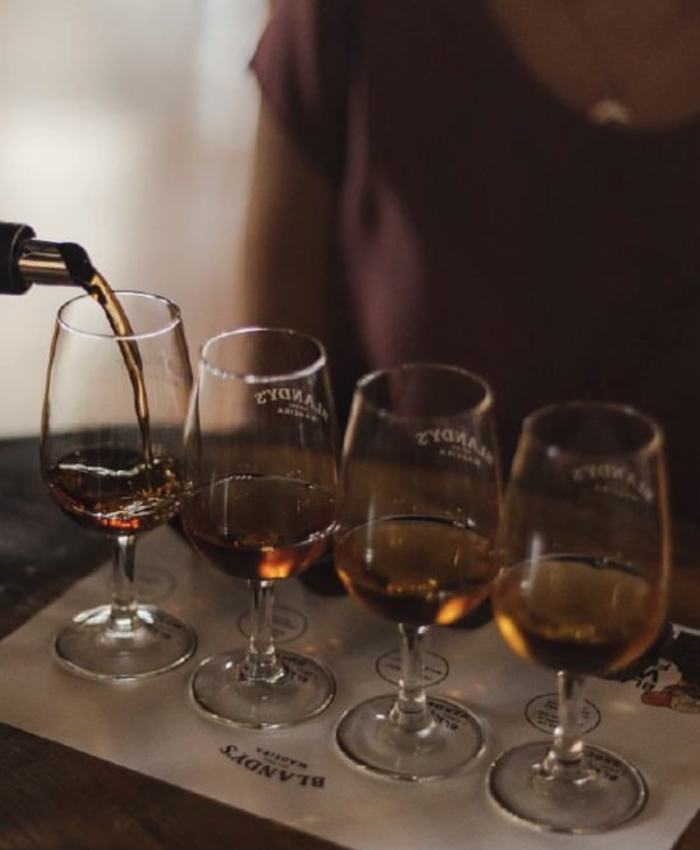 Blandy's Wine Lodge 
You can't go to Madeira and not immerse yourself in Madeira wine. After all, the Founding Fathers toasted the 1776 Declaration of Independence, signing with Madeira wine. And the best way to understand Madeira is to visit Blandy's Wine Lodge. In the 16th century, this historic building was a monastery, then later a prison, and now it stores decades-old Madeira wine in dark wood barrels. It also includes a museum, a tasting room, and a restaurant. The Blandy family came to Madeira from England in the early 1800s, and the company has stayed in the family ever since. In the tasting room, you can try different varieties of fortified wine like Malmsey, one of the rich varietals, or Verdelho, a drier Madeira wine. These wines are pretty complex, so comparing them to port– not intentionally exposed to heat like the Madeira wine process– may offend a local or two.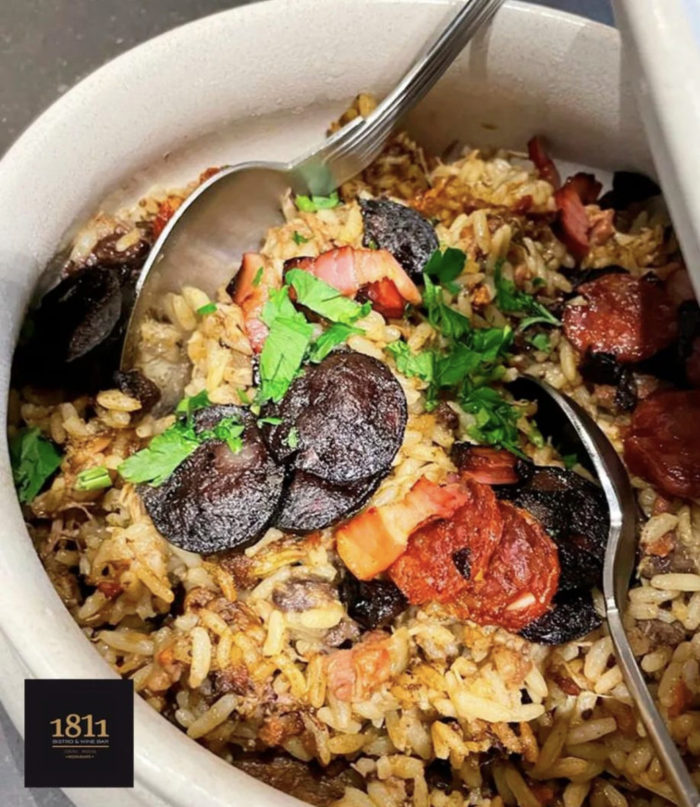 To dive even deeper into the Blandy Madeira world, head to their restaurant, 1811 Bistro & Wine Bar, for a complete meal paired with Madeira wine. A Madeira Wine Tonic is a great way to refresh your palate before tasting more wine. One standout dish here is a homey Fish Stew, which went well with the ten-year Sercial Madeira wine–– the driest of the four classic varieties of the fortified wines. After that, go for the Arroz De Pato (duck confit risotto), a rustic dish that is smoky, fatty, and comforting.  It paired nicely with Blandy's Verdelho 10-year.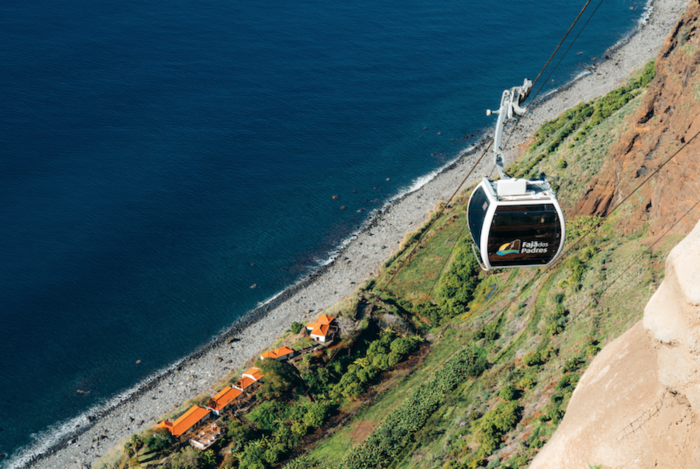 Fajã Dos Padres
Fajã Dos Padres is a must-add to your itinerary. It's about 20 minutes from town; you can only get to this location by cable car or boat. You'll arrive at the tip of a cliff and cable your way down a steep incline, praying you'll actually make it down. Of course, you do, and the trip is worth the sharp descent. After getting off the cable car, look forward to a beautiful organic farm at the bottom of the mountain. You walk through all the bounty Madeira provides bananas, pitanga (fruit that tastes like a sour cherry), mangos, tomatoes, avocado, and much more.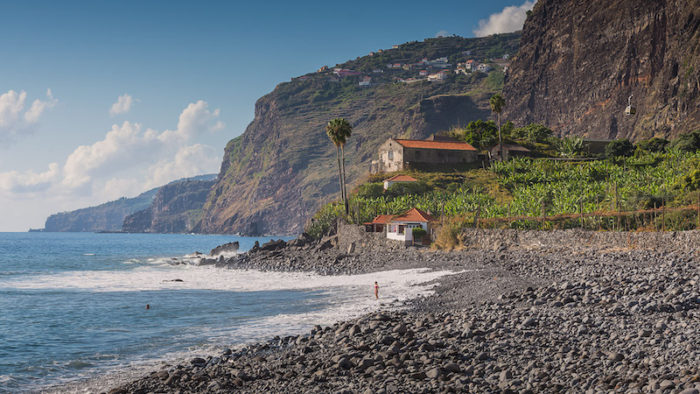 While getting lost while exploring the farm is easy, follow the path leading you to a fantastic casual outdoor beach-front restaurant cooking up some of the best Madeiran food we ate. If you're into chargrilled oysters or enjoy the consistency of mussels or clams, you'll have to order limpets, a member of the mollusk family. Here, limpets come on a half-shell coated in garlic butter for a delicious appetizer. It's perfect to pair with a Portuguese Vinho Verde, a crisp and slightly effervescent white wine. Lastly, consider renting a boat to take you back into town, and if you plan it right, enjoy the sunset as you sail the gorgeous turquoise waters of Madeira on the way back to town.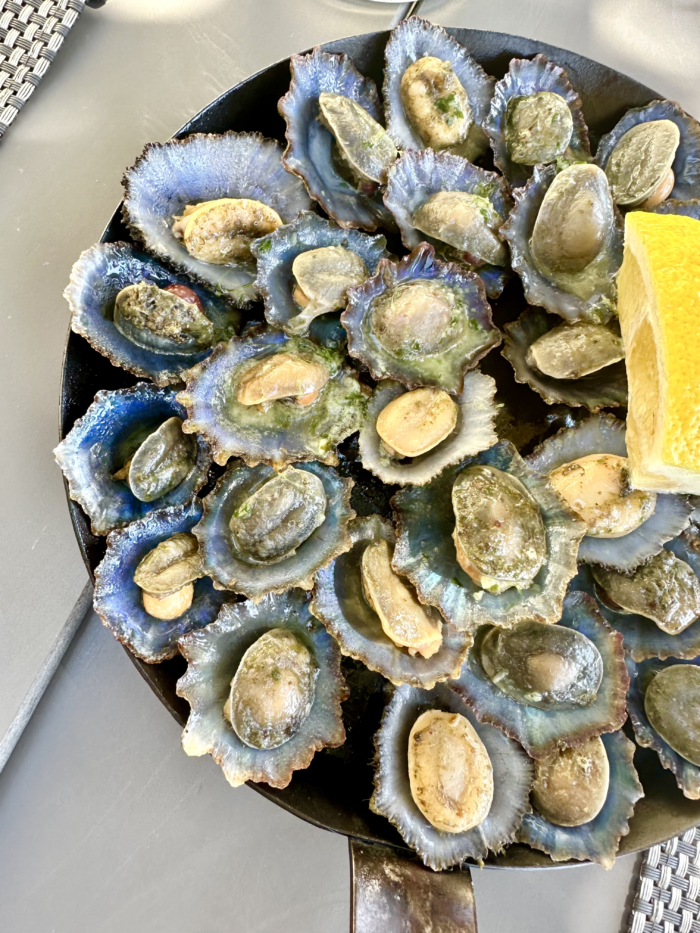 Tradicional Lunch at Quinta do Barbusano
Do you love wine and want to eat lunch like a local?  If so, head to Quinta do Barbusano on the island's north side, about 40 minutes from Funchal. Nestled on the mountainside of São Vicente, António Oliveira opened a beautiful winery with basically floor-to-ceiling windows overlooking the breathtaking valley below. After a wine tour of the property, head back into the tasting room to try different wine varieties like the high-acid and crisp Verdelho, reminiscent of a Sauvignon Blanc with plenty of minerality because of the island's temperatures.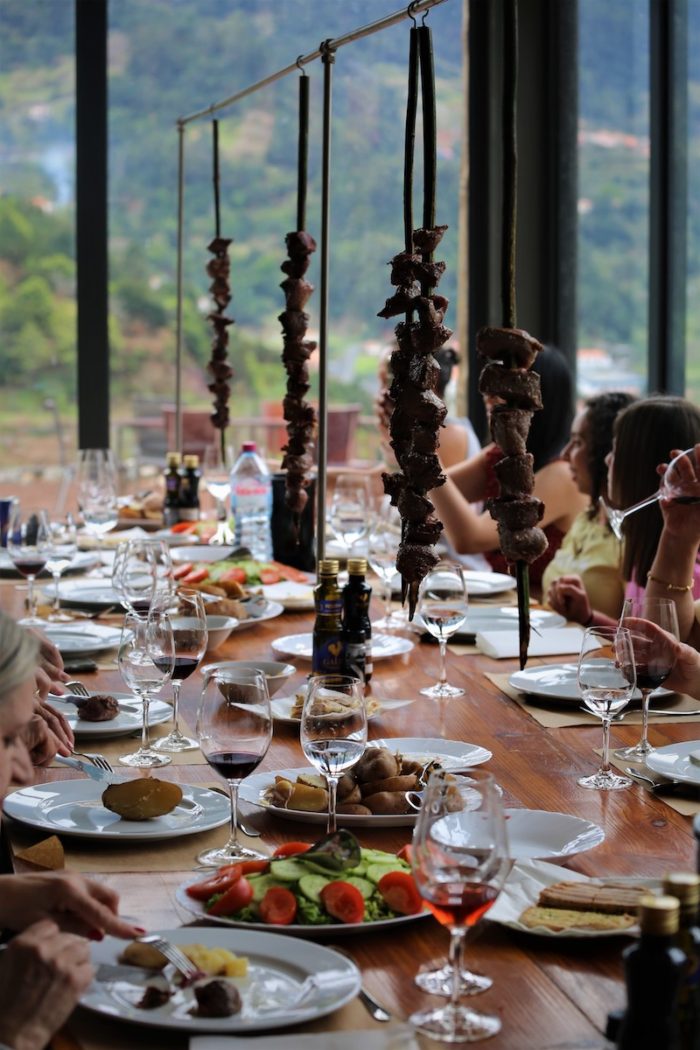 After the tasting, you'll enjoy watching owner António Oliveira make you lunch. Reminiscent of Brazilian churrasco, Oliveira skewers meat onto a laurel bay branch, called espetada, and grills it over the fire. The home-cooked meal includes a simple tomato and cucumber salad and broiled potatoes with the espetada hanging vertically for easy access once you figure out how to pull it off the stick onto your plate. A belly full of Portuguese wine and a simple yet delicious lunch made Quinta Do Barbusano one of my favorite excursions.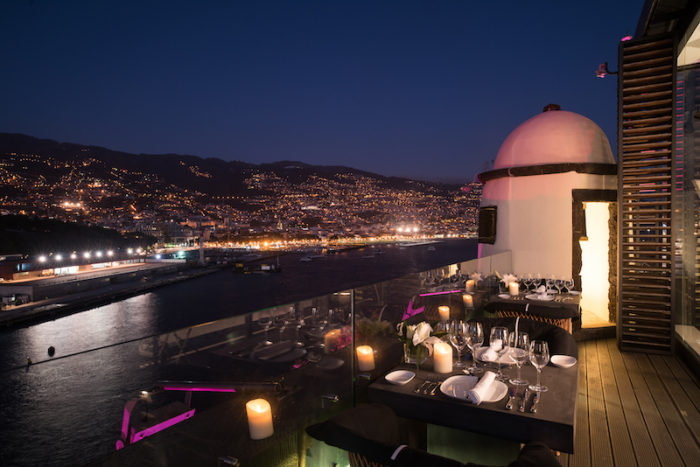 Nini Andrade Silva Design Centre
For a panoramic view of the city from Funchal port, check out Nini Andrade Silva Design Centre for dinner, where the restaurant sits on top of a promontory. She is a native Madeiran who also designed The Vine Hotel. Silva takes a modern approach to the space, elegant but not too fussy. Options here include crab and crawfish ravioli, scallop carpaccio, foie gras terrine, or beef tartare, but since it's a coursed-out menu, the chef changes it depending on what's in season.
See Also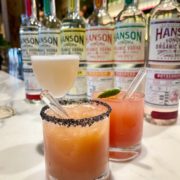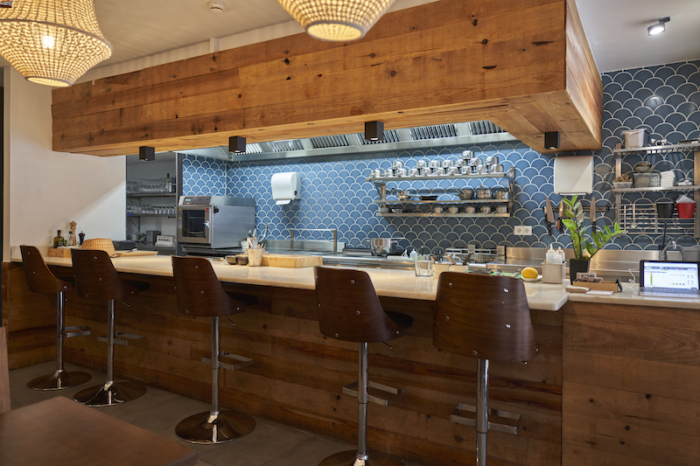 ÁKUA
If you're a person who craves seafood over red meat, then ÁKUA is the perfect place for you. Chef Júlio Pereira pulls inspiration from the smells and flavors of the ocean that all started at a fishing village when he was young. For a casual time at this cozy restaurant, sit at the counter and check out all the action. You'll find a variety of seafood, rice, and local fish like grouper carpaccio and fried cod fish tacos, but the most unique dish is the fish sausage board. The casings of fish wrapped into a sausage may not look appealing, but every fish sausage packs a salty seafood punch.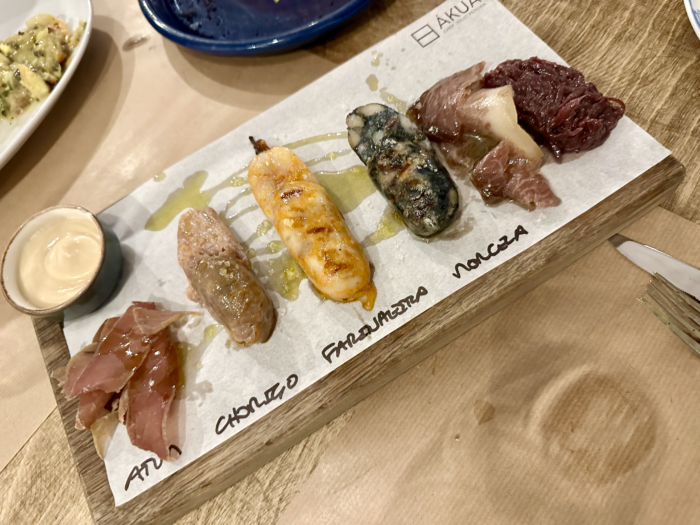 Gazebo
You may have noticed from this list that Madeirans feel deeply proud of their island and the plentiful bounty that it provides. And the bounty continues to flow at another incredible restaurant called Gazebo. Chef Felipe Janeiro cooks you an intimate meal at a Quinta-like villa that he and his wife own. Enjoy an amuse bouche in their garden and then step into a room where you may even get a greeting from their toddler. As you enter the dining room, you'll find one large table in the center and a beautiful open kitchen a few steps away–– front-row seats to the culinary show as Madeira's ingredients take center stage.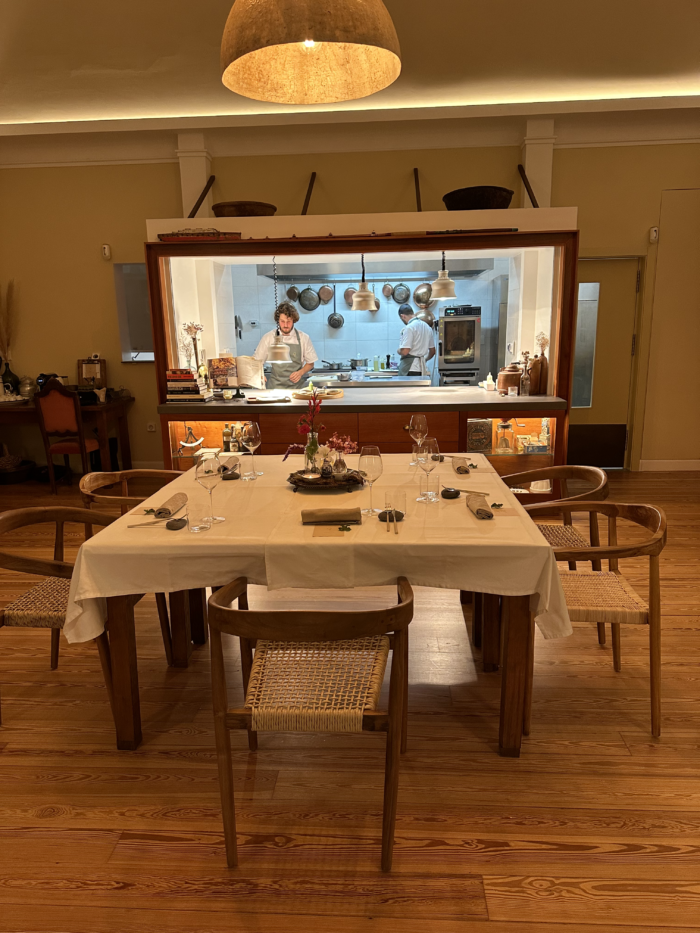 Our menu highlighted plenty of Madeira fare like moganga (a type of squash) served with tomato and fennel; scabbard, which is found plentiful in those waters, was served with chickpea and miso, and other options also included beef chuck with black garlic and mushroom.  Since this is an exclusive experience, head to their website for reservations. This restaurant is perfect for big groups.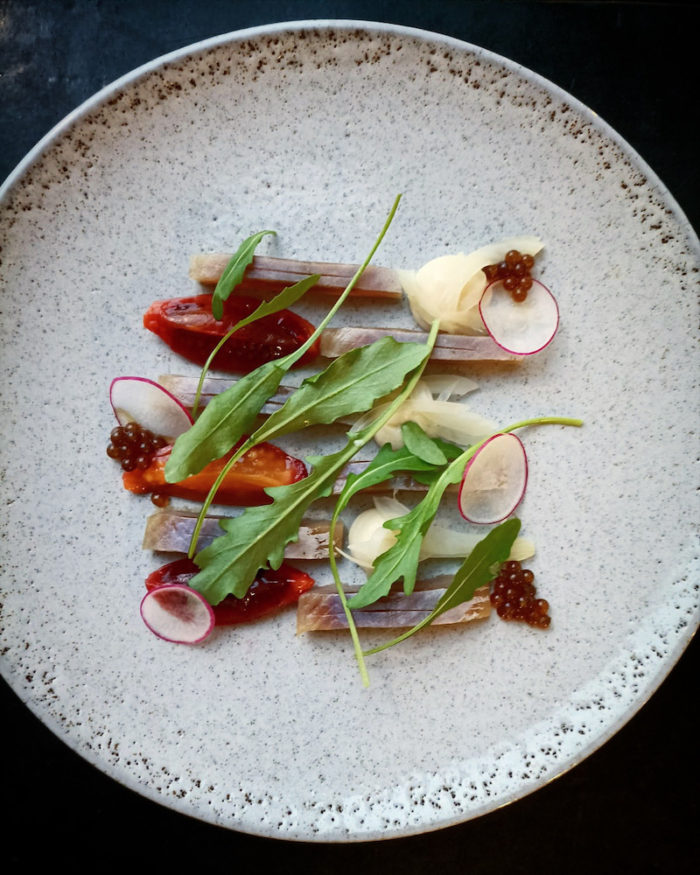 Nata 7
You can't go to Portugal and skip out on trying pastel de nata. Although it originated in Lisbon, the island makes comparable versions of this light pastry. This tasty custard egg tart is flaky and isn't too sweet, making it the perfect snack between breakfast, lunch, or dinner. Nata 7 is in the heart of Funchal and had the flakiest crust of all the ones I tried. Pair it with a café pingado (a small macchiato), and it's a superb combination.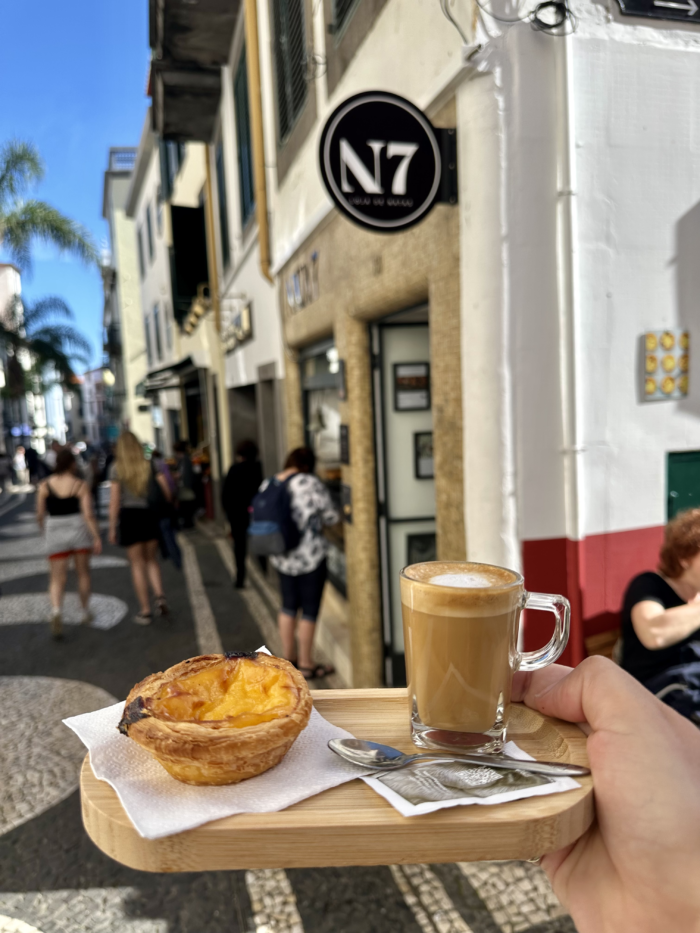 Galáxia Skyfood
Although I sound like a broken record, another stunning view of the island is on the 16th floor of the Savoy Palace at Galáxia Skyfood. Whether you sit inside or outside, the panoramic views are breathtaking. If you're not looking to splurge, order a craft cocktail at the star-studded bar with bright lights. For a fine-dining meal, Galáxia Skyfood's food presentation is a work of art, and you'll find dishes like Wagyu skewers served smoking on your plate in a nest of pine branches. With so many courses to enjoy, save room for dessert. A standout dessert was a play on a Madeira banana that looked like an actual banana with a white chocolate yellow peel alongside an edible Madeira banana sticker, meant to be eaten whole with banana ice cream on the side; it was whimsical and delicious.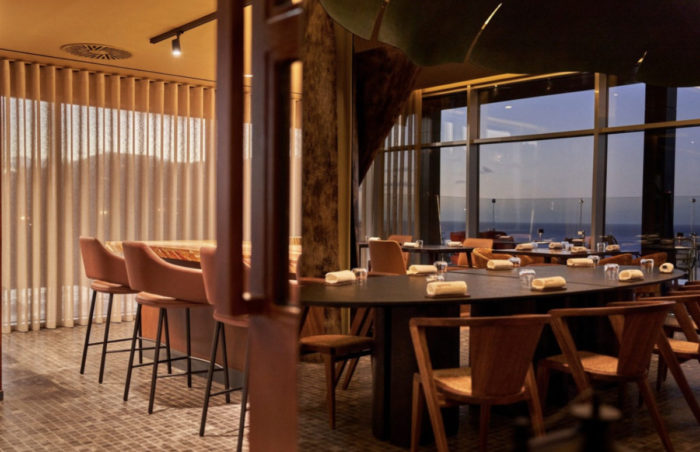 Desarma
For an unforgettable dining experience and a fantastic way to end your Madeira trip, make a reservation at one of Madeira's newest fine-dining restaurants, Desarma, on the rooftop of The Views Bahia. Renowned Madeira Chef Octavio Freites serves two prix-fixe seasonal menus and enjoys "disarming" guests' senses in outside-the-box ways with his dishes.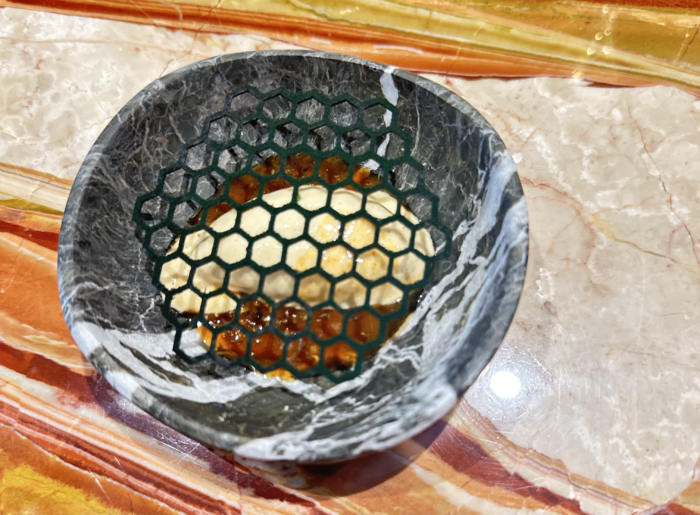 We started our first course at the chef's table with Madeira sparkling wine to cleanse the palette, and we watched the kitchen cook in what felt like a synchronized dance. When the first dish came to the table, it did absolutely disarm us; we were served Crab Ice Cream with Pepper Sauce for a sweet and salty amuse bouche with Briny Seaweed Tuile for added crunch. The taste of the crab with the pepper sauce complemented the seaweed tuile's brininess beautifully. Following this course, we sat back in the dining room with beautiful ocean views, and the rest of the meal was paired perfectly with Portuguese wine. Each dish was masterful and a gastronomic delight. This restaurant is perfect for special occasions and ranges from €135-185 euros a person.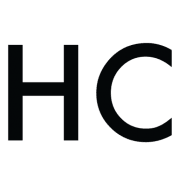 Keyla Vasconcellos
Keyla Vasconcellos is a passionate, freelance writer regarding all things food, lifestyle, and travel. She is usually searching the streets of Los Angeles for the next great bite, or she is shooting food photography for restaurant clients, or daydreaming about her next travel destination.