Prepare to lick your plates squeaky clean at Clancey, a Lower East Side casual eatery recreating the food we grew up with, recovered from a hangover with, or just had some really great memories of eating.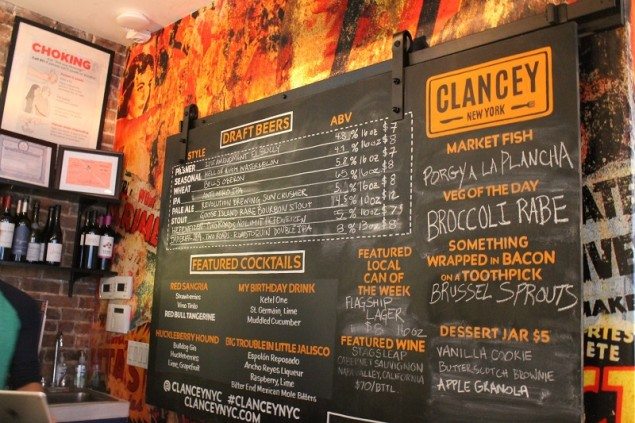 The eats offered are described as modern comfort food. Imagine freshly made pretzels dunked in gourmet beer infused cheese, or bacon wrapped bits, along with happy hour margaritas and happy hour charred oyster bliss.  No wonder why plates are licked squeaky clean.
Beside the modern takes on comfort food, another aspect about this Lower East Side eatery is that several of its selections are connected to the Clancey team, focusing on making diners feel more connected to the modern comforting eats.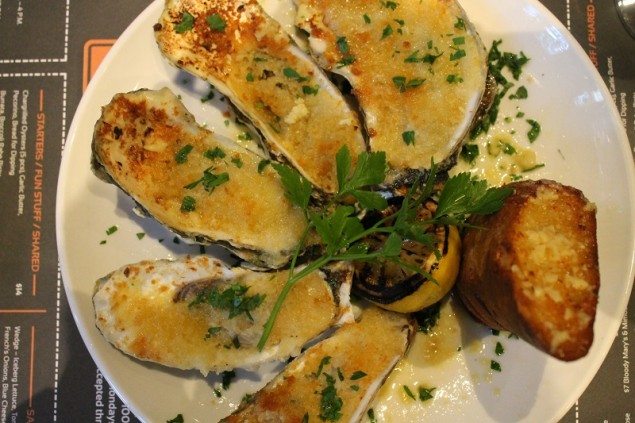 Take for example the hot pretzel sticks offered on the main menu. Little do diners know this dish is a representation of Chef Keith's childhood days. As a kid, he would always look forward to eating pretzels on his way to watch a baseball game with his family. The pretzel was both a treat and a scheme to stop him from complaining about the walk he would have to do, to get to the baseball game. In his adaptation of his baseball treat, Chef Keith uses craft beer for the cheese dipping. This adds a modern touch to the classic comfort street food and he makes his own condiments to pair with it, because Heinz mustard is a no-no.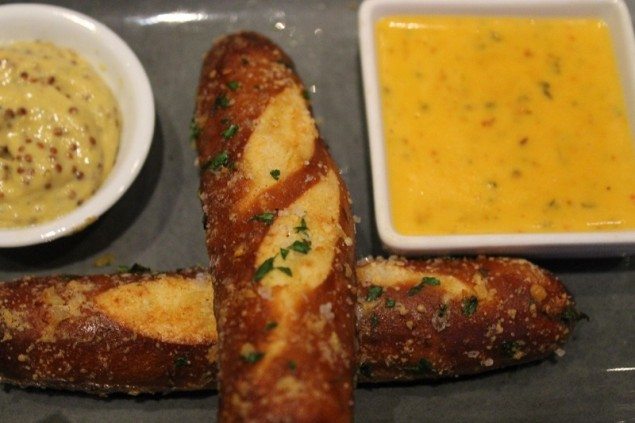 Another example is the popular dish "Yesterday Lo Mein". Little do diners know; Clancey's owner Todd Birnbaum was a super picky eater growing up and school lunch was particularly hard so he would purposely order an extra pint of lo mein takeout so that it was perfect for eating the next day.  For Clancey's modern take on his go to meal, cold noodles (more room temperature) are prepared with sesame oil and seeds. But what makes this dish SUPER good is the mix in of the charred pork with soy sauce.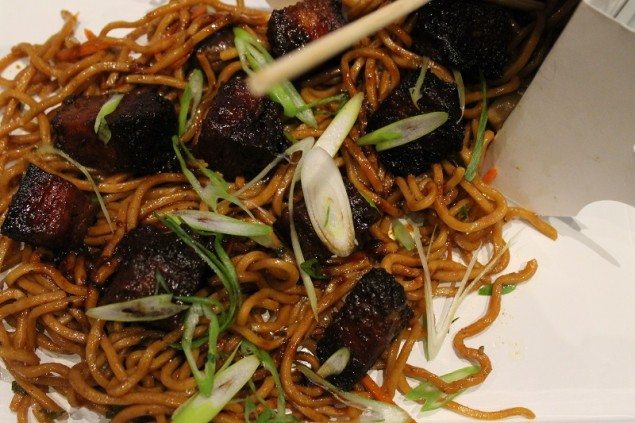 Additional signature dishes from the Clancey's menu include chargrilled oysters and market fish. Get a deal on the chargrilled oysters for $2 before 7pm, and try the fresh market fish dish, as it changes because Chef Keith personally goes to the local neighborhood market. On Tuesday May 2nd, the fish of the day was Porgy, served over bitter greens; cooked with "secret oils", paprika, lemon, and other herbs.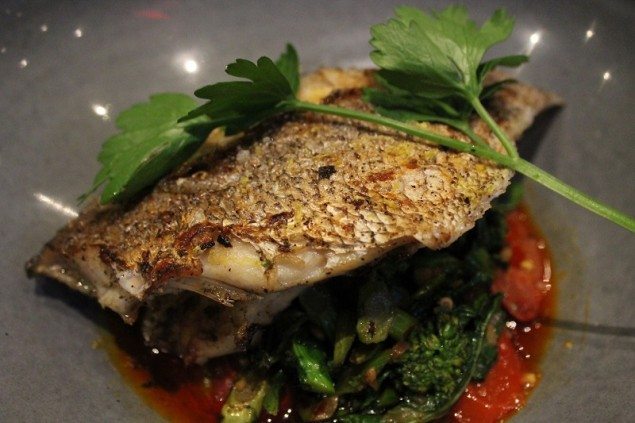 The Delancey and Clinton St. locals are known to love their Lemon Pecorino Fries, the Skirt Steak with Smashed Fingerling Potatoes, Yesterday Lo Mein, the Chargrilled Oysters, The Best Chicken Sate and Roasted Beet Salad.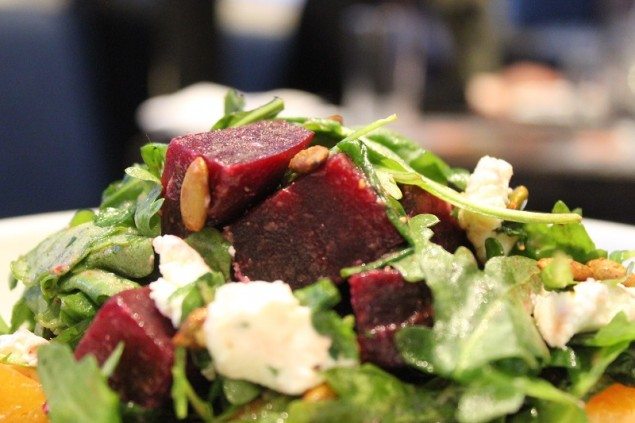 To match the hipster-y neighborhood, the restaurant must have a brunch menu and daily happy hour. So, said, so done. Clancey offers a special drink of the day, where diners can get the drink for a discounted price. Margarita day is on a Tuesday. According to waiter Tony, most get the classic margarita. Outside the happy hour selection, other alcoholic mouthfuls include a wine list; Hacienda wine, craft beers including a beer stout great for non-beer fans. It has a smooth whiskey bourbon taste.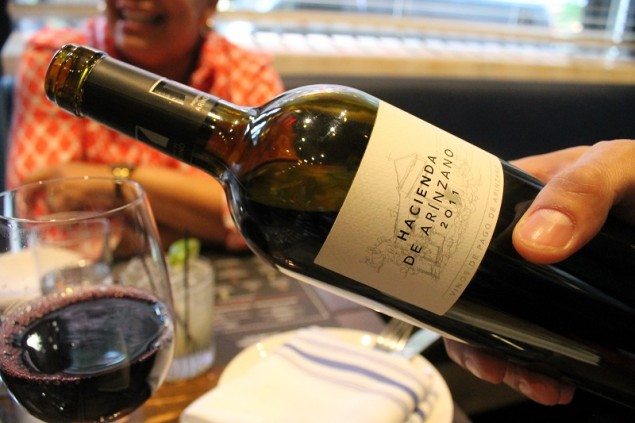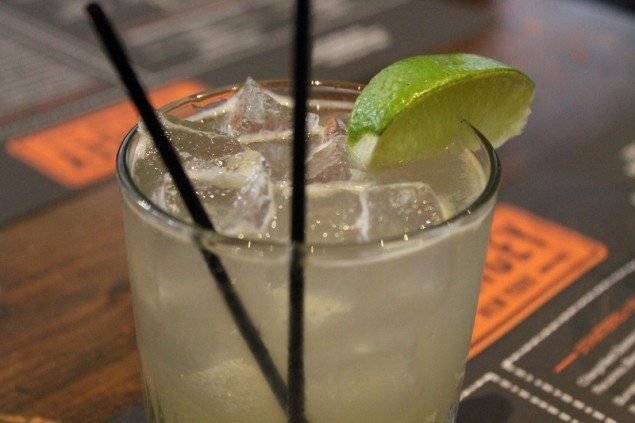 Opening in 2016, the restaurant seats approximately 70 people, where the Friday night girl gang can seat comfortably to catch up or even casual dates can dine peacefully to share the special dessert created by Chef Keith, Lorenzo, Pepe.  Although it is less than a year old, Clancey already has its regulars; a couple suggesting to dine there to catch up with their daughter visiting from out of town. Or the regular Tuesday tiara wearer, cooling off with the discounted margaritas.
Clancey is located on 79 Clinton St, New York, and opened on Tuesday to Friday beginning at 4pm and Saturday and Sunday starting at 10am.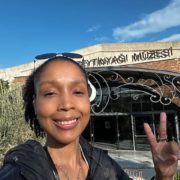 Alyssa Holder
Alyssa Holder is a writer specializing in food and travel topics since 2015.