Tucked in Historic Old Town on Key West's serene Atlantic Coast lies The Southernmost Beach Resort, an island retreat away from the hustle and bustle where tradition meets modern luxury.
For some like myself, traveling to the Southernmost Beach Resort in Key West is half a day's worth of travel. And the journey is well worth the hassle. I arrived in the Conch Republic around 1:30 p.m. The sun was blazing through my black shirt. And I couldn't wait to switch my New York uniform to one more equipped for Key West's steamy rays. 
 
Feeling sluggish, excited, and hungry, I walked to the airport's Lyft pickup area. My driver arrived in less than five minutes, and we set to the Southernmost Beach Resort. Along the way, palm tree leaves swayed in the wind; ocean waves crashed on the opposite side of the road. It's the quintessential setting of a picture-perfect beach town. We exited the South Roosevelt Highway and entered the streets lined with pastel-colored houses and white picket fences. A Christmas tree wrapped in patriotic flags, people riding their bikes and luxury red cars were a welcome distraction amongst the eateries and boutiques.
 
Tucked in Historic Old Town on Key West's serene Atlantic Coast lies an oasis that's been compared to Cuba's capital city, Havana, also known for its Spanish colonial architecture. The Southernmost Beach Resort offers an island retreat away from the hustle and bustle where tradition meets modern luxury. You'll find lush garden pathways, endless ocean views, and sandy beaches on this quaint stretch of America's Southernmost point. A short walk from the eclectic shops, famed nightlife, and signature architecture of Duval Street, the hotel itself is a collection of buildings that spread over six acres.
Day 1 at SOMO
Sounds of roosters, the ocean, and people cheering from the Southernmost Beach Resort's three pools greet new guests. There's a waft of salty air that is novel at first sniff, but as the day ensues, it becomes a comforting scent. I met Davaldo, one of the friendly receptionists who welcomed me and others to the resort. I sipped on a glass of complimentary prosecco before heading to my room. It was located across the street where two of the resort's pools (Tranquility and Shores), the Southernmost Beach Cafe and gym are also found.
Located above the Shores Pool, my room 7310 was bright, airy, and fit for two people. The room boasts a beach cottage aesthetic and is bright and airy with accents of blue. There's also a balcony featuring an amazing view of the ocean. I was pleasantly surprised to find a bag of Kermit's Key Lime Butter Cookies, a Kermit's Key Lime Shoppe product, on my desk. The shop is well known in the Keys and one that I was determined to visit during my less than 72-hour stay on the island.
Dressed in beachy clothing, I met with Reese Jackson, the marketing coordinator, who gave me a quick tour of the resort. I saw some local legends–– gypsy chickens roaming on the property. These birds roam freely in the city and are considered symbols of the area, as they are found on many souvenirs, like the magnets that currently adorn my fridge.
Southernmost Beach Cafe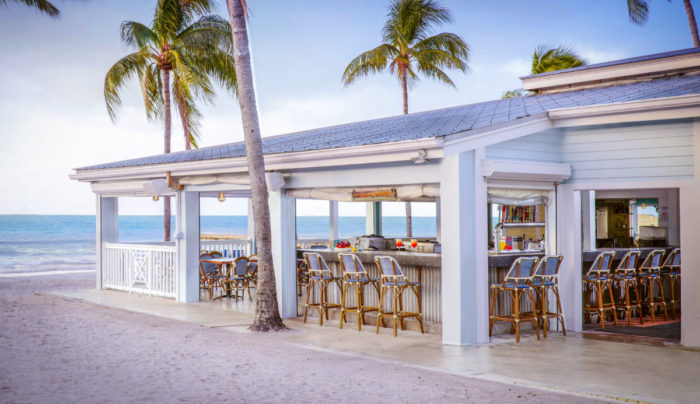 Once the tour concluded, I headed to the Southernmost Beach Cafe, the hotel's oceanfront restaurant. I whispered to myself, " Yes, it's finally time to eat." My eyes glazed over the lunch menu, which featured starters like the conch chowder and oysters—followed by shareables such as beach bread and fried calamari.
Further down, where my eyes zoomed in, were the handhelds like the regal lobster roll and sides such as pasta salad and coleslaw. I ordered a lobster roll with a side of coleslaw, in true beachside dining fashion. While the conch is the favored food of Key West, Caribbean spiny lobsters are also popular. They are also known as crawfish and are harvested by scuba divers and local lobstermen.
 
While I didn't officially meet a lobstermen, I met Rachel working at one of the stands for Barefoot Billy's, an excursions company based in Key West, who mentioned her partner catches lobster for a living. In our short encounter she also spoke highly of sunset sailing in the Keys, an experience I regretfully had to miss. However, from what she described and what I've read, it is a one-of-a-kind way to witness the island and meet people you can share a toast with, expressing massive gratitude to the beauty of the world. She also mentioned an exciting upcoming project with her partner, the lobsterman; they plan to open a food joint, which is one of many reasons I'd need to revisit Key West in the near future. 


 
If you're wondering, should you order a lobster roll? The response is a resounding yes. The buttery brioche is a vehicle for lobster meat doused in mayo. It hits every spot of my stomach, especially after my 4:30am wakeup call and subsequent grueling airport travel. To wash down the glorious meal is an Aperol spritz. It is an unpopular decision in the Keys and incredibly unpopular once Labor Day passes. Still, the spritz is the only option when it's above 80 degrees, and rippling blue waves look directly at me.
 
At 3:30 p.m., there are only a few diners and people sitting at the bar, not too many dare to bear the sun's rays on the beach. The guests fill their time drinking at the pools. On my way back to the room, I overhear couples discussing their plans for the evening: walking Duval Street and dining at the Southernmost Beach Cafe for dinner. 
 
What's on the dinner menu?
There's a lot to choose from, and it does lean heavily on seafood. First, the starters include the Key West Pink Peel-and-Eat Shrimp Conch Fritters with Key Lime Mustard. There are also salads like the Classic Caesar, which embodies an element of the ocean with its white anchovies. You can order the Day's Catch, which is located on the "From the Dock" section of the menu. The Day's Catch dish is encrusted with crumbled macadamia nuts and accompanied by cracked fingerling potatoes, French green beans, kalamata olives, Key Lime Bure, and mango chutney. If you're feeling extra fancy, get the Florida Lobster grilled and served with quinoa pilaf and brussel sprouts. For non-seafood enthusiasts, chicken and pork are available in the On the Grill section and a Garden Pasta from the Minute Pasta section. A decent list of sides is available to accompany main dishes or starters like the umami-tasting Forest Mushrooms. 
Still stuffed from my late lobster roll and coleslaw lunch, I skipped dinner. However, as expected, the munchies appeared a couple of hours later, and luckily, I had a sweet gift of buttery key lime sugar-coated cookies sitting on the desk. These cookies were from the legendary Kermit's Key West Key Lime Shoppe, founded more than 30 years ago. Today it has established a reputation for its tasty Key Lime creations – including being recognized as having the best Key Lime Pie by Food Network and National Geographic.   
I grabbed a few cookies and wandered onto Duval Street for a nightcap. In Key West, Duval Street is home to a vibrant collection of hole-in-the-wall bars, historic haunts, funky shops, vibrant galleries, and outdoor cafés. It is also home to an active and fun-loving LGBTQ community and is a great place to check out a drag queen show or two. On Duval Street, talented divas perform nightly shows at Aqua Nightclub, La Te Da, and 801 Bourbon Bar.
Day 2 at SOMO
Mornings in Key West are far different than ones in New York. In the latter, I typically wake up to honking cars or construction. At the Southernmost, it's replaced by roosters crowing and rumbling ocean sounds. Following an early morning run at the resort's modest gym, I returned to the Cafe for breakfast, served between 8 a.m. and 10 a.m. My hangry eyes lead the order again, and I walk away with lobster benedict, a parfait, and grapefruit juice. While I'd much appreciated enjoying my feast beachside dining, I had to prepare for a presentation and decided to take my order to my room. ( to confirm the resort does not offer in-room dining / room service). I devoured a parfait, with a beautiful medley of granola, vanilla yogurt, and fresh strawberries. It was the perfect option for a hot day, which are very common in the Keys. The lobster benedict was equally delicious, the kind of meal that will make you want to nap at one of the resort's fabulous pools.
Beyond the resort, there are more activities to enjoy, such as thrilling excursions on jet skis, laid-back tours on the trolley, or sunset sail cruises by Fury Adventures or Barefoot Billy, most of which offer bites and drinks in the package. While I debated on the sunset sail cruise with Barefoot Billy, my heart was set on reading on the beach and dipping myself into one of the heated pools.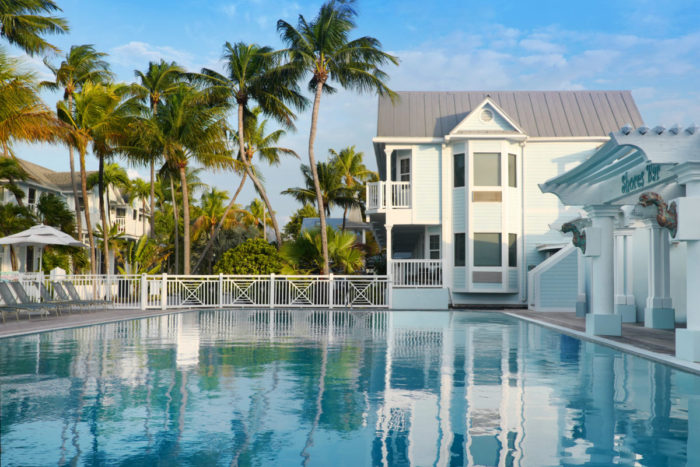 After my pool time, happy hour arrived. As you may have guessed, I found myself at the cafe again. I met bartender Ashley, who concocted a potent Skinny Margarita; what made it "skinny" was the higher Don Julio ratio, not the removal of sugar. This margarita is a solid choice for a cocktail that's not extremely sweet yet packs a punch. If you're seeking a sweet drink, there are several to choose from, such as the Key Lime Margarita, Key Lime Colada, and SOMO Slam.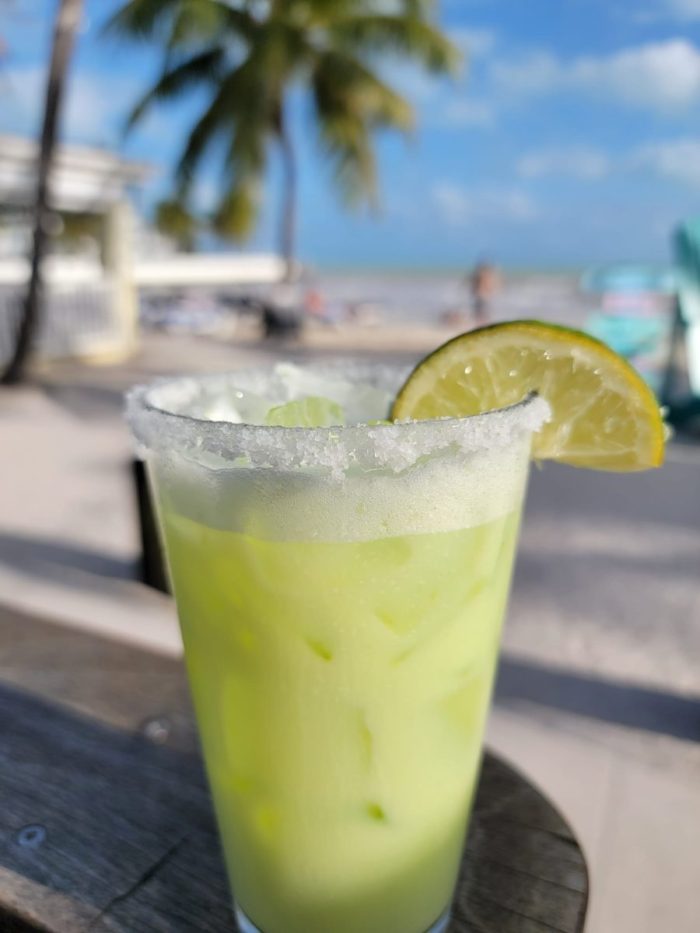 When dinner time arrived, I ordered a varied selection from the Southernmost Beach Cafe: conch fritters, grilled octopus, and a side of mushrooms. Post dinner, I wandered to Duval Street to find Kermit's Key Lime Shoppe to purchase one last signature pie. Eating within 30 minutes of purchasing is recommended. Citrusy, sweet, and tart, the pie is a burst of refreshing flavors and contrasting textures deriving from the creamy custard and graham cracker crust. Upon returning to New York, I also purchased the Key Lime Butter Cookies and Key Lime Coated Peanuts, which friends and family devoured.
Final Day at the Southernmost Beach Resort
On the final day, I had an early afternoon departure. To make the most of my time, I woke up before sunrise and walked to the Southernmost Point of the US, a few minutes away from the Southernmost Beach Resort. In the wee hours of the morning, it appeared most people were either in deep slumber or getting in their morning workout. I watched the sun pour on the horizon, golden rays stretching ever outwards into the sky. It is brilliant, vibrant, and striking on the waters near the colorful landmark buoy. I soak it all in before I visit the Southernmost Beach Cafe to reorder the gorgeous berry parfait before changing into my all-black uniform to return to reality.
Southernmost Beach Resort
Website
1319 Duval St, Key West, FL 33040