Japanese Coffee Jelly is one of the most popular dessert served in most coffee shops and restaurants in Japan during the summertime.
By Ann Low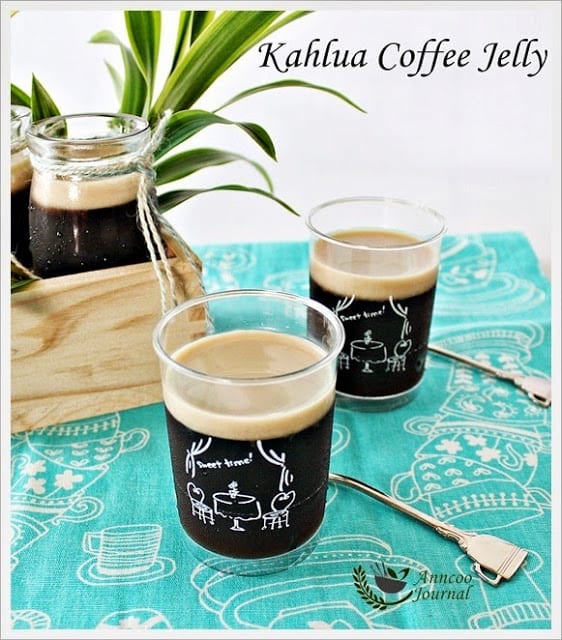 Kahlua Coffee Jelly
Japanese Coffee Jelly is one of the most popular dessert served in most coffee shops and restaurants in Japan during the summertime.
Ingredients
600ml Water
15g Gelatine powder (1 tbsp + 1 tsp)
5½ tbsp Sugar
2 tbsp Instant coffee powder (Nescafe classic)
1 tbsp Kahlua liqueur
Topping
100ml Soya milk (reduced sugar)
1½ tbsp Kahlua liqueur
Instructions
Soak gelatine powder with 2 tbsp water, set aside.
Boil water with sugar and reduce heat to medium and add in the gelatine. Stir till gelatine melted and bring to boil again.
Turn off heat, add in coffee powder, stir well and lastly add in Kahlua liqueur. Then pour into moulds or cups. Leave to cool and chill to set in the refrigerator.
For topping
Mix the soya milk and kahlua liqueur together and add about 2 to 3 tablespoons of the mixture over the coffee jelly when serve.