Aromatic, light, and healthy, to say the least. A perfect combination of nourishing rice, crunchy garbanzo sprouts, and fresh herbs.
By Mariela Alvarez Toro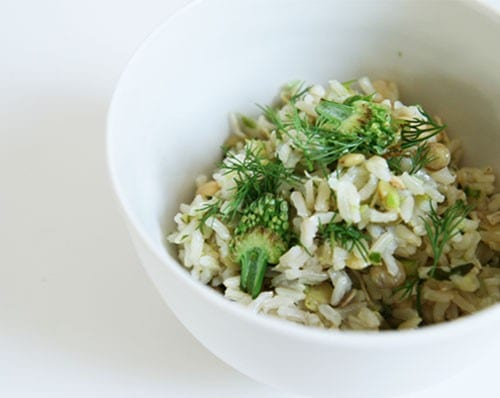 Rice was part of my past, my roots, and my origins. I ate it every day, with a slab of meat. I loved it so much, that I would crave it above anything else, especially the rice that coked along the edge of the pan. Crispy, salty, and fatty, burnt from cooking.
And while I loved rice so much as a kid, I developed some sort of aversion to it throughout my late teen years, and well into my early twenties. Once I moved to the states for architecture school, I stopped eating most foods that I enjoyed as a kid all together. As I discovered that there was a great availability of delicious vegetables in upstate New York, I switched to a plant based diet, eliminating everything I thought of as unhealthy. I like to think of this time as a thorough cleanse in which I established myself as independent, making a lot of my own decisions for the first time. It would only lead to a better understanding of whom I was, and where I came from in the future.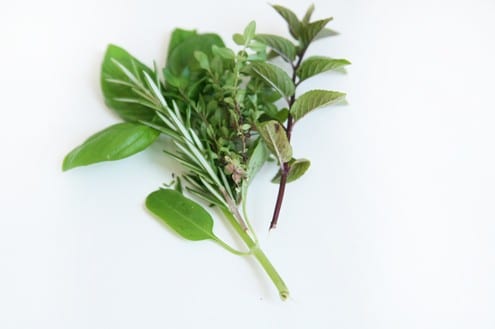 Of course it is much more complicated than what I am describing. I like to think that what I chose to eat, or not to eat was a statement of who I wanted to become. I wanted to change it through the choices I made.
I have made peace with rice. After all, it was the nourishment of my childhood, and it reminds me of home, my parents, and grandparents, and the land were I came from.
This is my kind of rice and beans. Light, fresh, aromatic and healthy, to say the least. It incorporated my latest addiction, and a blend of aromatic herbs. Ever since discovering chickpea and lentil sprouts I've continuously buy them at the Farmer's Market, coming up with different ways to incorporate them into meals. They are perfect in salads, but above all with rice, brown rice to be specific, and lot of herbs. I'll just cross my fingers that the next time I cook rice a thick edge of crisp develops at the edge of the pan.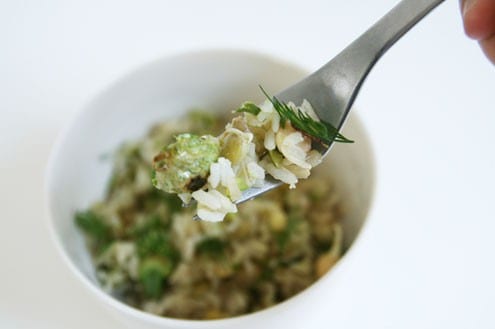 Print
Herbed Rice and Sprouts
My kind of rice and beans. Aromatic, light, and healthy, to say the least. A perfect combination of nourishing rice, crunchy garbanzo sprouts, and fresh herbs.
Author:

Mariela Alvarez-Toro

Prep Time:

10 mins

Cook Time:

45 mins

Total Time:

55 minutes

Yield:

4

1

x
1 cup

(

200g

) sprouts (chickpea, lentils, peas, or a mix)

1 cup

(

210g

) jasmine brown rice

2 cups

(4.7dl) water
pinch of salt

2 tbsp

olive oil

1 tsp

white wine vinegar

1

sprig rosemary

1

sprig mint

1

sprig thyme

5

–

6

basil leaves

5

–

6

garlic scapes (or

2

garlic cloves)

2

onion scapes (optional)
Instructions
In a medium saucepan, bring two cups of water, 1 tbsp. olive oil, and a pinch of salt to a boil.
Add 1 cup of brown rice and stir once.
Reduce heat to medium high and let cook until most of the water had been absorbed.
Cover and reduce heat to medium low.
Cook for another 30 minutes (approximately). Rice should be translucent (no white parts) and chewy (not crunchy).
Cut garlic and onion scapes into 2-inch segments. Keep the flower part of each for later use as garnish.
If you do not have garlic scapes, or the even harder to find, onion spaces, replace with garlic cloves and scallions.
Place the stemmed and cleaned leaves of mint, basil, thyme, rosemary, and dill with the garlic and onion scapes into a food processors.
Process until well chopped.
Mix into a bowl with sprouts. Add olive oil and vinegar. Set aside.
Cook the flower in a sauté pan with a tbsp. of olive oil for five minutes. They should turn golden, but do not let them get burnt.
Once rice is fully cooked pour into the bowl with the remaining ingredients.
Mix until well incorporated, and taste for salt or olive oil. The rice should be glossy and well seasoned, so be generous with these.
Eat hot or at room temperature. Enjoy!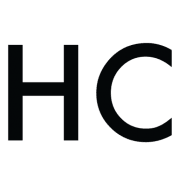 Mariela Alvarez Toro
Recently graduated with from Harvard University's Graduate School of Design. She has recently completed "People in Food-Space", an ethnographic study on the cultural production of taste in space. She has also examined post-soviet food production systems and housing projects in Havana, Cuba. Originally from Puerto Rico, Mariela has been living in the United States for eight years. She has involved herself in both teaching and practice, while writing on food at tastyplan.com. Her goal as a food writer is to cook creatively, using the best ingredients to find new flavor combinations every day.