In December 2021, Hana Polynesian Grill crashed on Cancun shores much like charging horses. Under the direction of Chef Juan Pedro Maldonado and his team, brings the familiar dishes of the Polynesian islands to Cancun such as Makaweli Short ribs, fresh ahi tuna, banana lumpia and more of the region's prolific bounty.
Most resorts embrace a region's cultural blend, but none quite like Marriott Cancun Resort. This resort is unique because it gives guests a wide culinary selection. Guests can choose from sushi, Thai, Italian, or a mouth-watering shrimp ceviche at Sacbe Beach Shack. The resort strikes again with the opening of Hana Polynesian Grill. The restaurant introduces the treasured flavors of the Polynesian islands to Mexico. "We are always looking for new and unique culinary experiences; and a Polynesian Cuisine was the perfect option for a destination as Cancun where there is no restaurant that offers this type of cuisine," says Marriott's F&B, Marketing and Executive Directors.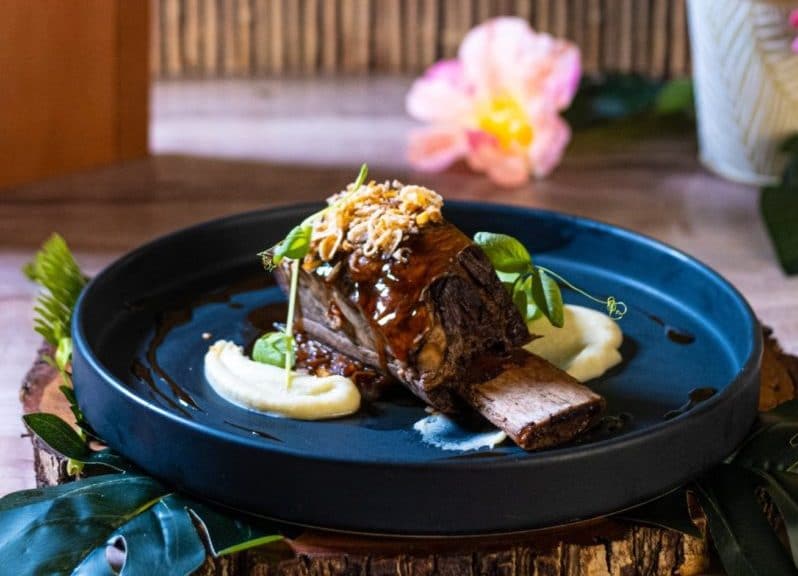 Hana represents the Polynesian restaurant that could transport guests to the unblemished landscape in Maui. The menu mainly captures the flavors of Hawaii, serving dishes like Makaweli Short Ribs, Szechuan baby back ribs and Macadamia Crusted Seabass. For desserts tropical fruits take center stage– pineapple, coconut or banana are used to create cakes or a sweet rendition of lumpia. Meanwhile, the wine menu boasts a playful roster of Mexican, Argentine, Chilean and New Zealand wines that pair beautifully with the dishes.
I had the pleasure of trying the menu during the grand opening party. The evening's masterpiece began with an ahi tuna salad, featuring the yellowtail marinated in soy sauce and lilikoi. I also enjoyed the same salad with watermelon substituted for the tuna. Undoubtedly, the best dish I tried that night was the Macadamia Nut Crusted Chilean Sea Bass. The crunchy buttery macadamia nut crusted over a warm flaky white filet of fish just emanates island vibes. This dish is also a Hawaiian food staple. I accompanied the dish with a delightful mashed sweet potato and paired it with a refreshing glass of rose.
For Hana, introducing Polynesia's rich food culture is not only an effort be unique but to enrich guests palates. Among the other dishes on the menu, when Chef Pedro prepares the Makaweli Short rib; he says it is the one that makes me smile–which is our primary goal for guests staying at our resorts.
Hana Polynesian Grill
Boulevard Kukulcan KM 14.5, Chac L-41, Zona Hotelera, 77500 Cancún, Q.R., Mexico