Celebrate spring with a gorgeous fresh strawberry lattice pie loaded with the fruit of the season.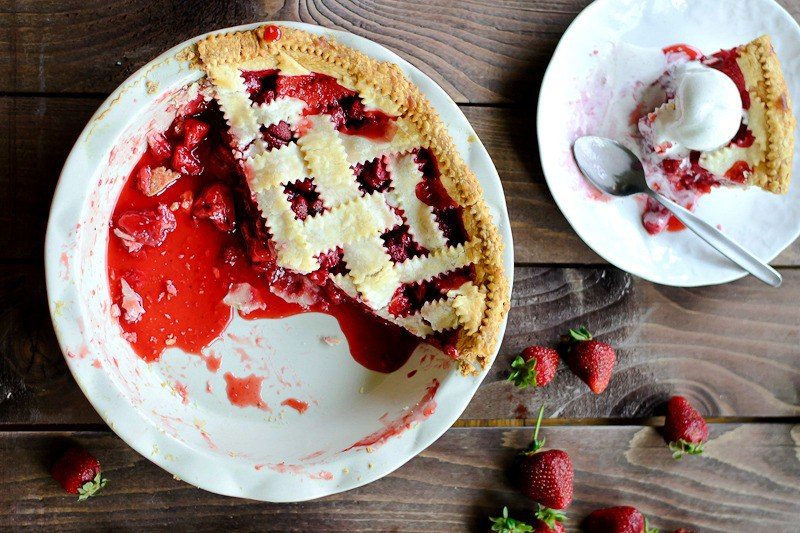 One of my favorite childhood memories is of my parents taking me strawberry picking in Texas. No idea where…Corpus Christi? Houston? Unclear. All I know is that it was one of those places where the strawberry plants were grown stacked on top of each other, so the rows of plants (each plant loaded with ripe berries) towered over me. I remember thinking it was like being in a strawberry forest.
Now that I think about it, this is probably why I thought for the longest time that strawberries grew in trees or super tall shrubs. Buying strawberry plants at Home Depot as an adult was very confusing and disillusioning.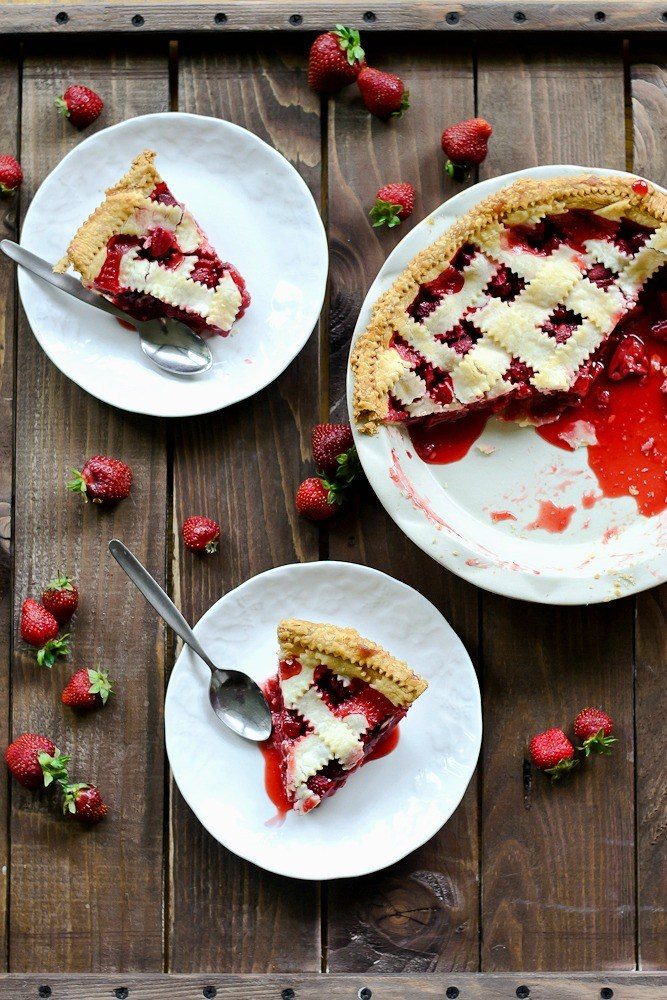 The best part of our Texas strawberry picking adventure was that we were allowed to eat as many berries as we wanted while picking. Looking back, I think maybe you had to pay some sort of upfront fee to pick the fruit, and then separately paid by the pound for any berries you wanted to take home.
I couldn't tell you how many bushels of berries we ended up picking and purchasing that day, but I do have a vivid memory of running up and down the rows of plants hunting for the biggest, reddest, juiciest berry on the vine, taking one big bite from the middle, savoring the sweet juices, then throwing the rest to the ground and reaching for the next fat berry. Children are….very wasteful.
I wonder if that's why all-you-can-eat fruit picking isn't really a thing anymore?
My friend Amy and I have been talking about going strawberry picking for years now, but we always manage to forget about our plans until after picking season (May-June) is over. But not this year! There's still plenty of time left in the season, and this past weekend we drove out to a farm in Leesburg, VA to load up on strawberries.
And, as you can see, we brought the cutest little helper with us! Jack doesn't love eating strawberries (he prefers blueberries, thank you very much), but he had lots of fun running up and down the rows of plants, occasionally stopping to hand "Tee Tee" a particularly nice berry that caught his eye. Between the three of us, we picked an enormous bucket of strawberries – all of which I got to take home for myself (along with half a dozen fresh homemade strawberry donuts, mmmm)!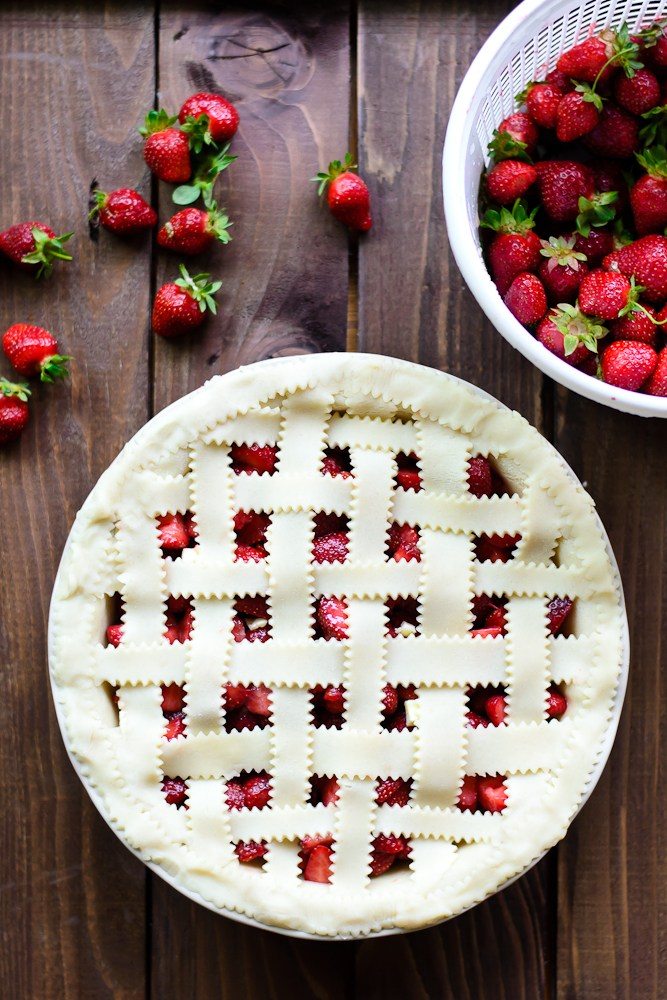 Which brings me to today's recipe. Going into last weekend, my plan was always to turn most of the berries we picked into pie. Specifically, strawberry rhubarb pie. However, for some reason the person who put together my Safeway grocery delivery order last week decided to substitute my order of rhubarb for a big ol' rutabaga.
Rutabaga! Which I'm 99.9% sure is NOT the same thing as rhubarb. It is, in fact, a turnip! A root vegetable! Definitely not something that would taste great baked into a pie with strawberries.
So that's why today's recipe is for a fresh strawberry pie, and not a strawberry rhubarb pie. Kind of the same, but also kind of not…
See Also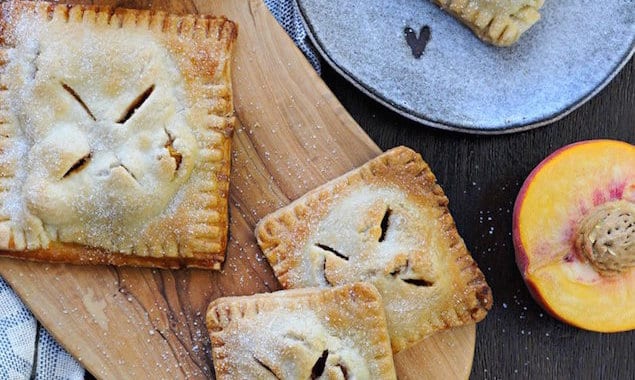 One bucketful of strawberries might not seem like a lot intellectually, but one bucket = five pounds = holy crap, that's a lot of berries. A lot of very ripe berries that were quickly becoming more and more ripe as the day went on. As I watched the strawberries darken and get slightly more bruised-looking by the minute, I legit started to worry that I wouldn't be able to eat/cook all of the berries fast enough before they went south.
Fortunately, the aforementioned Safeway snafu saved me. The original strawberry rhubarb pie recipe I had planned to use called for 3 cups of chopped rhubarb and 2 cups of sliced strawberries. But, since I didn't have any rhubarb, and I knew the berries would decrease in volume after soaking in sugar/draining + baking, I compensated for the missing rhubarb by tripling the amount of strawberries used. With that, I had one pretty deep-dish pie, and enough fruit leftover to roast one batch of berries for ice cream (recipe coming soon) and freeze another for smoothies. Voila, problem solved!
Guys…this pie was so good! Each bite was an explosion of perfectly sweet, juicy berries and flaky, buttery crust. I'm sure rhubarb would have been a great addition, but we honestly didn't miss it. When served with scoops of vanilla ice cream, this pie is basically summer on a plate. And with Memorial Day and July 4th just around the corner, I'm thinking I need to get more strawberries and bake this pie again ASAP.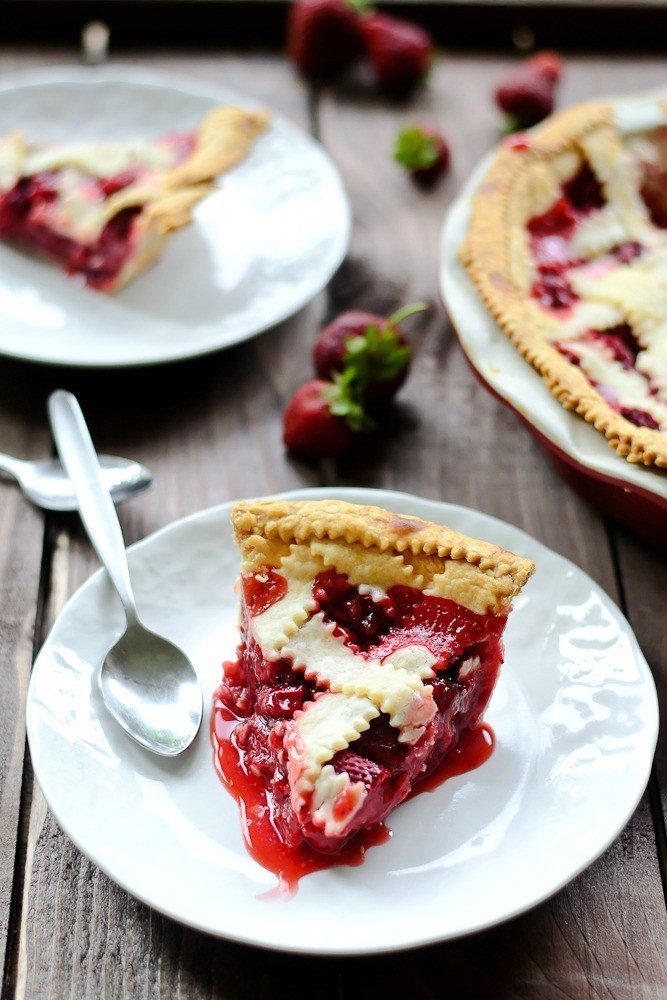 Fresh Strawberry Lattice Pie
Tina Putzing
Ingredients
Double pie crust of choice

6-7

cups

ripe strawberries

hulled and halved

½

cup

packed light brown sugar

1/4

cup

granulated white sugar

1/4

tsp

salt

1

vanilla bean

split and scraped

1/4

cup

cornstarch

1

egg + 1 tbsp water

whisked together (egg wash)

1

tbsp

butter
Instructions
If you're making your own crust, start with that. Divide your dough in two pieces, wrap with plastic wrap and refrigerate until ready to use.

Roll out one piece of dough or store-bought crust and carefully line the bottom of your pie dish with one layer of crust. Press the dough firmly along the bottom and sides of the dish. Set dish aside.

In a large bowl, combine your chopped strawberries, both sugars, salt, and vanilla bean scrapings. Set aside to allow the mixture to get super juicy while your oven preheats.

Preheat oven to 375°F (190°C).

Drain your strawberry mixture and discard all of the liquid.

Add cornstarch to the mixture and stir to combine, making sure the berries are evenly coated.

Spoon your filling into your pie dish, on top of the bottom pie crust layer.

Cut your butter into small pieces and sprinkle the pieces evenly on top of the pie filling. Set aside.

Roll out your second round of dough or store-bought crust and carefully cut this into strips (as wide or thin as you like, mine were about ½-3/4 in.) using a knife, pizza cutter, etc.

To make a lattice for your top crust, take your strips and lay them over and under one another carefully, like you're weaving.

When you're done weaving, press firmly on the edges of dough to seal the strips to the edges.

Brush the top crust/lattice layer with your egg wash.

Cover your pie with parchment paper and bake for 25 minutes (to prevent the crust from browning too much.)

Remove parchment paper and bake for another 20 minutes, until the top of your pie is golden-brown.

Let cooked pie cool for at least 3 hours at room temperature to allow the filling thicken up.

Slice and serve, or cover and refrigerate until read to serve.
Notes
(Recipe very slightly adapted from Also the Crumbs Please.
Tina Putzing
I am an attorney, a lover of reality television (esp if food is involved), a stress-eater, a voracious reader, and a shameless sci-fi/fantasy nerd. I love to eat, I love to cook, and I love to make other people eat what I cook.