This Italian-American bread is rolled and stuffed with meats, cheese and veggies.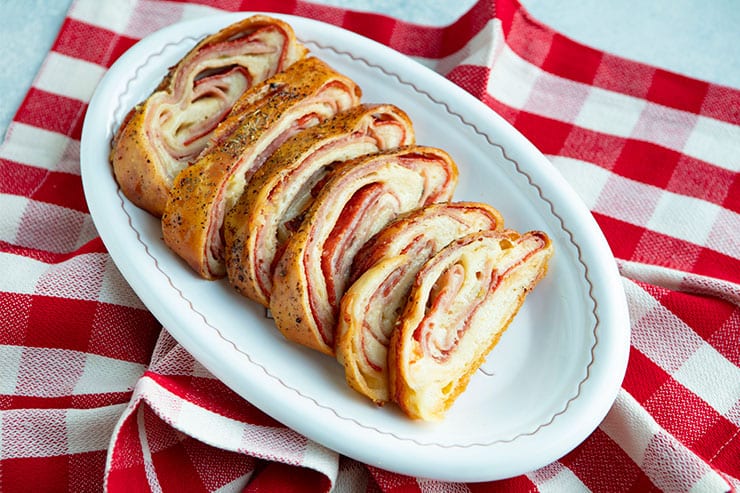 I have to confess, that I after all the years that I have lived and traveled in Italy, I have never seen a stromboli offered on a restaurant menu. Stromboli is a type of rolled or braided dough filled with various Italian cheeses (typically mozzarella) and cold cuts. Pizza dough is often the dough used, although the fillings can be just about anything you like. There is no definitive origin for the stromboli, although most feel that it is an Italian American invention which probably comes from Philadelphia. Others believe it was named after the film Stromboli, or was named for the island of Stromboli.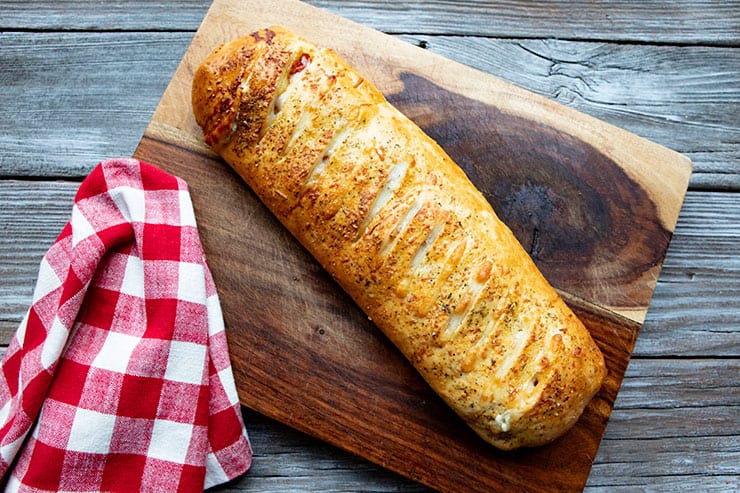 Wherever it came from, stromboli can be a delicious snack, or lunch option, and is great when entertaining a large group. Best of all, kids love stromboli, and it is straightforward to assemble. When we moved to our new house, we moved just down the street from my daughter and three grandkids. Although the eldest is now away at University, the kids stop by often and are always on the lookout for tasty snacks. I like to keep the ingredients for a stromboli unhand as it is really easy for the kids to prepare themselves, and it has become a family favorite. The kids love it as an afternoon snack, and to pack it for school lunches as well.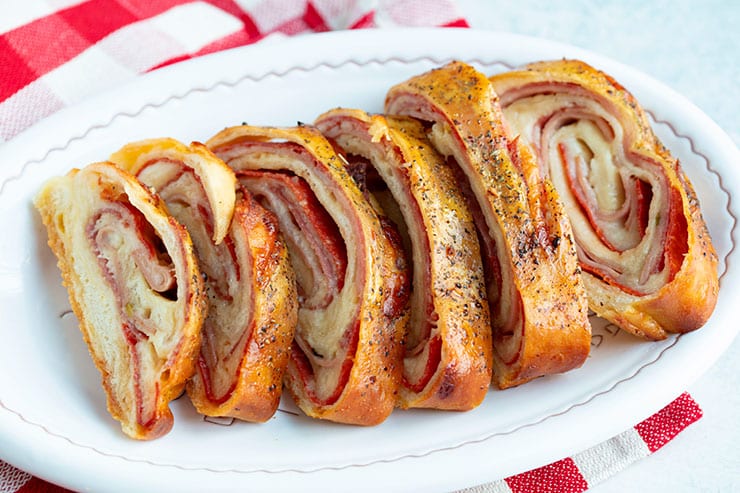 I have made braided stromboli in the past, but a rolled version is much easier for the kids to handle on their own. You can use either basic or a whole heat pizza dough, and a store-bought ball of pizza dough works just fine. Some folks like to dip slices of stromboli into a prepared tomato or marinara sauce, but we feel that it just mucks up the flavor and we prefer serving slices on their own. You can use your favorite sliced Italian meats and cheeses, but I found that part skimmed mozzarella slices work better than fresh mozzarella as the extra moisture in the fresh cheese makes the dough soggy on the bottom.
See Also
We like spicy food, so we often add a spicy capocollo or salami into the mix, but you might want to avoid spicy cold cuts if you are serving this to children. Other meat options are ham, cured salami, or pepperoni. Some of the cheeses I like are Provolone Piccante, Low Moisture Mozzarella, Fontina, and Asiago. I have also added some veggies into the mix when I prepare stromboli for my husband and I, such as marinated artichokes, roasted peppers, and chopped kalamata olives. Just drain the veggies really well and then pat dry with kitchen towels to remove as much moisture as possible.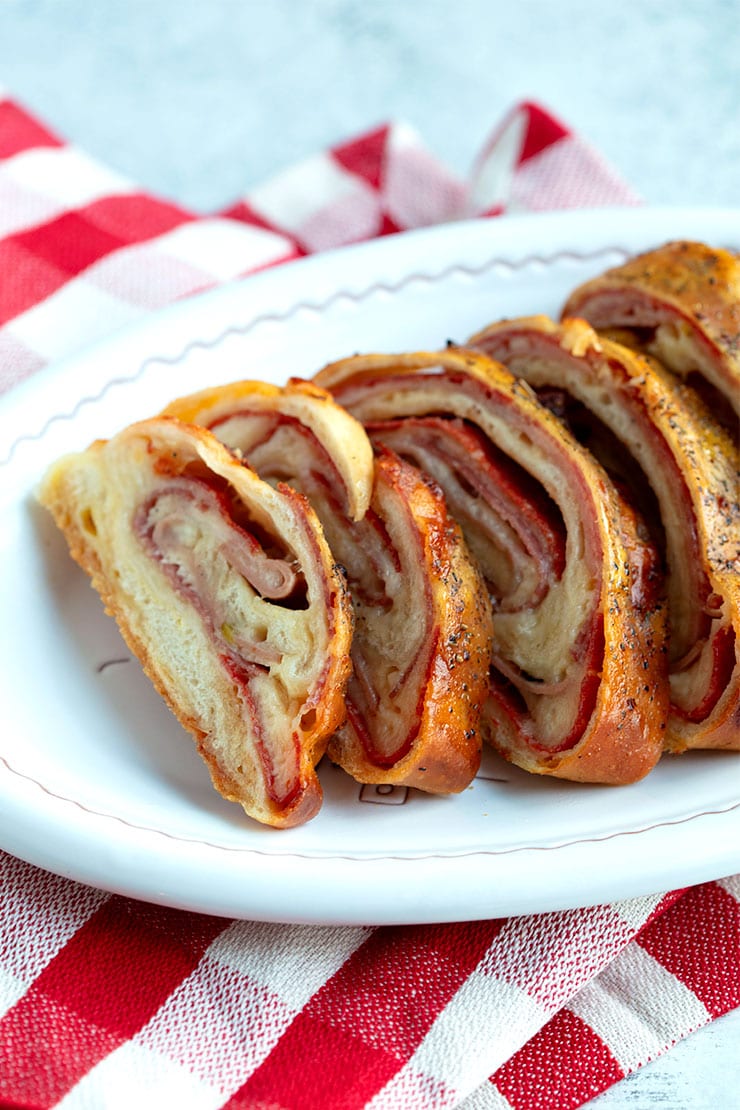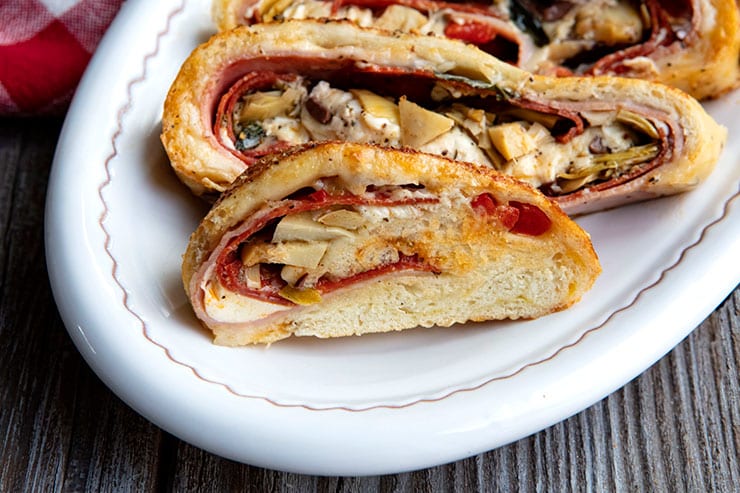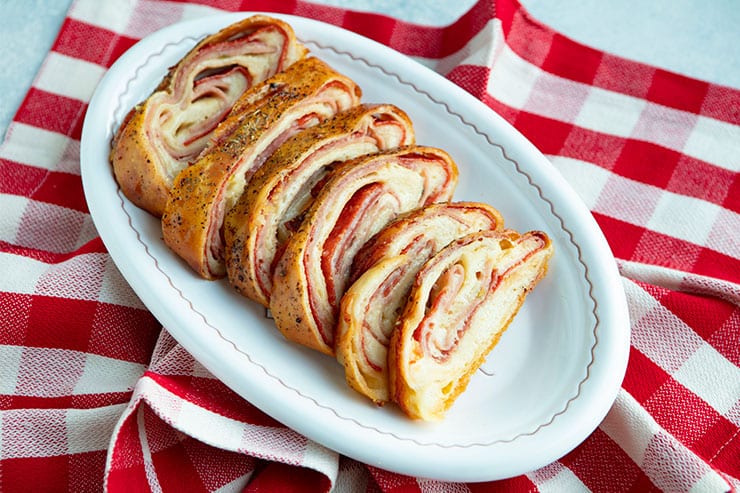 Easy Stromboli
Deborah Mele
Ingredients
1

12 Ounce Ball Pizza Dough (At Room Temperature)

6

Ounces

Low Moisture Mozzarella Slices

Or Shredded

6

Ounces

Provolone Slices

15

Salami Slices

12

Ham Slices

15

Slices

Pepperoni

1

Cup

Grated Parmesan Cheese

1

Large Egg

Beaten
FOR TOPPING:
Cracked Black Pepper

1

Teaspoon

Dried Oregano
Instructions
Preheat oven to 375 degrees F.

Lightly flour a sheet of parchment paper, then roll out your ball of dough into a 12 x 14 inch rectangle.

Start to layer the meat and cheese until it is used up, leaving a 1 1/2 inch border clear around the rectangle.

Brush the edge of the dough with the egg wash, then roll up the stromboli from the long edge as firmly as possible, tucking the ends and seam at the bottom.

Carefully move the stromboli using the parchment paper to the baking sheet.

Bruch the top and sides of the rolled dough with the rest of the beaten egg, then sprinkle with the pepper and oregano.

Bake for 25 to 30 minutes, until well browned.

Remove from the oven and let sit 10 to 15 minutes, then slice and enjoy.
Deborah Mele
Deborah Mele is a self-taught cook whose passion for Italian cuisine began after living in Milan, Italy for 8 years. Although not Italian by birth, she became a true Italian by heart and palate. Deborah created her Italian recipe blog ItalianFoodForever.com 12 years ago to share her passion for Italian food. During her various travels throughout Italy, Deborah fell in love with the central Italian region of Umbria so when they retired, Deborah and her husband bought two farmhouses there where they now reside for six months a year and run a farmhouse rental for guests and give cooking classes.