Chocolate lovers know that receiving chocolate is always exciting, and these chocolate brownies are great to wrap as a gift for the holidays.
By Ann Low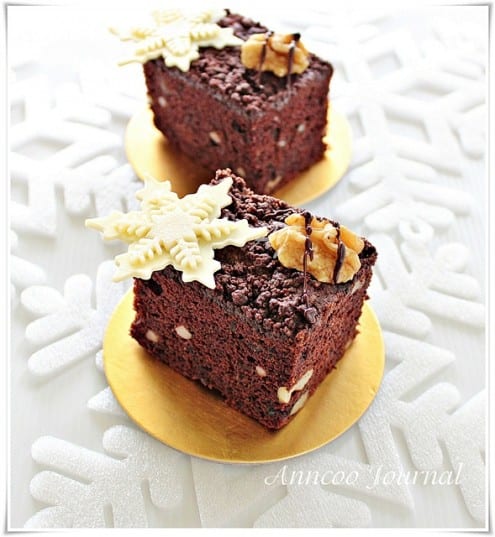 How can you have Christmas without chocolate? Chocolate lovers know that receiving chocolate as gift is always exciting. Chocolate brownies are the best dessert to serve or wrap as a gift for the festive holidays. My today's post is Easy Brownies. It is a soft and fragrant piece of cake that valrhona chocolate and cocoa powder are being used. Walnuts are added in the brownies with chocolate crumbles as topping that give a nutty and crisp bites. If you prefer the brownies to be sweeter, you can also add some chocolate chips into it or substitute the chocolate crumbles for chocolate ganache topping. The addition of rum or mint is also a classic combination. Do give a try with mixing and matching the flavours to suit your taste and share this wonderful brownies to your family and friends for Christmas.
Recipe Type:
Dessert, chocolate cakes
Ingredients
Chocolate crumbles
45g Plain flour
12g Valrohna cocoa powder
25g Sugar
30g Soft butter
Mix all the chocolate crumbs ingredients well with finger tips and set aside.
Brownies
4 Egg whites
130g Melted chocolate (65g Valrohna chocolate & 65g semi-sweet chocolate)
130g Soft butter
125g Sugar
4 Egg yolks
½ tsp Vanilla extract
150g Walnuts, slighty crush
140g Plain flour )
2½ tbsp Valrohna cocoa powder } sieve together
1 tsp Baking powder )
1 tsp Baking soda )
Instructions
Whisk egg whites till stiff and fold in melted chocolate with a rubber spatula.
Beat butter, sugar, egg yolks and vanilla extract till creamy and pour into egg white mixture, mix well and add in walnuts.
Add sifted flour mixture with 3-4 tablespoon fresh milk, fold well.
Pour mixture into a 10 x 6½ inch or 8 inch square (lined all sides) tray and sprinkle chocolate crumbles on top.
Bake at preheated oven 170C for about 40-45 minutes or test with a skewer till it comes out clean.
Ann Low
Ann Low is the author of Anncoo Journal, and loves to bake and cook for both family and friends. She acquired a strong passion for culinary skills from a very young age by watching her grandmother prepare delicious meals for the family. Ann believes that baking is an art and she wants to share her baking and cooking experiences with everyone in the world.