These Healthy Curry Chickpea Lettuce Wraps are my new favorite easy lunch to make! This is Vegan, Gluten Free, and loaded with flavor.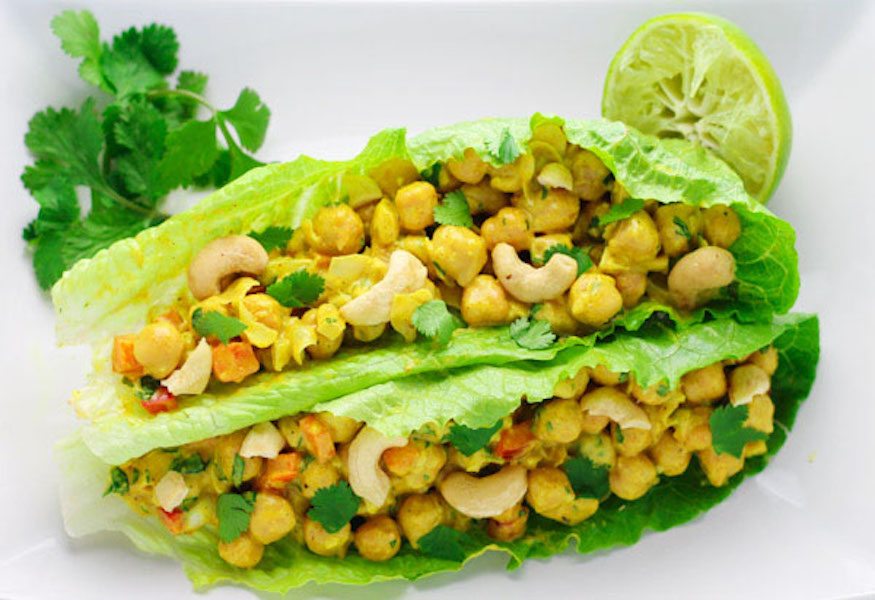 I've been trying to come up with more quick healthy lunch options this year. I just get sick of making the same boring thing for lunch everyday and wanted to spice things up a bit.
So I got to thinking, hmmm why don't I try to make something with these Chickpeas other than hummus!
I love all things Curry, so I wanted to create a Curry flavored Chickpea Lettuce Wrap.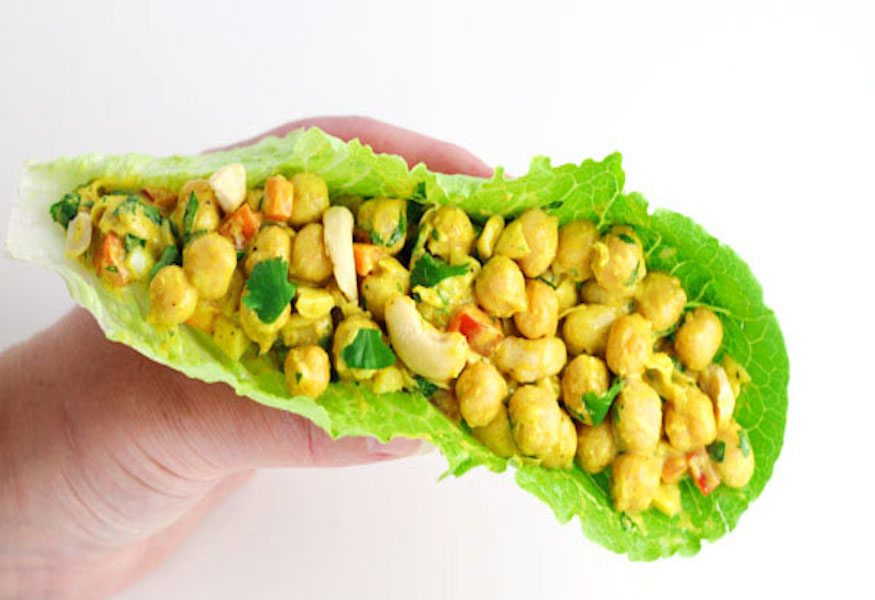 For this I just added two cans of Chickpeas (drained and rinsed) to a large bowl. Added some chopped Red Pepper, Onion, Carrots, and Cashews. Minced some Garlic over it and added some fresh Cilantro leaves.
Then I added in EVOO, Just Mayo (this brand is egg and dairy free), fresh Lime Juice, Turmeric, Curry Powder, Sea Salt, and Pepper.
Mix it really well and scoop into your favorite Lettuce Leaf to make a wrap!
The beauty of this recipe is that you can tweak it to your spice level. If you're new to using Curry, I recommend starting with 1-2 tsp of Curry Powder. After stirring it in, give it a taste. If you find you want more Curry flavor or spice then add more in.
I prefer more of a medium spice, so I used 1 Tbs of Curry Powder, for me that was perfect. But if you really love the spice then by all means, add as much as you can handle!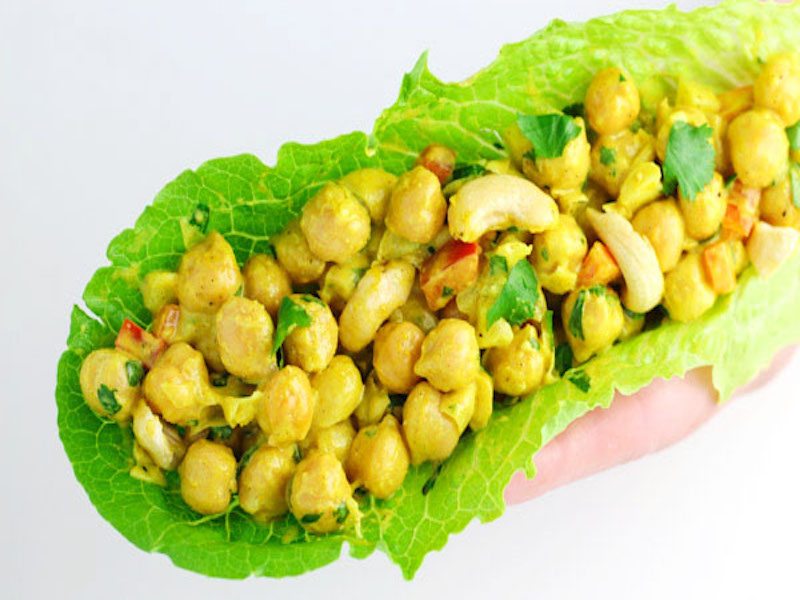 Here's what I love about these Healthy Curry Chickpea Lettuce Wraps:
It's healthy, Chickpeas have Vitamin A, C, and Iron
It's very filling, so you won't be left feeling hungry later in the afternoon
It's Vegan and Gluten Free
It's super easy to make, I made this in less than 10 minutes
This makes great leftovers, I had enough for 4 lunches throughout the week
This is loaded in flavor and you can tweak your spice level
Curry Chickpea Lettuce Wraps
Ingredients
2 15oz cans Chickpeas rinsed and drained
¼ cup chopped Red Pepper
¼ cup chopped Sweet Onion
¼ cup chopped Carrots
¼ cup chopped Raw Cashews unsalted
1 small clove minced Garlic (about 1 tsp)
¼ cup chopped fresh Cilantro leaves
1 Tbs EVOO (extra virgin olive oil)
½ cup Mayo (I used Just Mayo, it's dairy free and egg free)
2 Tbs fresh Lime Juice (juice from about 1 lime)
1 tsp ground Turmeric
1 Tbs ground Curry Powder
¼ tsp ground Sea Salt
¼ tsp ground Black Pepper
1 7oz package Romaine Lettuce Leaves
Instructions
In large bowl add Chickpeas, Red Pepper, Onion, Carrots, Cashews, Garlic, and Cilantro.
Mix well.
In small bowl add EVOO, Mayo, Lime Juice, Turmeric, Curry Powder, Salt, and Pepper.
Whisk together and pour over the Chickpea mixture.
Stir until combined.
Spoon Chickpea mix into Lettuce Leaves.
Enjoy!