Chargrilled Sweet Pepper and Walnut Dip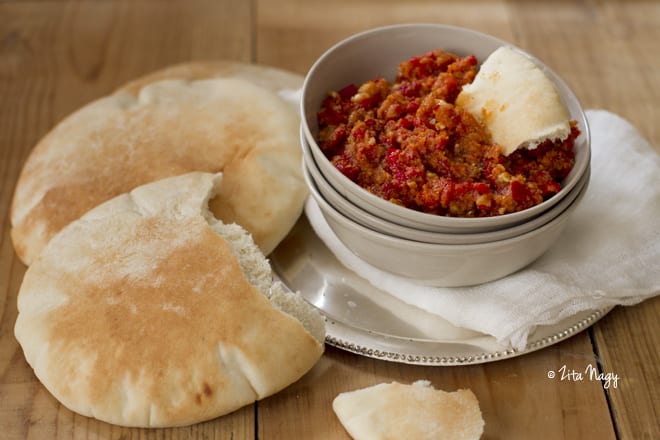 It's lovely as a dip, spread on flatbreads, mixed into hearty stews, or tossed with pasta or potatoes.
By Zita Nagy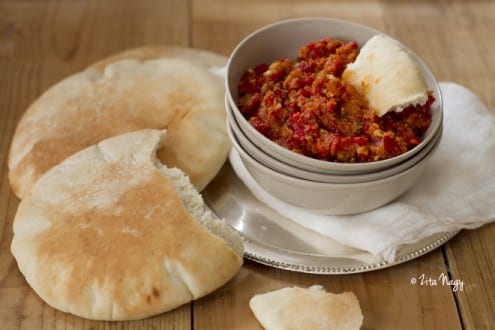 These peppers, which hail from Syria and neighbouring Turkey, have a high oil content and a hind of earthy smokiness in their flavour.
Chargrilled Sweet Pepper and Walnut Dip
It's lovely as a dip, spread on flatbreads, mixed into hearty stews, or tossed with pasta or potatoes.
Author:
Zita Nagy, adapted from The Jewelled Kitchen
Ingredients
- 500 g roasted sweet pointed peppers
- 75 g walnut halves, roughly chopped
- 55 g fine breadcrumbs
- 2 tablespoons pomegranate molasses
- ½ teaspoon ground cumin
- ½ teaspoon paprika
- ¼ teaspoon cayenne pepper
- 1 teaspoon Aleppo pepper flakes (optional)
- 2 tablespoons olive oil, plus extra to drizzle
- finely chopped mint leaves, to sprinkle
- sea salt
- warm Arabic bread, to serve
Instructions
Slice off the tops of the roasted peppers, discarding any seeds. Chop the flesh finely and put it in a mixing bowl.
Add the walnuts, breadcrumbs, pomegranate molasses, cumin, paprika, cayenne pepper, Aleppo pepper flakes (if using) and oil. Season to taste with salt. Mix well, then set aside for about one hour to allow the flavours to develop.
Put ingredients in a serving dish, drizzle with olive oil and sprinkle with mint. Serve at room temperature with warm Arabic bread.
Zita Nagy
Zita's love for cookbooks and delicious food started at the age of 9. Whenever she went home from school her little brother and she would wait for mom to make dinner for them. Until the dinner was ready, she was turning the pages back and forth and was staring at photographs of amazingly looking dishes in mom's cookbooks to kill her appetite somehow. She couldn't have known then, that she would be collecting cookbooks after reaching adulthood and would still be, just like in her childhood, staring at awesome photos of delicious dishes. The only difference is that she does the cooking now. She loves traveling, going to the organic market and browsing foodblogs. Her vegetarian food and travelblog is Zizi's Adventures.