Whether you're going to school, work, or just enjoying a day at the park, pack-able lunches will keep those fun-thwarting hunger pains that come with warm weather activities at bay.
By Laine Milam
This article has been posted with permission and originally appeared as Easy On-the-Go Lunches for Spring Break on Relish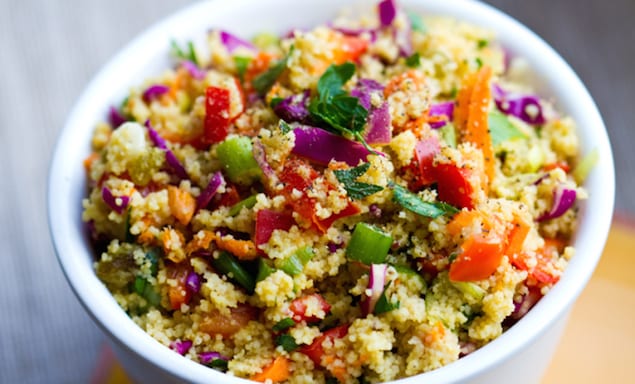 The Cancer Project
Warmer spring weather can work up quite an appetite. Whether you're headed outside on a big adventure, going to school or work, or just enjoying a day at the park, pack-able lunches will keep those fun-thwarting hunger pains at bay. Dust off the tupperware, pack the cooler, and adventure on with the following simple sandwich and salad options.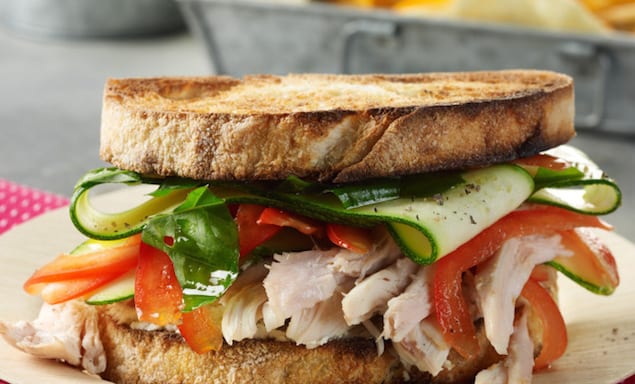 National Chicken Council
Chicken Sandwiches with Lemon-Basil Zucchini and Boursin
Flavor packed veggies and protein rich chicken give this sandwich staying power for active adventures. Assemble sandwiches and pack over ice to ensure ingredients stay crisp in warm weather fun. Get the recipe here.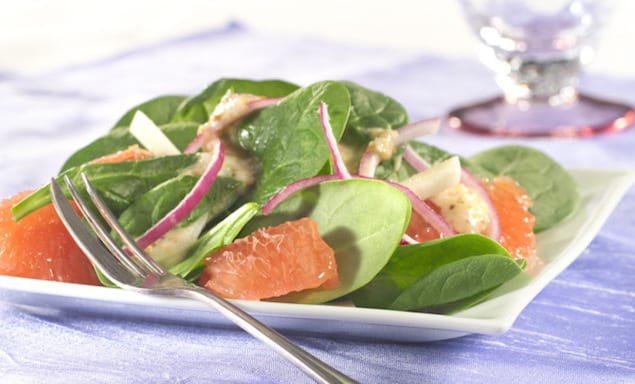 TexaSweet Citrus Marketing, Inc.
Spicy Grapefruit Salad
Spinach salad gets a zip from tangy, sweet grapefruit and a honey mustard vinaigrette. Serve this salad as a sandwich accompaniment or add your protein of choice for a one container lunch. Get the recipe here.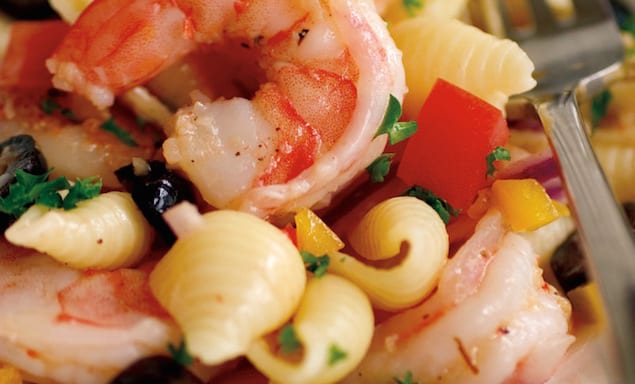 Shrimp and Pasta Salad
The longer you allow this dish to marinate the better it gets, so consider assembling ingredients the evening before. The ideal balance of carbohydrates, vegetables, and protein makes this dish a winner for fueling up after playing in the surf or hiking all morning. Get the recipe here.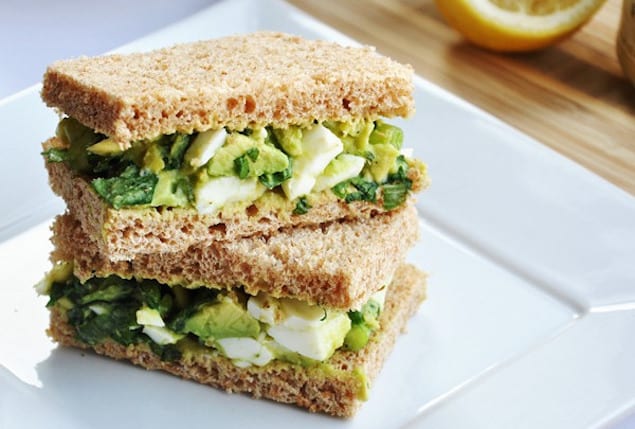 Avocado Egg Salad Sandwich
Vegetarians in the group will appreciate a satisfying meatless option. Creamy egg salad ditches the mayo in favor of an Omega-3 rich avocado boost. To keep sandwiches from getting soggy, consider serving a crusty hoagie roll instead of soft wheat bread. Get the recipe here.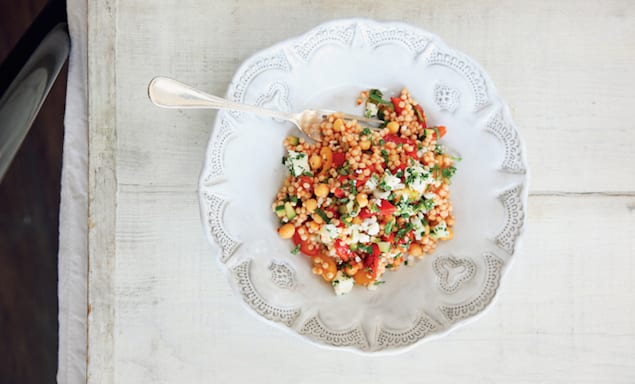 Mediterranean Bowl of Giant Couscous
Everything delightful and delicious from the Mediterranean makes an appearance in this filling salad. Chickpeas add a healthy dose of protein, but you can easily up the hearty factor with shredded rotisserie chicken or grilled chicken from last night's dinner. Get the recipe here.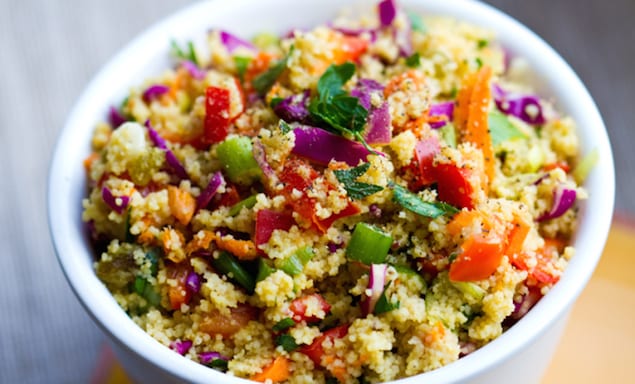 The Cancer Project
Couscous Confetti Salad
A salad with major fix it and forget it factor, this blend doesn't contain anything that will suffer from sitting at room temperature or even being slightly warm. Couscous is more complex than other pastas and will provide a carb kick to power through play. Get the recipe here.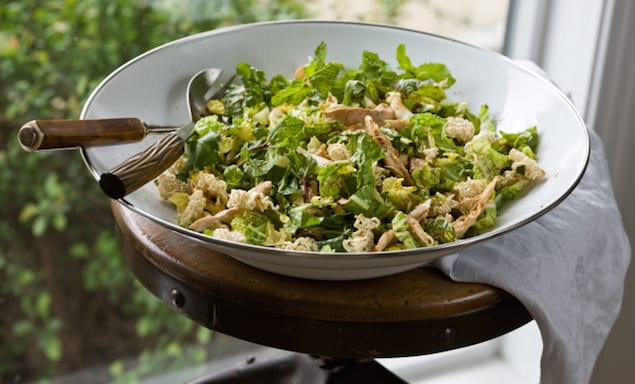 Mark Boughton/styling: Teresa Blackburn
Asian Chicken Salad
Ramen noodles make an appearance outside the college dorm to partner with shredded chicken in an Asian-inspired salad. Fresh herbs and lots of crunchy additions make the dish a delightfully different approach to the usual protein and greens. Get the recipe here.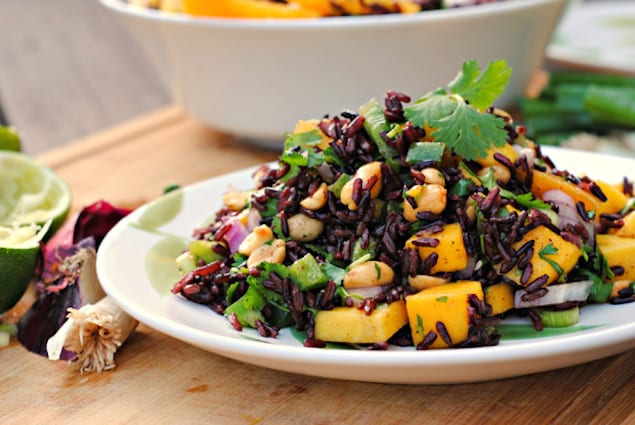 Black Rice Salad with Mango and Peanuts
Rich in antioxidants and hydrating mango, this salad is refreshing and won't weigh you down for your next round of activities. Don't stress about keeping this salad chilled to the bone, as it will still taste great when slightly warm. Get the recipe here.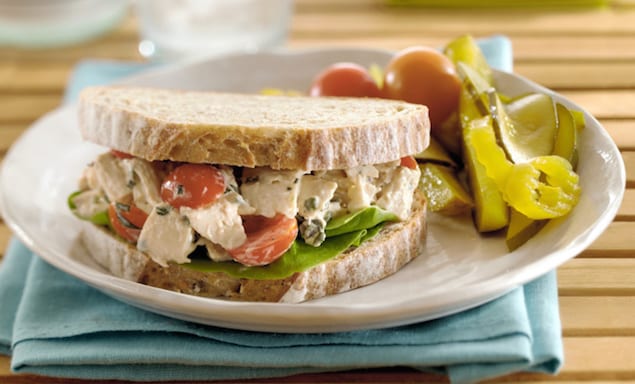 Mark Boughton Photography/styling by Teresa Blackburn
Chicken Salad and Grape Tomato Sandwiches
Serve a scoop of classic chicken salad in whole wheat pitas, tightly coiled in a wrap, or between slices of your favorite sourdough. Since this variation includes mayo, make sure salad stays on ice and chilled down until lunchtime. Get the recipe here.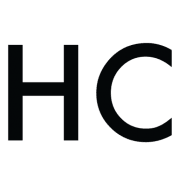 Relish
Offering more than 14,000 recipes plus features and DIYs on cooking, dining and entertaining, Relish celebrates America's love of food. Relish is about honoring cooking traditions while exploring new trends and ideas, which is why millions of people turn to both Relish.com and Relish Magazine for special occasion recipes, quick and easy weeknight suppers and culinary adventures.