Check out these four flavorful guacamole recipes just in time for Cinco de Mayo weekend.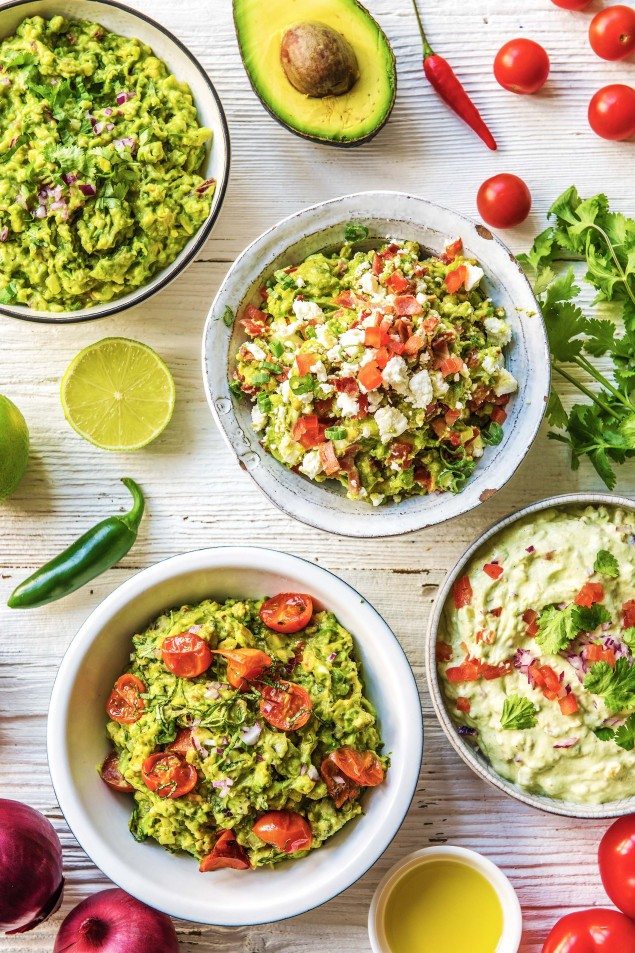 Guacamole is one of the most common Mexican exports – and here are our absolute favourite ways to celebrate Cinco de Mayo.
The Classic Guacamole:
 Ingredients
½ red onion, very finely chopped
1-2 serrano chillies or other fresh green chillies, finely chopped
1-2 tsp Maldon salt
3 ripe Hass avocados
Juice of 1-2 limes
A small handful fresh coriander, chopped (I think this is optional as I left this out and the taste was still delicious)
Instructions
Put a quarter of the onion and half the chilli and salt in a pestle and mortar and mash to a rough paste.
Cut open the avocados, remove the stones and scoop out the flesh into the pestle (or into a large bowl if your pestle is small). Roughly mash the flesh with a fork, adding half the lime juice as you go.
Stir in the rest of the lime juice and chillies, coriander, red onion and tomato.
Season with plenty of black pepper and salt (only if more salt is needed)
Serve with tortilla chips
The Bacon Guacamole Recipe
Ingredients:
4 large ripe avocados, halved and seeded
6 slices of bacon, cooked and crumbled
1 lime, juiced
1 glove garlic, minced
1/2 tsp salt
1/2 tsp peppe
1/4 tsp crushed red pepper (more or less to taste
3 green onions, sliced
1/4 cup- 1/2 cup crumbled feta cheese
1/2 roma tomato, diced
Instructions:
Spoon avocados into a medium bowl and mash together with a fork, leaving as chunky as you'd like.
Add lime juice, garlic salt, salt and pepper, crushed red pepper, and combine.
Then stir in feta cheese, bacon crumbles and green onion.
Check out our other delicious guacamole recipes.
HelloFresh
At HelloFresh, we want to give people the simple knowledge they need to cook delicious, healthy meals. Whether you want know how to boil an egg or cook an elaborate dinner menu, you know who to call!