Green Hong Kong Egg Waffles and Crispy Chicken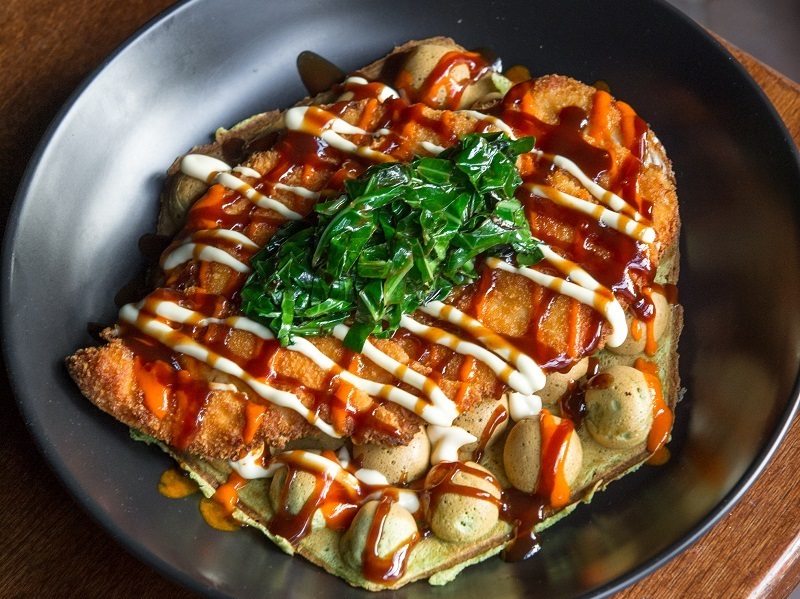 A fun Asian street food meets a classic American dish, just in time for the green holiday.
Would you like to try Vandal's Green Egg Hong Kong Waffles and Crispy Chicken?
The answer is no. Indefinitely no.
So you say.
Try  it ! Try it!
And you may.
Try it and you may love it I say.
Try it in your home.
Try it at Vandal or try it for St. Patty's Day!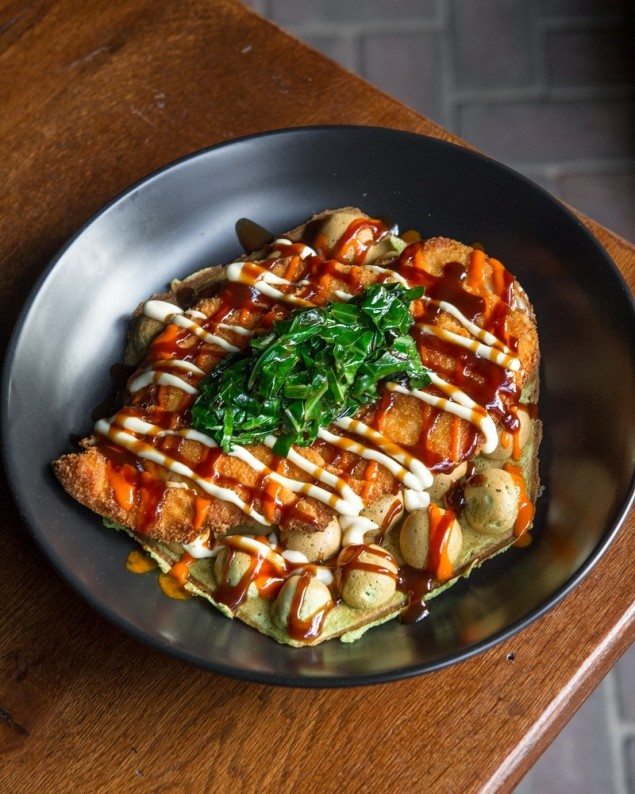 Bringing Asian street food and a southern American classic together, the Green Hong Kong Egg Waffles &and Crispy Chicken by Vandal is by no means a  dish to scrimmage at. In fact the crispy green waffle, is made with Thai basil and parsley which causes the green color and to the elevated street dish. See there is nothing to be scared of folks, simple, natural ingredients. To your surprise, Vandal's Green Hong Kong Egg Waffle and Crispy Chicken crafted by Chef Chris Santos and  Executive Chef Jonathan Kavourakis  is actually a crowd favorite. More reason to give the waffle a try,  see below for the full recipe to replicate this crispy green creation.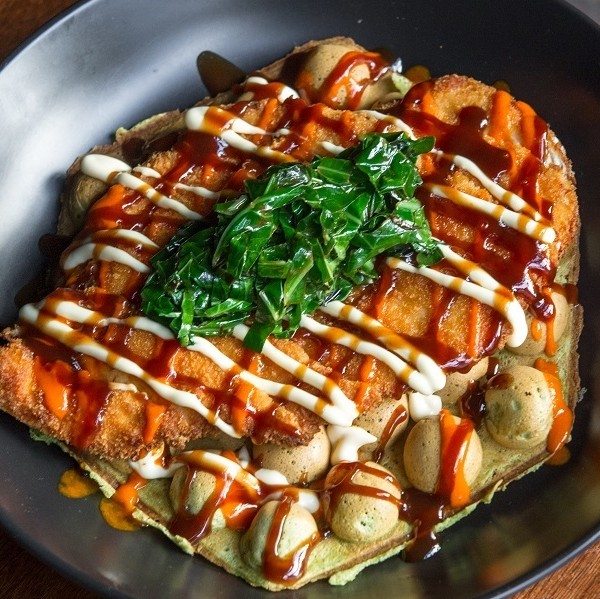 Green Hong Kong Egg Waffles & Crispy Chicken
Chef Chris Santos
A green dish recipe where Asian street food meets a southern american classic courtesy of Vandal by TAO group and Chef Chris Santos
Cuisine
Global Street Cuisine
Ingredients
Hong Kong Waffle
1.5

lbs

AP flour

6 1/2

tsp

Baking powder

3

tsp

salt

4

tbsp

sugar

20

oz.

milk

4

eggs

12

oz.

water

7

oz.

butter

2

oz.

Thai Basil

2

oz.

parsley

2

tbsp

kaffir lime powder
Chicken Breast
Chicken breast

light soy sauce

flour

eggs

panko
Tonkatsu Sauce
1

cup

ketchup

4

oz.

oyseter sauce

6.5

oz.

worcestershire sauce

3

oz.

sugar
Sesame Kewpi
1

cup

Kewpi mayo

1/2

tsp

Sesame oil

1

oz.

water
Sriiracha Drizzle
1

cup

sriracha

1/2

cup

rice vinegar

1/2

cup

olive oil
Pickup
1

ea. Waffle

1

ea. 4 oz. chicken cutlet

.75 oz. tonkatsu sauce

.25 oz. sesame kewpi

.25 oz. sriracha drizzle

.25 oz chopped scallions.
Instructions
Hong Kong Waffle
Combine 10 oz. water with sugar and butter in small sauce pan and put on low heat to melt butter and sugar.

Combine flour, baking powder,Kaffir lime powder and salt in a mixing bowl and mix well.

Make a well in the center and put eggs and milk. In a blender place the parsley, thai basil and the remaining 2 oz. of water.

Blend well till a smooth puree is formed and a bright green color.

Add water, sugar and butter mixture to mixing bowl and stir batter well. Add the thai basil and parsley puree at the end. Each waffle is 3/4 cup of batter.

Cook in 200 degree waffle iron for 4.5 minutes
Chicken Breast
Butterfly the chicken breast and pound thin with mallet.

Cut into 4 oz. pieces. Bread with flour, eggs and panko crumbs coating thoroughly.

Fry chicken in 350 degree fryer.
Sriracha Drizzle
Combine sriracha and rice vinegar in a blender. Emulsify with olive oil and place in squeeze bottle
All ingredients
Slice chicken and place on top of waffle. Drizzle with the three sauces and top with chopped scallions. Served in a large black matte bowl.
Too much work to recreate? Head to Vandal located on 199 Bowery, New York, NY 10002, where the waffle is served with more greens, some good southern collard greens.
Alyssa Holder
I enjoy listening to the stories of the people who devote their time to fill our stomachs with scrumptious food. And of course, experiencing and sharing my thoughts on the cuisines that span across the world.