The décor is modern and stripped of any superfluous adornment, just a perfect balance of color and symmetry inside: a feast for all the senses.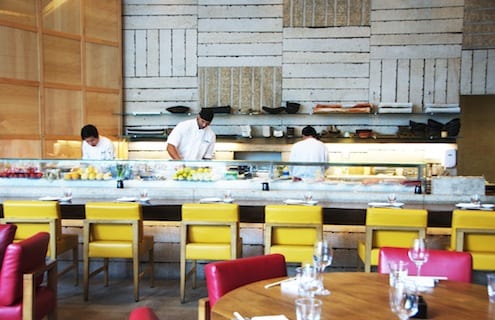 Mister H. was my dining companion. We both had been here before and were anxious to try different dishes, different from what we usually order so we could embark on a new culinary adventure.
We started with the Yaki Toumoro Koshi: Sweet corn with shiso butter. The pieces of corn were impaled with a stick and perfectly cooked, the dark grill marks imparting and incomparable flavor, the green shisho (a herb from the mint family) added a distinctive note that made this dish special; such great flavor and texture with each bite. Wow.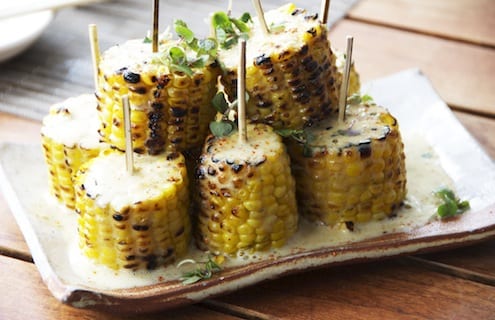 The Japanese Mizuna Salad with bacon and maple dressing that Mister H. had was just beautiful. The Mixed Leaf Salad that I had was more heaven in a bowl, served with maple shichimi dressing. The best salad I have had in a long time, such subtle flavor and gorgeous color.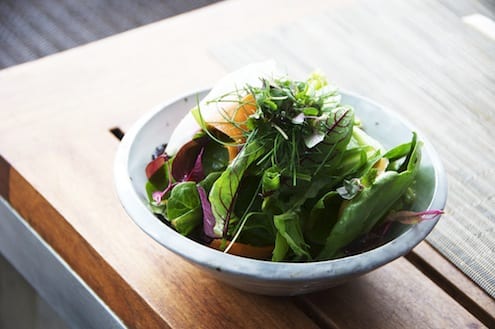 Buta-Bara Yuzu Miso were kurobuta pork belly skewers with yuzu mustard miso. Perfectly caramelized, smoky-sweet, tender, heavenly morsels of pork belly made each bite a superb event, like a dynamite of flavor exploding in the mouth. Kurobuta pork is valued for its juiciness, taste and tenderness, it is pink-hued and heavily marbled and will bring any pork lover to their knees. The yuzu mustard miso sauce added a big, slamming dose of taste that was crazy-good. Yuzu is a citrus fruit that originates from East Asia.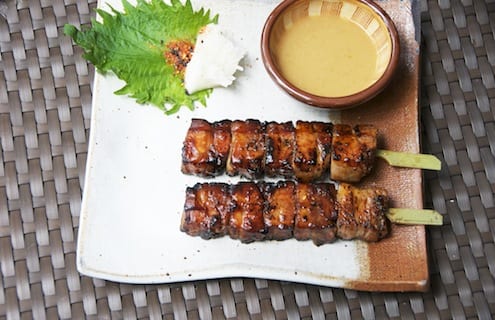 The Yellowtail Don with wasabi, myoga and serrano pepper caught me by surprise, stunning in its simplicity yet so rich in goodness, each morsel an exceptional blast of flavor.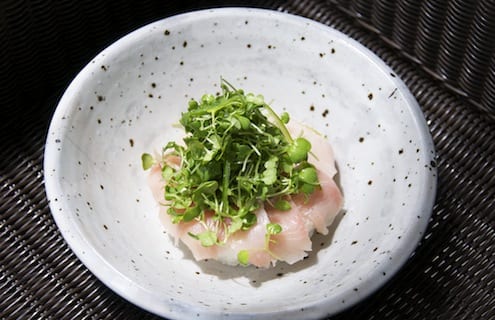 Rice was slathered with the myoga sauce (Japanese ginger or myoga ginger) and topped with thin slides of yellowtail fish, garnished with microgreens. What a beautifully clean tasting dish! This was truly a one-of-a-kind delight.
Mister H. had the Salmon Teriyaki with pickled cucumber. I had a bit, it was a deeply delicious dish with fantastic seasonings.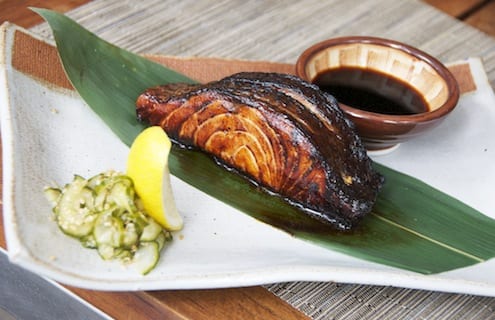 For desserts we had the Chocolate Flan and the Coconut Tapioca. The Chocolate and tofu flan, ginger streusel, sake foam and salted caramel ice cream was awesome.
Both desserts were yummy but the Coconut Tapioca also caught me off base.  The mixture of textures commingling with the coconut was pure whimsy. Beautiful, just beautiful.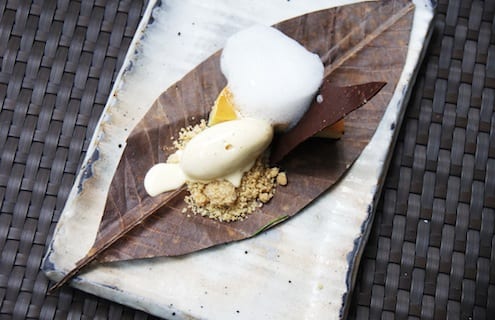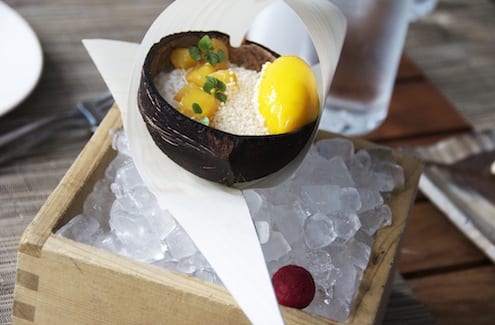 So am I biased when I speak of Zuma? You bet I am. When I die, if I go to heaven, a dish of yellowtail don would be an excellent welcome followed by Coconut Tapioca.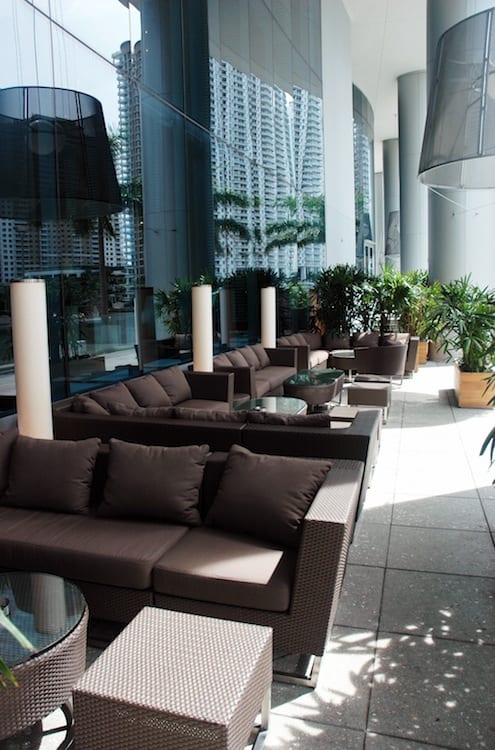 ZUMA Miami
270 biscayne boulevard way
miami, florida 33131
(located in the epic hotel)
http://www.zumarestaurant.com
T +1 305 577 0277
F +1 305 577 0279