A perfect one-bite appetizer, the mini buckwheat pancakes are actually the star of this recipe. They have an earthy flavor from the flour and are just a little buttery and rich.
By Emily Clifton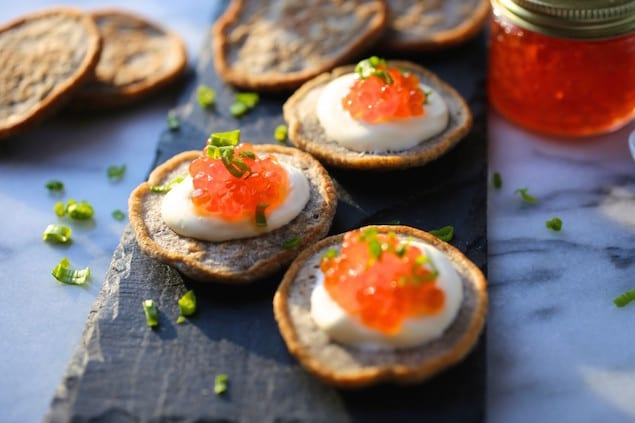 Every once in a while we like to make something that feels extra special. Now, I love caviar. It's salty and briny and tastes like a mermaid's dinner so one would think that the roe would be the star here. Wrong. It's the blinis. They are so good. They have a lovely earthy flavor from the buckwheat flour but are also just a little buttery and rich. Honestly, I want to make them as pancakes for breakfast.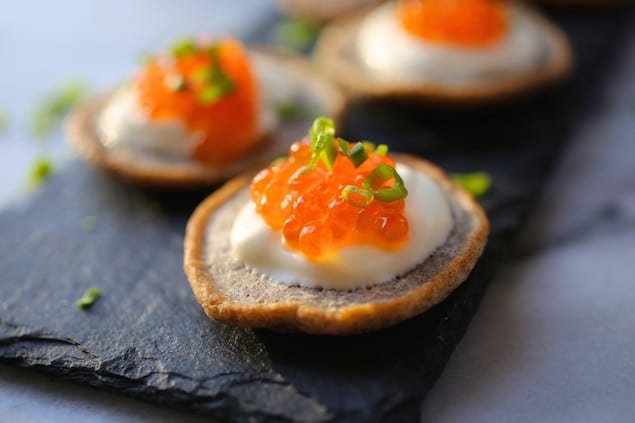 See Also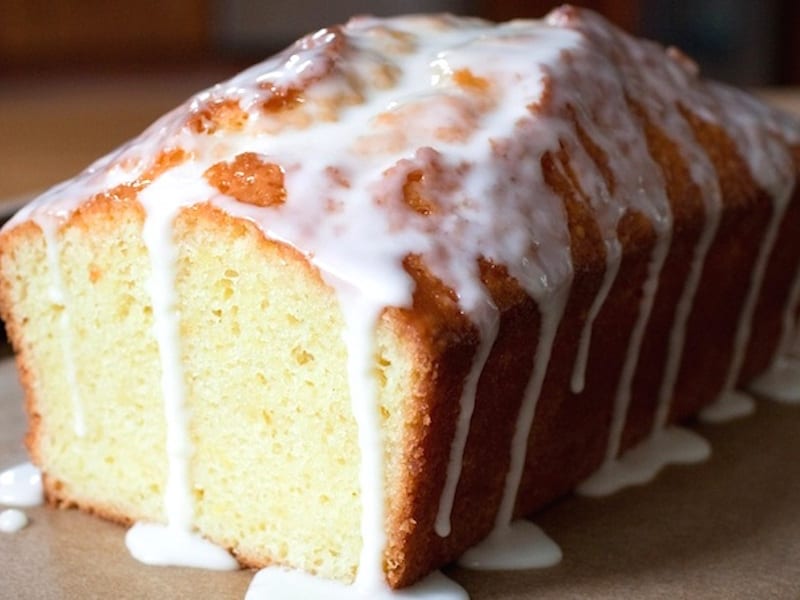 They are also crazy easy to make so think about them for your next party. You could make them ahead and just warm them when you're ready. And if caviar is not your thing, you could top them with a thin little slice of smoked salmon or trout. It's a great way to make a pricey ingredient go a long way since you only need a little bit of stuff on top.
The method for the blinis is based on this fabulous Barefoot Contessa recipe. I've made it with both clarified and regular butter and couldn't really tell the difference so I wouldn't trouble yourself unless you have some already. I also found that I needed much less butter than Ina calls for. I probably used two or three tablespoons instead of the full stick she recommends.

Crème Fraîche and Buckwheat Blinis with Roe
A perfect one-bite appetizer, mini buckwheat pancakes are the star of this recipe. They have an earthy flavor from the flour and are a little buttery.
Ingredients
⅓ cup buckwheat flour
⅔ cup all-purpose flour
½ teaspoon baking powder
½ teaspoon kosher salt
¾ cup plus 2 tablespoons whole milk
1 extra-large egg
4 tablespoons unsalted butter, divided
4 - 6 oz. salmon roe (or ½ lb thinly sliced smoked salmon)
¼ cup crème fraîche or sour cream
Chives, minced, for garnish
Instructions
Combine both flours, baking powder, and salt in a bowl. Melt 1 tablespoon of butter and set aside. In a separate bowl, whisk together the milk, egg, and the melted butter, then whisk into the flour mixture until just combined. Heat 1 tablespoon of butter in a medium sauté pan on medium-high heat and drop the batter into the hot skillet, 1 tablespoon at a time (using a tablespoon measure makes this very easy). Cook over medium heat until bubbles form on the top side of the blini, about 2 minutes. Flip and cook for 1 more minute, or until lightly brown. Repeat with the remaining batter adding butter as necessary. Set aside.
To serve, top the blini with a small dollop of creme fraiche and spoon on a little caviar. Sprinkle with chives and serve.
Emily Clifton
I love to cook and learn about food. I was born and raised in New York City and I was exposed to a lot of different food cultures as a kid though I was weirdly picky. I hated mashed potatoes but I loved kim chee. Hated fish, loved escargot. I said I was weird, don't judge me. My mom is a great cook but I definitely don't have any "passed down from grandma" types of recipes. Both my grandmothers were horrible cooks. I mean really, truly bad. I give my mom a lot of credit for knowing that string beans are not actually supposed to be gray. In real life I'm a film/TV editor which just might be the most fun job in the world. Occasionally it can be the most annoying job in the world which is why I really appreciate it when I get to take a break and do my other favorite things which is cook, take photographs and write.