With warm weather comes the blooming of beautiful flowers. Spruce up chocolate ice cream with the citrus-like flavor of hibiscus flowers. Top with the spicy-sweet almonds.
By Sarah Platanitis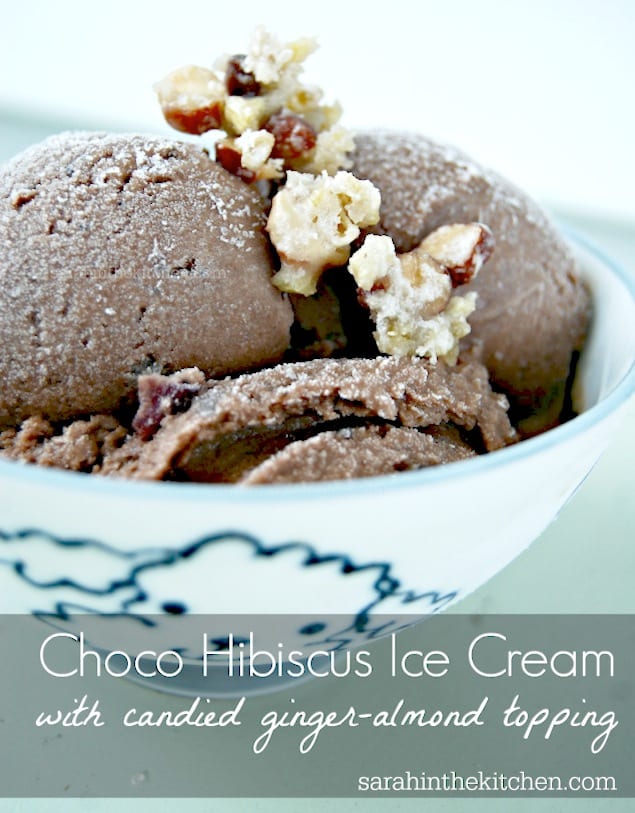 My recipe uses Wild Hibiscus Flower Company's Heart-Tee and their Flowers in Syrup. I made a candied ginger-almond topping to make it even more yummy. I recommend eating it with good friends from the cutest bowls you can find.

Chocolate Hibiscus Ice Cream with Candied Ginger Almonds
With warm weather comes the blooming of beautiful flowers. Spruce up chocolate ice cream with the citrus-like flavor of hibiscus flowers.
Ingredients
Ice Cream
4 egg yolks
½ cup sugar
1 cup of whole milk
1 cup heavy cream
½ cup cocoa powder
4 hibiscus tea bags, such as Wild Hibiscus Flower Company's Heart-Tee
4 diced hibiscus flowers, such as Wild Hibiscus Flower Company's Flowers in Syrup
Candied Topping Ingredients
½ cup water
1 cup granulated sugar
¼ cup chopped almonds
¼ cup fine diced ginger
Instructions
Ice Cream
Whisk together eggs and sugar in a tempered-glass container then set aside.
Bring milk, cocoa and tea bags (tied together with tags cut off) to a simmer over medium heat, or until edges start to bubble. Remove tea bags and set aside to use again later.
Very slowly add milk and eggs, whisking constantly. Pour the mixture and tea bags back into the saucepan and heat over low, stirring constantly for 8-10 minutes. Use a thermometer to check your temperature, which should be between 165-180 degrees. As the mixture thickens, it will coat your whisk.
Please note: If at any time your milk or mixture boils and burns, pitch it and start over. Some people say you can save it with an immersion blender and hope but it never tastes right. Also, the tea bags may break apart. If so, you may strain them out OR embrace the hibiscus nubbies because they are tasty.
When your timer buzzes, pour the custard mix into a deep-sided, freezer-safe container with a cover (fits perfectly into a 1-1/2 quart ceramic baking oval) and chill completely for a few hours in your fridge. Once your custard mix is cool, whisk in 1 cup heavy cream and the diced hibiscus flower. If you have an ice cream maker, this is when you would pour and freeze according to manufacturer instructions.
If you don't, roll up your sleeves because we've got some work to do! For the next five hours, your job is to stir the mix every 45 minutes. Sure, it sounds like some bicep-building craziness but it makes for a really nice soft texture. If you're lazy and don't want to stir, leave it overnight. You'll have a dense block but the custard-based ice cream won't turn icy like a cream-based recipe would.
Candied Topping Ingredients
Measure out ¼ cup almonds and chop them into thirds. Peel 1-1/2" ginger then julienne and fine dice. Set aside.
In a medium saucepan, bring water and sugar combo to a boil over high heat. Stir constantly until sugar dissolves. Add almonds and ginger, reduce to medium and stir constantly until sugar crystallizes, about 5 minutes or when the mix becomes difficult to stir.
Continue to stir and watch carefully as sugar will re-melt and turn golden brown. Pour mix onto pre-prepped cookie sheet covered with foil and sprayed with nonstick cooking spray. Use a fork to separate the mix while sugar is soft. Let mix set at room temperature and break apart for topping once cooled.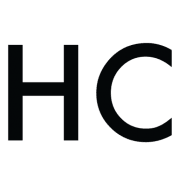 Sarah Platanitis
Sarah grew up a "restaurant kid" and spent most of her childhood pretending to be Julia Child. Her blog (sarahinthekitchen.com) is a place for kitchen musings and her food writing, photography and illustrations.