Sticky toffee pudding is a hallowed British dessert which is essentially a warm date cake served with a toffee sauce. It's deliciously rich and comforting treat, perfect for a chilly evening.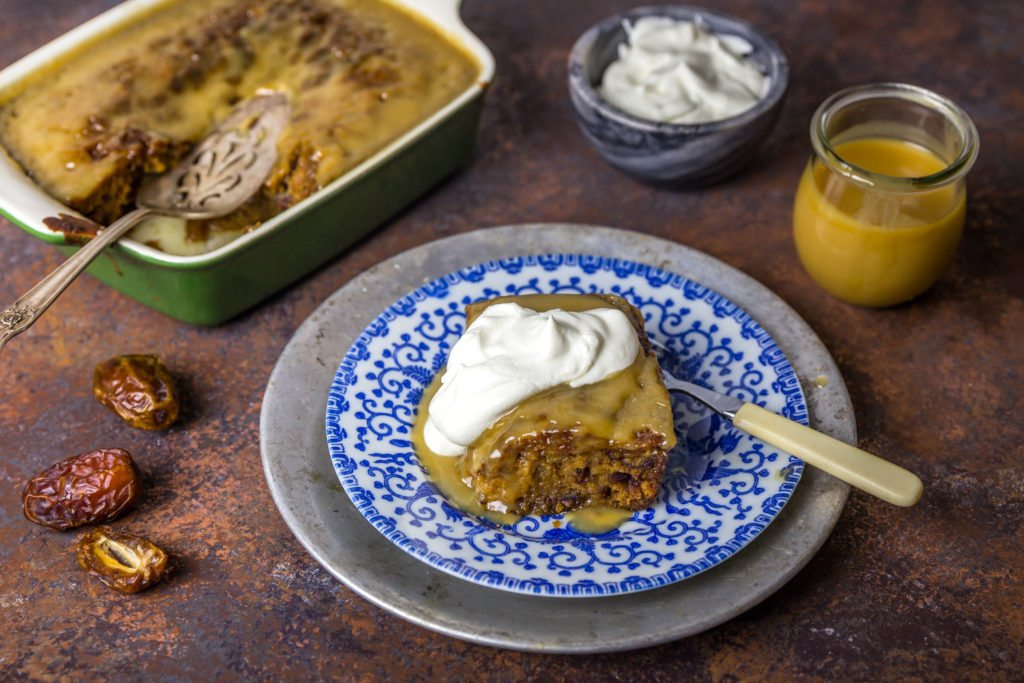 This is a line that (I will pretend) gets thrown at me on a regular basis by drive-by shouters at Nerds Farm: "Oy, mate! You, nerd with knife! I thought you were British! Where's the sticky toffee pudding, eh? Call yourself a food blog?" Well, firstly, no, I don't call myself a food blog, and secondly, ha, joke's on you, fella, because I've been making sticky toffee pudding on a weekly basis, and damn good pudding it's been, too, I just haven't blogged any of it. I've been told this kind of churlish behavior is unnecessarily cruel to our readers, so at last, here is the proof of the pudding, be it both sticky and toffee-flavored.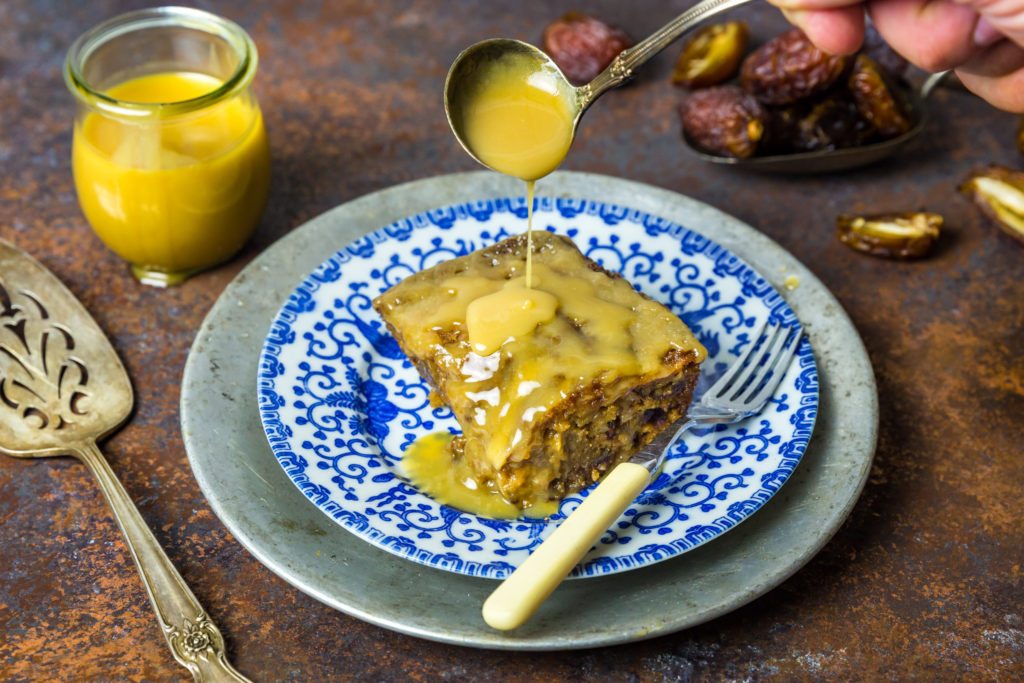 When it came to sourcing a recipe for sticky toffee pudding, we turned to our sources. Matt is an old Trotsky at heart, so naturally he first checked in on the "best of" recipe recaps in the Guardian, which have served us well in the past. In this case, Felicity Cloake's "perfect sticky toffee pudding" took the best aspects of versions by Francis Coulson, Simon Hopkinson, Jamie Oliver and Tamasin Day-Lewis, and created, according to the author, a balanced dessert where the sugar is countered by nuts and spice. The article also discussed the original conception of sticky toffee pudding – Francis Coulson's Sharrow Bay Hotel certainly popularized it in Britain, but according to Hopkinson, Coulson's version was based on an obscure printed recipe from a Lancastrian home cook named Mrs Martin, which had originally been sent to her from a friend in Canada.
Leaving that murky history behind for a moment, let's follow Emily's inspirational journey. She first dipped into Smitten Kitchen's version, which was actually adapted from Karen Mordechai's Sunday Suppers cookbook. Karen herself was inspired by the date cake at Williamsburg's Moto restaurant (now called Bar Velo). We're out of the Brooklyn scene these days, but apparently, this cake is worshipped by all who've had it. Several blogs offered essentially the same ingredients and process, oscillating between calling it "date cake" and "sticky toffee pudding", but ending up with a moist, dark date-infused sponge topped with a butterscotch / dulce de leche sauce.
So here's our version. We took the bones from the Martin original (as adapted by Hopkinson), simplified it a little, fleshed it out with Smitten Kitchen's sensibilities (and sensible use of salt!) and present to you: sticky toffee pudding, or date cake, inspired by … well, pretty much everyone.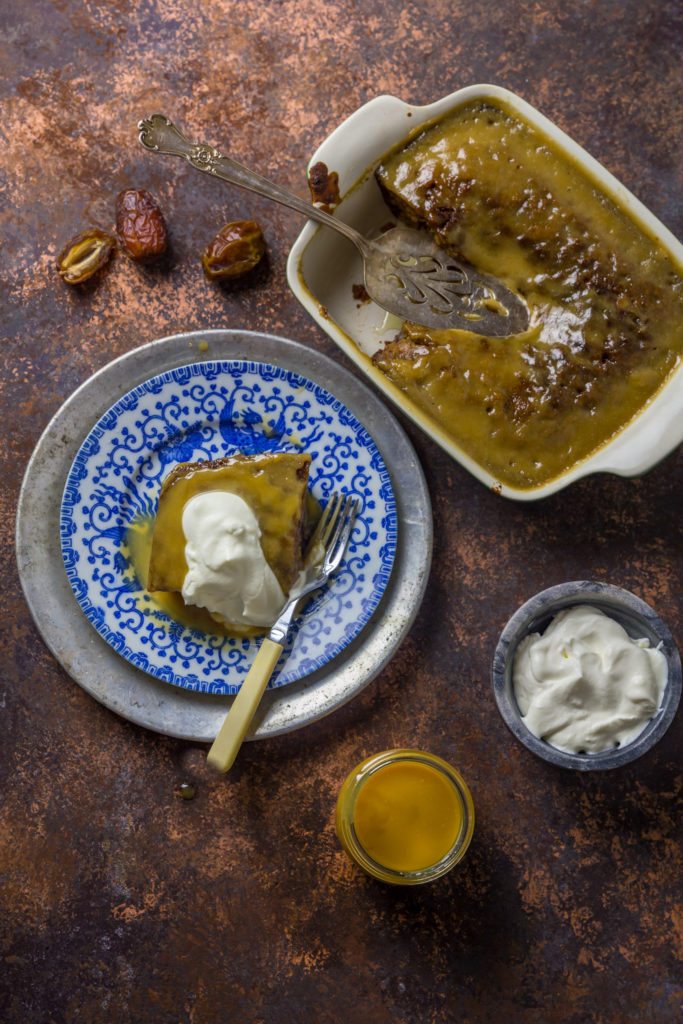 See Also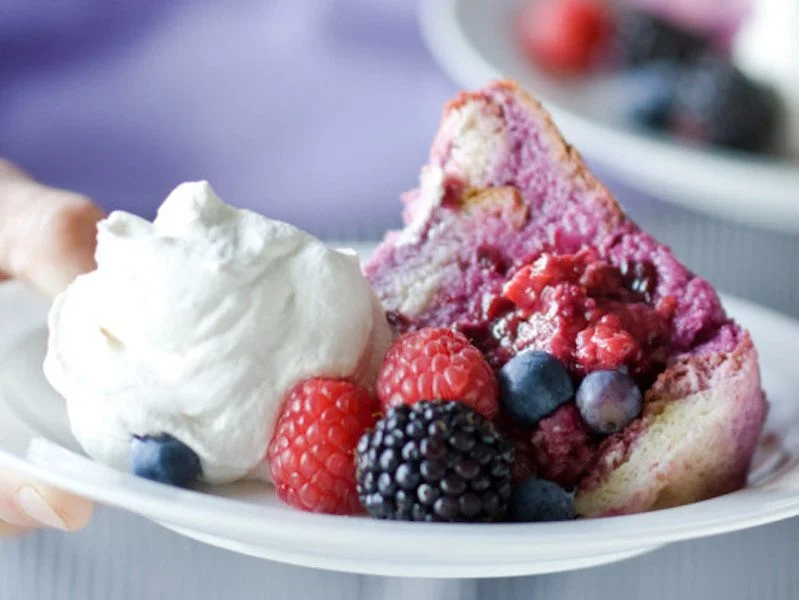 Two ingredient notes. First, we had a choice of both "regular" (dried and pitted) dates and Medjool versions. On a blind taste test, we honestly couldn't detect any difference, so use whatever dates you have, and don't feel you have to break the bank with fancy varieties. Second, this dish is unapologetically reliant on sugar, and some recipes call for muscavado (very dark, moist unrefined sugar). Most store-bought light and dark brown sugar are refined sugar with varying amounts of molasses added in. The higher the molasses content, the wetter (and stickier!) your pudding will turn out. In fact, depending on the moisture content, your oven, and the baking time, your final dessert dish may lean more toward a pudding or a cake. (We like to feel that it happily straddles the line.) Since muscavado isn't available in all stores, and can be expensive, we substituted a mixture of dark brown sugar and molasses, and it works very well.
There you have it: finally, a sticky toffee pudding recipe. Or a recipe for warm date cake! Whatever side of the Atlantic you make it on, know that your dinner guests will sing your praises forever, if they can get up out of their chairs afterwards.
Click here for the sauce recipe.
Print

Warm Sticky Toffee Pudding
---
Author:

Emily Clifton

Total Time:

1 hour

Yield:

4

to

6

servings

1

x
Description
Sticky toffee pudding is a hallowed British dessert which is essentially a warm date cake served with a toffee sauce. It's deliciously rich and comforting treat, perfect for a chilly evening.
---
For the pudding:
6 oz

pitted dates (roughly chopped)

1 cup

boiling water

1½ teaspoon

baking soda

1 cup

dark brown sugar (packed lightly)

1 tablespoon

molasses

2

large eggs

4 tablespoons

1/4 cup unsalted butter, softened, plus extra reserved for greasing the pan

1 cup

plus 2 tablespoons all purpose flour

1 teaspoons

vanilla extract

1/4 teaspoon

coarse kosher salt
Baking dish – 4 x 6
For the sauce:
Click the link above for the recipe
---
Instructions
Preheat the oven to 350F. Combine the boiling water, chopped dates, and baking soda in a measuring jug, stir, and leave to sit for about 20 minutes until lukewarm.
Meanwhile, combine the butter, sugar and molasses in a food mixer using a paddle, then mix in the eggs, vanilla, salt, and flour until just combined. Stir in the cooled date mixture. Pour the batter into a greased baking dish – ours was 4″x6″ and the pudding rose almost to the top; you could use a larger (8″x8″) dish for less of a rise. Set oven timer for 30 minutes.
To make the sauce, click the link above.
The top of the pudding should be set but the center of the dish should still have a slight wobble to it. Using a toothpick or skewer, poke holes all over, down to the bottom of the pan, and pour in half of the toffee sauce. Let sit for 20 minutes, then broil if desired until the top is bubbly.
Serve with the rest of the warmed sauce and whipped cream.
Prep Time:

25 minutes

Cook Time:

35 minutes

Category:

Baking, Dessert

Cuisine:

British
Emily Clifton
I love to cook and learn about food. I was born and raised in New York City and I was exposed to a lot of different food cultures as a kid though I was weirdly picky. I hated mashed potatoes but I loved kim chee. Hated fish, loved escargot. I said I was weird, don't judge me. My mom is a great cook but I definitely don't have any "passed down from grandma" types of recipes. Both my grandmothers were horrible cooks. I mean really, truly bad. I give my mom a lot of credit for knowing that string beans are not actually supposed to be gray. In real life I'm a film/TV editor which just might be the most fun job in the world. Occasionally it can be the most annoying job in the world which is why I really appreciate it when I get to take a break and do my other favorite things which is cook, take photographs and write.