Triple Layer Lemon Curd Cake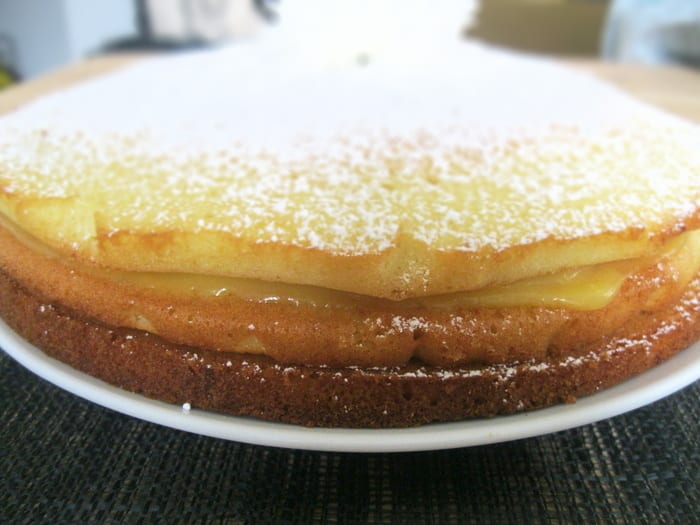 Makes 1 three layer 9 inch cake. If you want a two layer 7 inch cake, as was intended by Darina Allen who came up with this recipe, reduce the ingredients for the cake by 1/3.
By Jess Lacey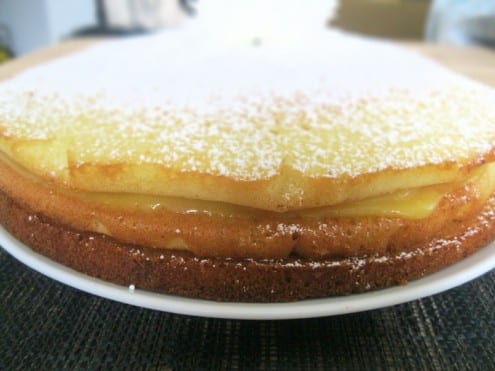 This was meant to be a double layer Victoria sponge style cake, but I realised too late that my cake tin was in fact 9 inches instead of 7, so I ended up with two very thin sponge layers, and had to make a third one. The photos are a bit rubbish, they were taken in between wrapping presents for my other half who strangely shares my birthday, packing for a weekend in Copenhagen and putting together a grammar test for my pupils. It was a bit of a hectic day.
Triple Layer Lemon Curd Cake
Makes 1 three layer 9 inch cake. If you want a two layer 7 inch cake, as was intended by Darina Allen who came up with this recipe, reduce the ingredients for the cake by ⅓.
Author:
Jess Lacey, adapted from Darina Allen
Ingredients
190g butter, softened
260g caster sugar
4 eggs
260g flour
1.5 teaspoons baking powder
1-2 tablespoons buttermilk or milk
Finely grated zest of one lemon
Icing sugar to top
For the lemon curd
50g butter
110g caster sugar
Finely grated zest and juice of 2 lemons
2 eggs and 1 egg yolk, beaten together
Instructions
First, make the lemon curd.
Melt the butter over a gentle heat.
Mix in the sugar, lemon juice and rind.
Add in the eggs.
Stir over a low heat until the mixture thickens to a good coating consistency.
If like mine yours goes a little clumpy at the end because you briefly got distracted, sieve after cooking.
Leave to cool.
To make the cake, first cream the butter, lemon zest and sugar together until fluffy.
Add the eggs in one a time, mixing well.
Sift the flour and baking powder in.
Mix all the ingredients together and add in the milk if it needs a bit of moisture.
Grease and line a 9 inch cake tin.
Pour in ⅓ of the cake mix.
Bake in the oven at 180C for approximately 20 minutes, until the top is a little bit golden and a skewer inserted in the middle comes out clean.
Turn onto a wire rack to cool and repeat twice with the remaining mixture.
When the cakes are entirely cooled, spread the lemon curd on one, sandwich another cake on top, spread lemon curd on that and sandwich with the top layer.
How much of the lemon curd you use it up to you, I had about 1-2 tablespoons left which next time I'd probably horse on the cake as well.
Top by sprinkling with icing sugar.
Jess Lacey
Jess Lacey is an Irish food blogger and soon to be lawyer. She has found a home in London, Dublin, Leiden, Melbourne and Aarhus. After a brief foray into the world of Michelin starred cooking, she decided to keep cooking and food as relationships based purely on passion rather than income. She travels frequently, and justifies this by writing about it. More of her musings and recipes are available on her blog, Canal Cook.