TeSóAria Wine Tasting Room's Hummus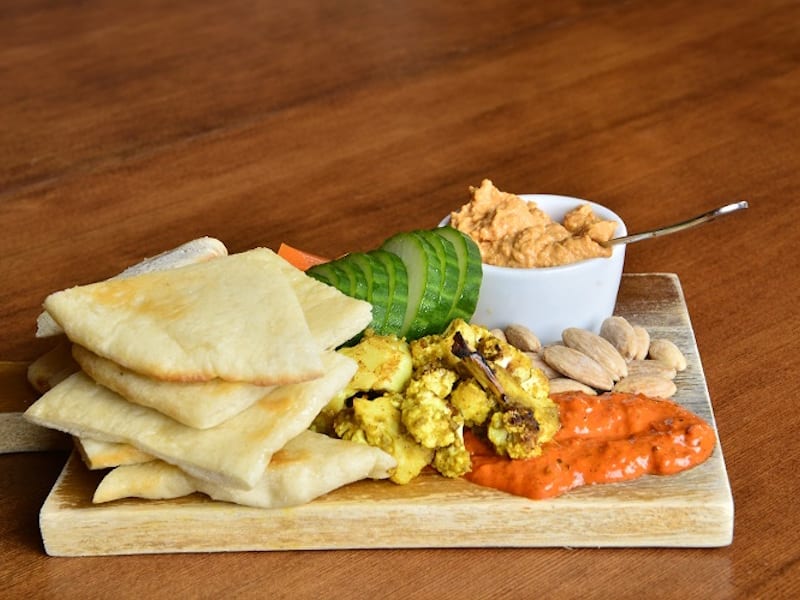 TeSóAria first came on my radar as a tasting room in North Portland, Oregon serving a vegan menu on Thursdays to pair with their wine. Not a traditional tasting room, they have a talented and versatile chef, Max Germano who also bakes breads. From the small open kitchen on one side of the Pacific Northwest cool (think cement floor, rollup glass garage doors and relaxed vibe) space on N. Williams Avenue Chef Max is the sorcerer's apprentice to owner and winemaker John Olson's eclectic wines.
Calling themselves "a pioneering boutique winery" TeSóAria's winery is located south of Portland in Oregon's Umpqua Valley. The winery takes its name from the three powerful forces that inspire its operations: Terra honors the importance of soil and terroir; Sol represents the sun's life-giving light and soul behind the wines, and Aria evokes the magic of music to unite and inspire. The winemaker even plays music for his barrels 24/7, basing this on the Italian practice of playing opera to keep their wines in constant movement in the barrel; John plays a mix of staff picks ranging from Run DMC to Johnny Cash to The Ramones.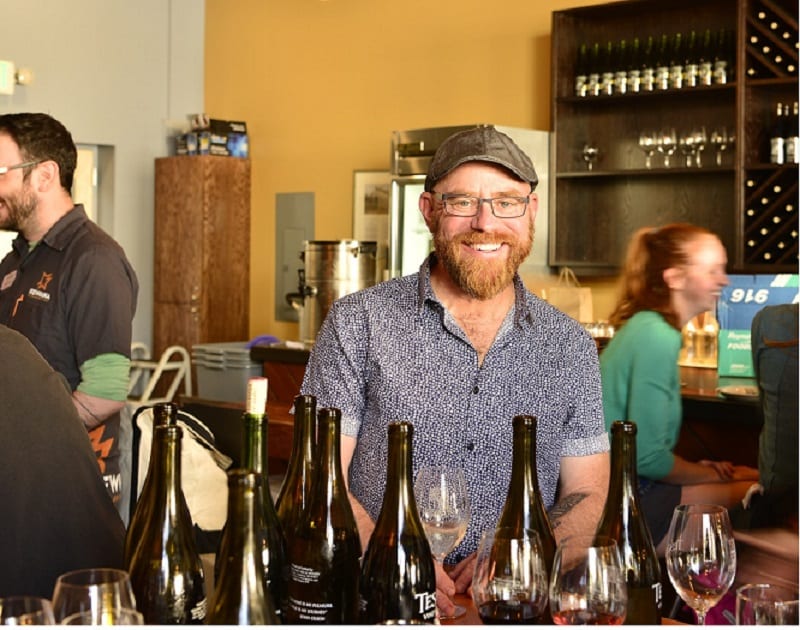 The eclectic wine is a product of an eclectic beginning and an eclectic owner. It all started with Hungarian contraband. Traditional Bulls' Blood varietals had been smuggled into the country as cuttings disguised as Christmas wreaths and planted by the previous owner. John Olson had been looking to move on from commercial real estate development, and when the Bulls' Blood vineyard came up for sale, he seized the opportunity with his wife Joy. John enlisted the aid of renowned winemaker Paul Brasset and his grape-growing neighbors to get organized and set up a proper winemaking program. Within a year he was off and running on his own, making wine under the TeSóAria label.
TeSóAria's more established estate vineyard produces Muscat, Kadarka, Gamay Beaujolais, and Pinot Noir. The younger site is planted to Semillon, Viognier, Chenin Blanc, Pinot Meunier, Gewurztraminer, Riesling, Kadarka, Pinot Noir, and Gamay Beaujolais. Warmer-weather Italian varietals, such as Sangiovese, Dolcetto, and Barbera, are sourced from John Pratt's Celestina Vineyard in Medford. TeSóAria also sources old-vine Zinfandel, Cabernet Sauvignon, Sangiovese and Abouriou for their various red wines from select vineyards in California.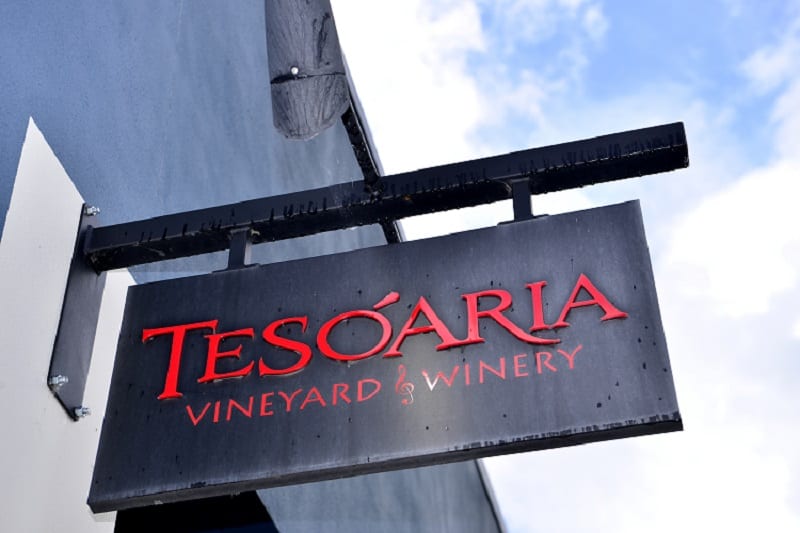 Sustainability, fun and social consciousness are also a part of their mission and to me proves that you can do the right thing, have fun doing it, work hard and be a success. I loved all of the different wines, and the food at the Portland tasting room is delicious. They serve a regular small plate menu with the "Vegan Thursdays" evening menu appealing even to those who are not vegans. This winery and tasting space is truly a " keep Portland weird" success story. Here's to the weirdly wonderful folks at TeSóAria. Images- Kurt Winner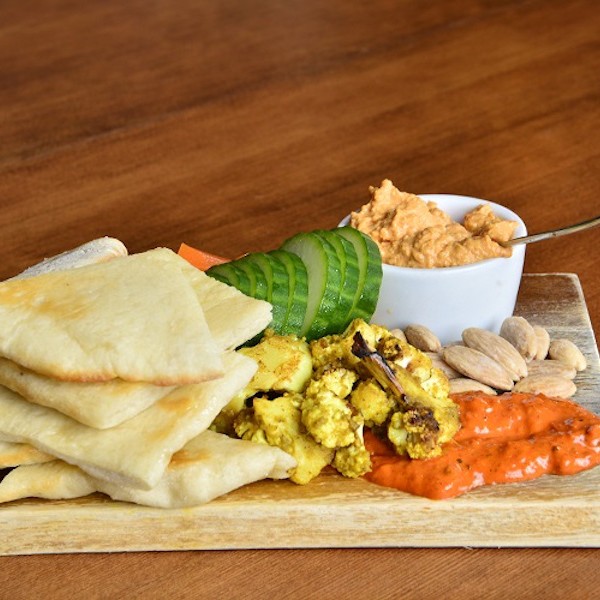 Chef Max Germano
Ingredients
2

cups

of garbanzo beans

1/2

cup

of tahini

1/4

cup

of garlic confit

1/4

cup

olive oil

1-2

tbl of harissa paste

Juice of 1 lemon

1/4

c

parsley

Dash of honey

Salt and pepper to taste
Instructions
Blend together until smooth. Serve on crispy artisan bread slices or pitas. Arrange on plate with sliced cucumbers, olives and other savory bites.

Garlic Confit: Put 1 cup of peeled garlic cloves in a pan set over medium high heat.

Stir until it starts to brown a little but not burning.

Add a few tablespoons of canola oil and sauté, for two minutes, stirring frequently.

Drop the heat to low and cover garlic in oil.

Let simmer until garlic is fork tender. Let cool and place garlic and oil in a glass jar.
Michelle M. Winner
Michelle was born with a fork in her hand. As a culinary travel writer and confirmed foodophile she delights in the world-wide discovery of new flavor profiles, spices, salts and herbs. Based in one of the world's foodie meccas; Portland, Oregon, not far from "Pinot Noir Heaven" Michelle shares culinary travel and chef's recipes. Her photography has appeared in Saveur Magazine and she has contributed culinary travel articles to Forbes online, WSJ online, Business Insider, Condé Nast Digital Media, Islands magazine and many others. A confirmed globetrotter, she still keeps her bags packed and fork in hand (well . . . except through airport security.)