Lattice Apple and Blackberry Pie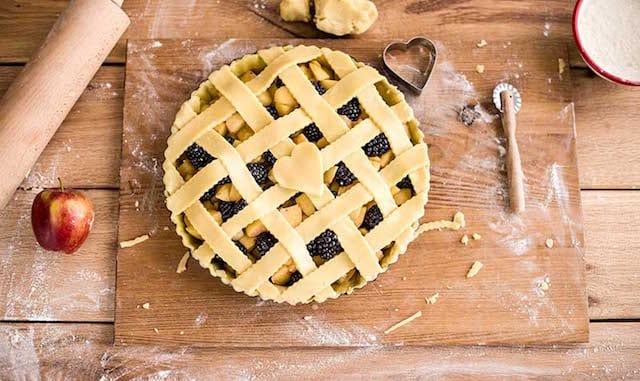 A beautiful combination, this sweet and tangy apple and blackberry pie is loaded with a sticky compote sauce perfect with a lot of lattice crust.
By HelloFresh
Apple and blackberry pie is the new black this season.  It's sweet and tangy at the same time and you can mop up all the lovely sticky compote sauce with a bit of shortcrust pastry – it's my grandma's recipe so it's pretty epic! And don't worry it's also exceedingly easy. All this talk about pastry being hard to make is absolutely poppycock and I'm going to prove it with this recipe! Not a fan of sweet pies? How about this rabbit and prawn pie from Marcus Wareing … an unexpected combination, but a delicious one!
See Also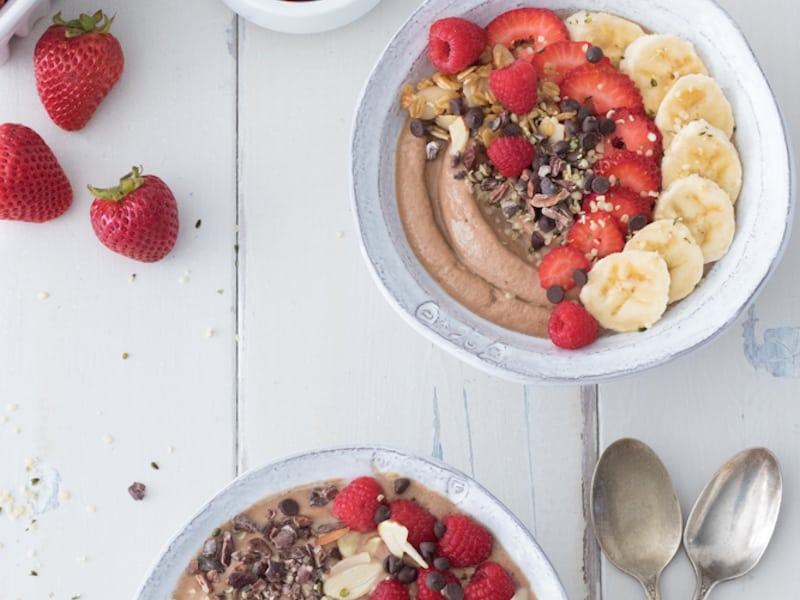 Lattice Apple and Blackberry Pie
A beautiful combination, this sweet and tangy apple and blackberry pie is loaded with a sticky compote sauce perfect with a lot of lattice crust.
Recipe Type:
Dessert, Pie, Baking
Ingredients
2 tbsp plain flour, plus extra for dusting
1kg (2.2 pounds) Bramley apples, peeled, cored, halved and sliced
400g (about 1 pound or 17 ounces) blackberries
140g (5 ounces) caster sugar, plus extra for sprinkling
pinch ground cinnamon
1 egg beaten with 2 tbsp milk
Shortcrust Pastry:
225g (8 ounces) plain flour
100g (3.5 ounces) butter, diced
pinch salt
20ml (0.6 fluid ounces) water
50g (1.7 ounces) caster sugar
Instructions
Preheat your oven to 190C or 170C if fan assisted
To make the pastry, add the sugar, flour and butter to a bowl. Use your finger tips to make it into a breadcrumb consistency and make sure all the butter is thoroughly mixed in. Now add the water and mix until the pastry forms a ball of dough. Cling film and leave in the fridge for at least half an hour
On a floured surface, roll out two-thirds of the pastry line your pie dish with it. Allow so overhang as pastry shrinks in the oven. Make some holes in the base with a fork and add baking beans and then blind bake in the preheated oven for 15 minutes.
Wash, peel, core and cut up your apples. Place these and the berries with sugar to taste in the baked pastry. Add the cinnamon.
Roll the remaining pastry and trimmings together into a square and Cut out 8 strips of pastry that should be long enough to cover both ends of your pie. Weave the strips of pastry evenly over the fruit to create a lattice pattern and push them into the edge of the tart. Trim the overhang of pastry, and use a fork to press down the edges. Brush the top of the lattice with the egg and milk and scatter on a bit of sugar. Bake for around 50 minutes to an hour until lovely and juicy!
HelloFresh
At HelloFresh, we want to give people the simple knowledge they need to cook delicious, healthy meals. Whether you want know how to boil an egg or cook an elaborate dinner menu, you know who to call!