Learn how to make ajvar – the traditional Croatian roasted pepper mixture, sometimes referred to as vegetarian caviar.
By Tamara Novakoviç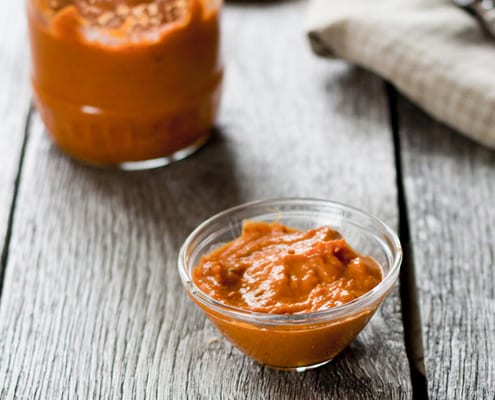 One of my fondest childhood memories are my grandma and mom making the so called zimnica (winter foods) and the flavor and lovely scent spreading throughout the entire house. Ajvar has always been my favorite among all the jar-packed goodies. It is a traditional Croatian roasted pepper mixture, sometimes referred to as vegetarian caviar. It's actually typical for the cuisine of the entire Balkan area, usually made in mid-autumn and consumed throughout the year. Don't confuse ajvar with pindur, which contains more eggplant and tomato and isn't creamy (it's more of a relish). The type of pepper used for ajvar is called roga, meaning horned — it is large, red, horn-shaped, with thick flesh and relatively easy to peel. It typically ripens in late September. Also, eggplants are used to balance the sugary taste of peppers with their bitter-sweet flavor. You can make ajvar sweet, piquant or very hot. Its smoky flavor is a great match for grilled or roasted meats, especially lamb.
The recipe is usually passed down from generation to generation. It does take longer time to cook, it's quite a bit of work, but the final outcome is so worth it. Most of the work involves roasting all the eggplants and the peppers. The easiest way to do this is use your BBQ grill. Peppers and eggplants are grilled until they are charred, then the skin is peeled off and the seeds from the peppers removed. The baked peppers must briefly rest in a closed dish, to allow them to cool and to allow the flesh to separate from the skin. The peppers are ground in a mill (you can use whichever blender you have) and finally, the mush is stewed for a couple of hours in large pots, with added sunflower oil, in order to condense and reduce the water, as well as to enhance later conservation. A lot of recipes call for garlic and onion. Salt and vinegar are added at the end. My mom always adds some chili pepper to make it spicier. You can adjust chili peppers and salt to your taste. Hot ajvar is poured directly into glass jars which are immediately sealed.
Print
Ajvar
Delicious seasonal Croatian dish, made the old-school way
Author:

Tamara Novakovic

Prep Time:

10 mins

Cook Time:

180 mins

Total Time:

3 hours 10 mins

Category:

Side Dish

Cuisine:

Croatian
22

lbs (10 kg) red roga peppers

5.5

lbs (2.5 kg) eggplant

3

or

4

chili peppers

27 oz

(

800

ml) vegetable oil

3.3 oz

(

100

ml) vinegar

4

–

5

garlic cloves

5 tbsp

salt
Instructions
To grill the eggplants, make sure you poke holes with a knife, so they don't explode. Grill them until soft and charred. After the eggplants have cooled off, remove the peel, using a knife, if you've cooked them enough, the peel should come off easily. Do the same with peppers. Let cool and remove all the peel and seeds from them and wash them well.
Place the eggplant in a colander and let it drain off any excess water. Do the same with the peppers. This may take about half hour or so.
The next step you can do in small batches, depends how big your food processor is (you can also use the mill), but place some eggplant and pepper, garlic cloves and chili peppers into the food processor and pulse a few times until they are finely chopped.
In a very large pot heat the oil.
Add peppers and eggplant and stir using a wooden spoon. Add salt and vinegar and cook stirring. This will require 3 hours of cooking over low to medium heat, stirring occasionally, I stirred every 10 minutes, just so that it doesn't stick to the bottom.
In the meantime, boil the jars in hot water first for about 10 minutes. After that, just before the spread is ready to be canned, you place the jars, lids off, in the oven at 180 F degrees for 10 minutes. Take them out and carefully fill the jars so that there is about an inch left from the top, place the lid onto the rim and twist on the screw band until it's tight. Place the jars back in the oven and continue baking for another 15 minutes, after which you can turn off the oven, and let them cool in there.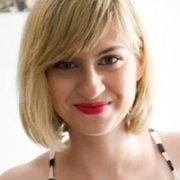 Tamara Novakoviç
Tamara Novakovic is a passionate self-taught cook, food blogger, freelance food writer and photographer behind bite-my-cake.blogspot.com. Her life journey has led her through Faculty of Humanities in Zagreb, Croatia to discovering passion for making cakes. She is currently a weekly food columnist for Croatian newspaper V magazine and food magazine Repete.