After finishing the last season in el Bulli as chef de partie, Toni Romero went to Maison Pic, in Valence (3 *Michelin) as a station chef as well; and nowadays he owns and runs Suculent Restaurant in Barcelona.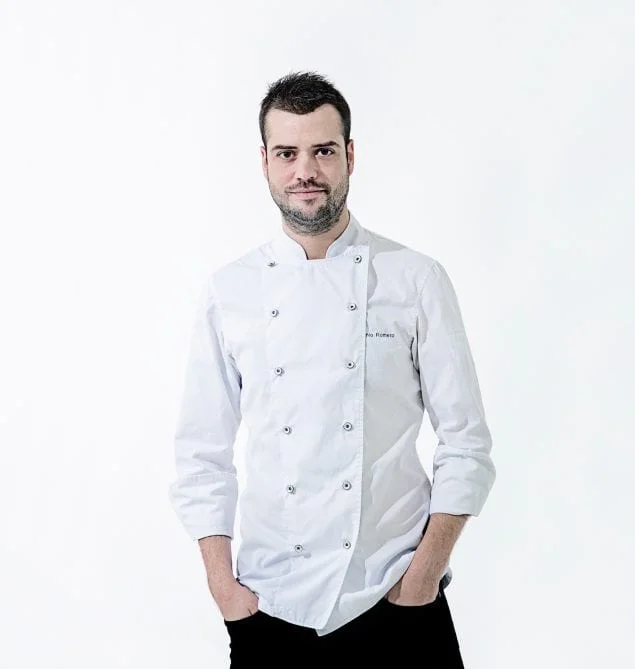 He recovers and reinterprets popular flavours brought to the present in terms of execution and concept. Characterised by defined and powerful flavours, giving special importance to juices and broths, his cuisine highlights the Mediterranean and Spanish cuisine.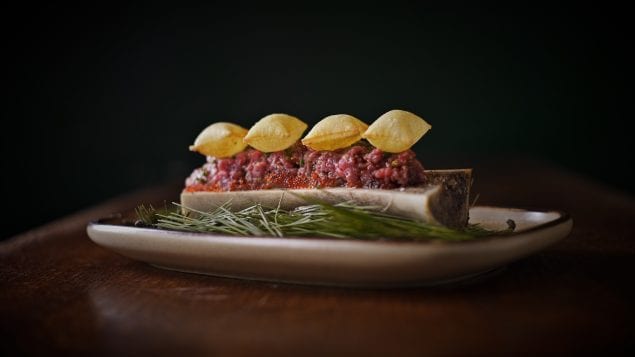 It has been almost 7 years since Suculent Restaurant opened in Barcelona and his Steak tartare on bone marrow has been one of its most recognized, praised and even copied dishes since then; and it doesn't surprise me! The mixture of temperatures and textures elevates its flavor and makes it an unforgettable tartare.
Surprise your guests with this dish without flying to Barcelona!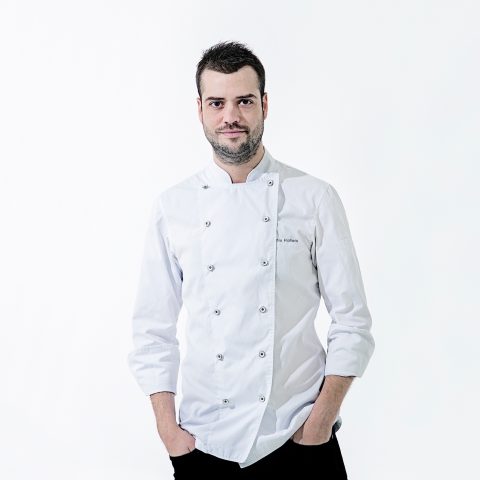 Steak tartare over grilled bone marrow and pommes soufflé
Toni Romero - Suculent Restaurant
Ingredients
BONE MARROW

2

kg

Marrow cut in half

throughout

5

lt Water

SOUFFLÉ POTATOES

2

Potatoes

frying potato

1

lt Sunflower Oil

Salt

MAIN SAUCE

40

gr

Savora mustard

60

gr

Whole grain mustard

20

gr

HP sauce

14

gr

Worcester Sauce

Perrins sauce

8

gr

Brandy

4

gr

Tabasco

MEAT

1

kg

Beef tenderloin

or similar

EGG YOLK SAUCE

10

eggs

Yolks

OTHER

Chive

Freshly grounded pepper

Maldon salt

Tobiko

flying fish roe

Coarse salt
Instructions
BONE MARROW

Bleed the marrow in ice water for 48-72 hours in the refrigerator, until the marrow is well bled (changing the water every 12h)

Boil the marrow with cold water over medium-high heat

Remove from heat before it begins to boil

Let it cool in the same container with the cooking water

Once the marrow is cold, remove it from the water, remove the fat excess

Store in the refrigerator in an airtight container

SOUFFLÉ POTATOES

Square the potatoes and wash them.

Cut sheets (if it's with a cutting machine, set it in number 1.5). Thickness should be between 2-3 mm

Cut the sheets into rectangles of 3 x 4.5 cm

Dry the pieces, spreading them on a tray with absorbent paper.

Fry the potato rectangles in oil at 130-140 °C, for about 6-8 minutes, stirring until the potato begins to swell

Move the potato rectangles to another oil recipient at 190 °C, where they will swell completely.

Save for later

MAIN SAUCE

Mix all the ingredients in a bowl with the help of whisks

Ration 16g of base sauce for each steak tartare

MEAT

Clean to the meat

Ration pieces of 70g

EGG YOLK SAUCE

Separate the yolks from the egg whites

Pass the egg yolks through a fine sieve

Store in the fridge

OTHER

Chop the chive

INSTRUCTIONS

Roast the bone marrow, on the side of the bone, until it is hot inside

Season with maldon salt and freshly ground pepper

Give a frying stroke to the soufflé potatoes to finish dehydrating them and making them crunchy again. Add salt

Cut the beef sirloin into very small cubes

Add salt and pepper to sirloin and season with a teaspoon of tartar base sauce. Mix well

Place the steak tartare on the marrow

Add a line of tobiko beside the meat

Sprinkle with chopped chives and add yolk sauce

Arrange 3 soufflé potatoes on top

Serve on coarse salt so it remains straight
Happy cooking!
Suculent Restaurant
Rambla del Raval, 45. 08001. Barcelona, Spain
www.suculent.com
Natalia Bohórquez Rodríguez
Colombian based in Barcelona • Master in Marketing / Gastronomy • PR & Culinary Liaison • Food writer • @nataliabhqz