Together, Shimon Maman, Albert Bitton and Sharon Hassan opened Shoo Shoo. A Mediterranean restaurant located in Nolita NYC that is here to satisfy your cravings.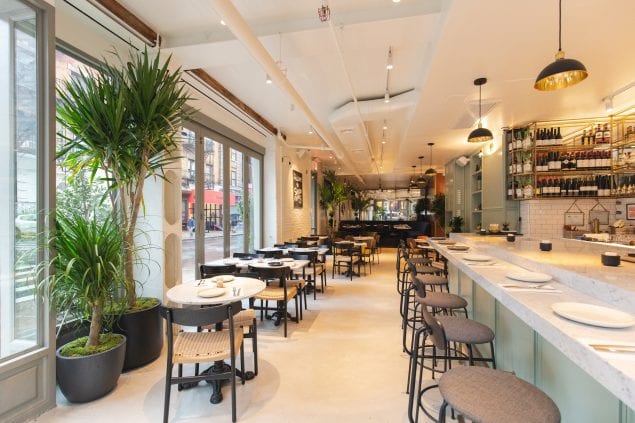 Once home to Mediterranean favorite Balaboosta, Shoo Shoo becomes the go to spot for all the cravings of shakshuka, hummus and pita. In collaboration with Israeli chefs, Chef and restauranteur Shimon Maman shepherds the all – day menu , strongly emphasizing on the cuisine. A cuisine exemplifying a melting pot of the foods in Israel i.e Arab and Jewish, Eastern Europe and North Africa. It's a feast featuring the almighty hummus, falafel, fresh vegetable salads, pita and phyllo dough pastries. Focusing on grass-fed organic proteins, whole grains, and seasonal vegetables, the all-day menu of shareable plates encourages people to taste and enjoy many dishes throughout a meal, creating a communal table and a symphony of flavors.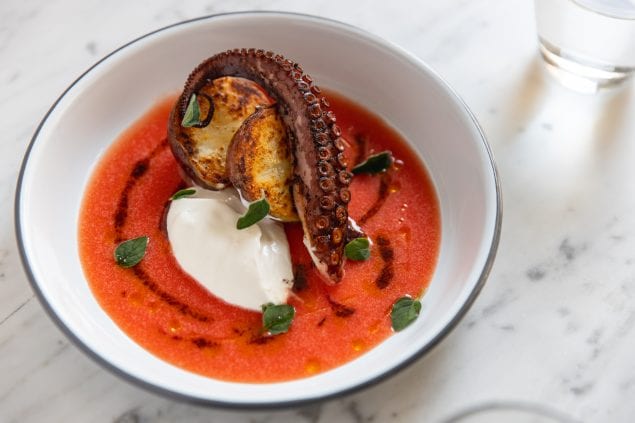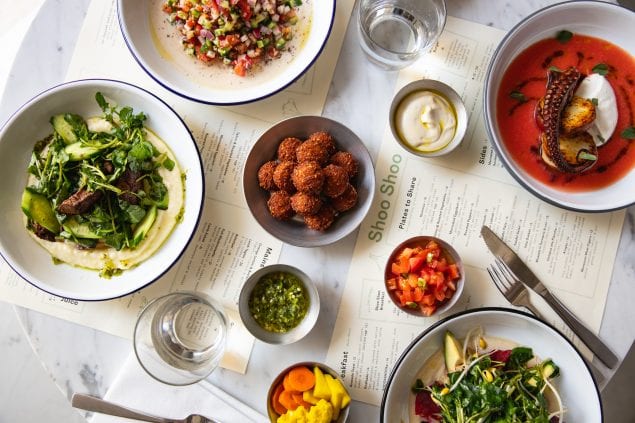 Adding a few modern touches on the traditional cuisine, Shoo Shoo's menu includes plays on classic dishes such as the schnitzel, typically made with chicken breast but instead uses dark meat for a moist and rich outcome. The falafel latke, latkes are typically made with potato but is interchanged with chickpeas and the dal, made with butternut squash instead of chickpeas. Signature items include the ShookShooka, baked eggs topped with broiled house-made tahini and served with fresh tomatoes and olives sprinkled with za'atar, and challah bread; Arayes, a Lebanese sandwich dish stuffed and grilled with beef and lamb, Branzino Fish Stew, alongside a wine list and specialty cocktails.
Decorated by Meir Guri, Shoo Shoo displays blues, light tiles, and natural wood, with a marble bar and plush velvet banquettes seating approximately 54 diners.
Reminiscent of the endearing cafes in Tel Aviv, Shoo Shoo embodies this culture via New York. The restaurant celebrates the communal culture bringing people together to share a fantastic evening filled with a multicultural feast. Shoo Shoo is currently open for dinners with breakfast, lunch, and the restaurant launched brunch on January 12th. Served every Saturday and Sunday from 11:00am – 3:30pm and  re-opens at 5:30pm for dinner on those nights as well. ( Side note the orange juice is only available during brunch)
For more information visit or to reserve a table head to https://shooshoonolita.com/.