What is great about energy bites is that they do not require any baking, they pack a bunch of protein and other good stuff to keep you going throughout the day, and they can be eaten for breakfast, snack, or dessert. This simple recipe calls for dates, coconut, and almond butter.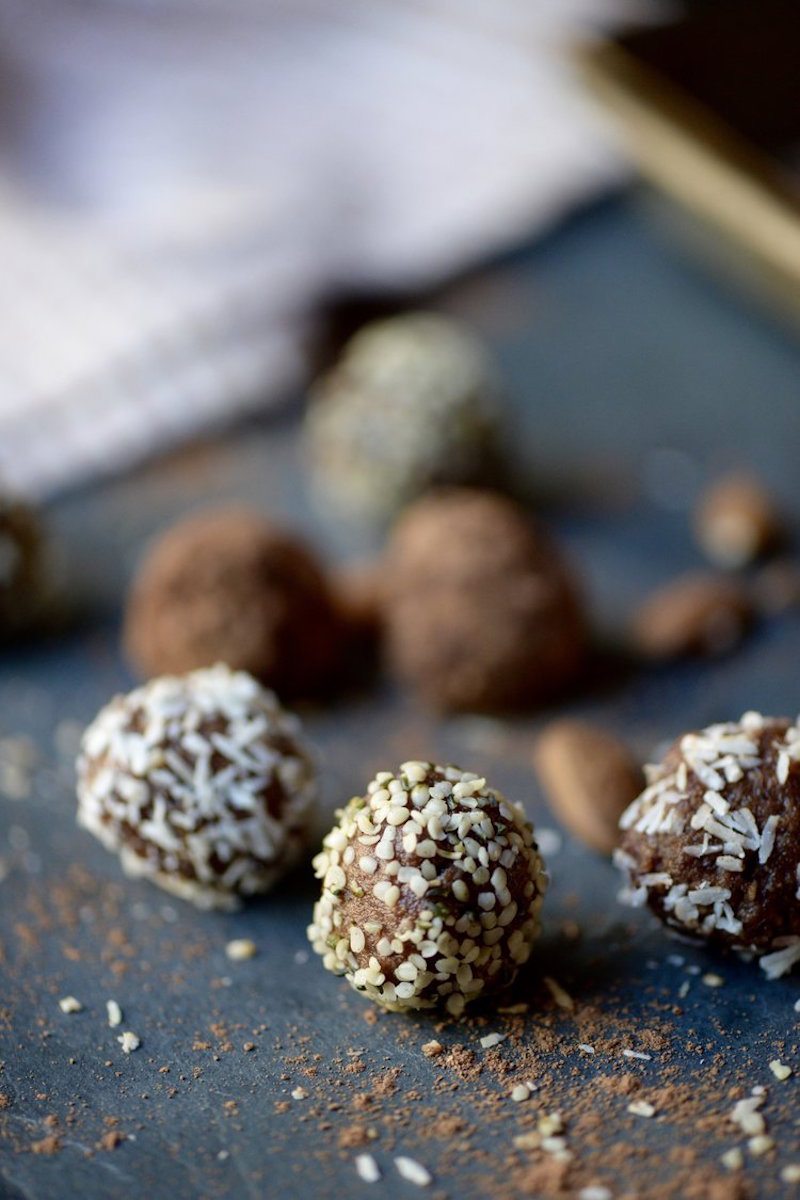 Best pick up line ever:
Guy: "So, do you want a raisin?" Girl, "No." Guy, "How about a date?"
Me: Yesssssss, please…
There are a gazillion different versions of these date and nut energy balls all over the internet. You can even buy them in bar form (hello, Larabar!). I've tasted my fair share of different fruit and nut combos over the years, but have always been a little unsatisfied; the texture was off or the ratio of dried fruit to nut was wonky (except the peanut butter and jelly Larabar-they perfected that one). So I rolled up my sleeves, dug out the food processor, and was determined to make my own perfect little bite.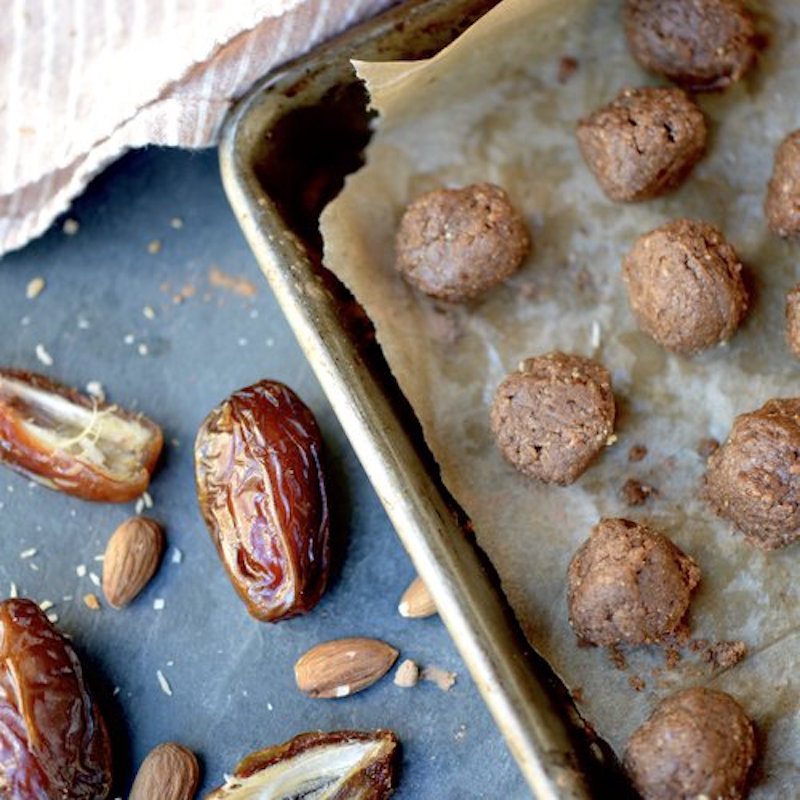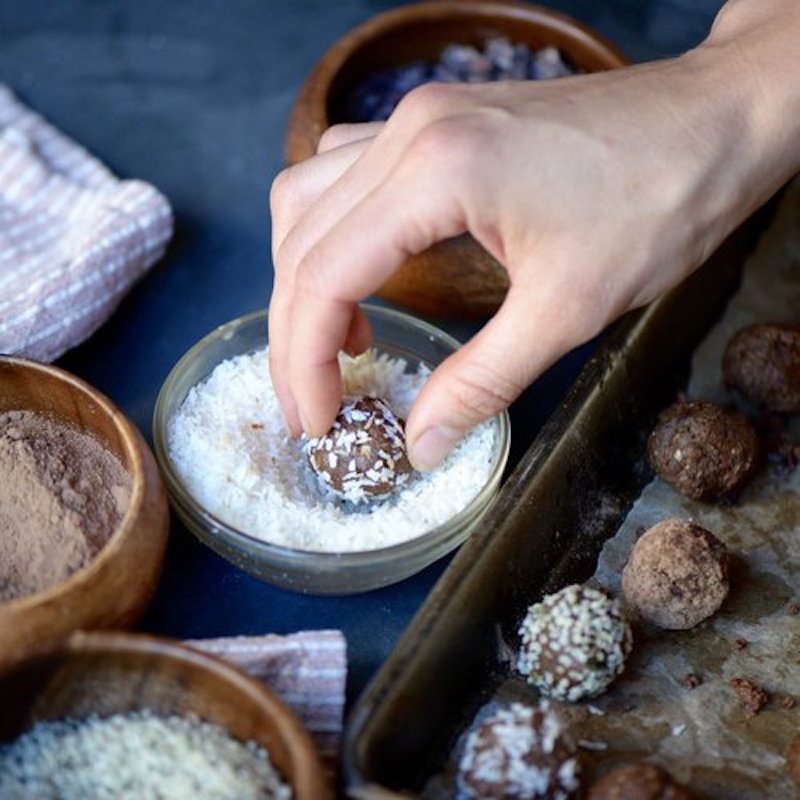 See Also
I love my Toasted Coconut and Almond Butter too much for that nutty combination not to be a starting point. From there I had to get the amount of dates right, balancing sweetness and texture. Too few dates led to a crumbly mess and too many resulted in a sweet and sticky web. I wanted to add cocoa to replicate a real chocolate truffle, but too much could be chalky and bitter and too little left my chocolate craving unsatisfied. Lots of trial and error later, and I leave you with this recipe, something I'm pretty darn happy with. It holds together just enough to roll into little balls, but doesn't compromise on any of the flavors. The little orb is perfect for eating plain or coating with a topping of choice.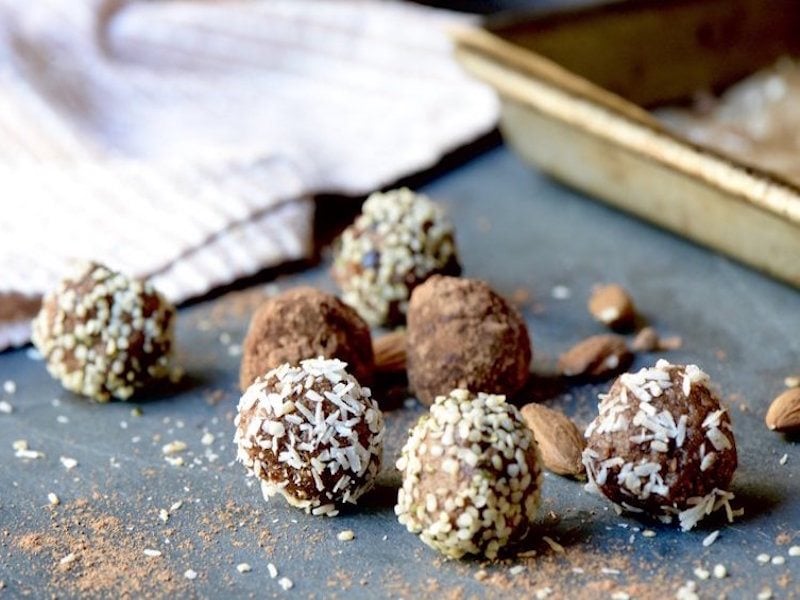 The only negative about this recipe is that it requires a food processor. Maybe a high-powered blender could work, but I haven't tried it since it seems like you'd be stopping and scraping for ages. Please let me know if you do try it though. The mixture rolls best and sticks to the toppings when at room temperature, but they hold their shape best in the refrigerator or freezer. To up the chocolate ante, freeze them for a few hours, give them a dip in melted chocolate, sprinkle with toppings, and then return to the fridge until the chocolate sets.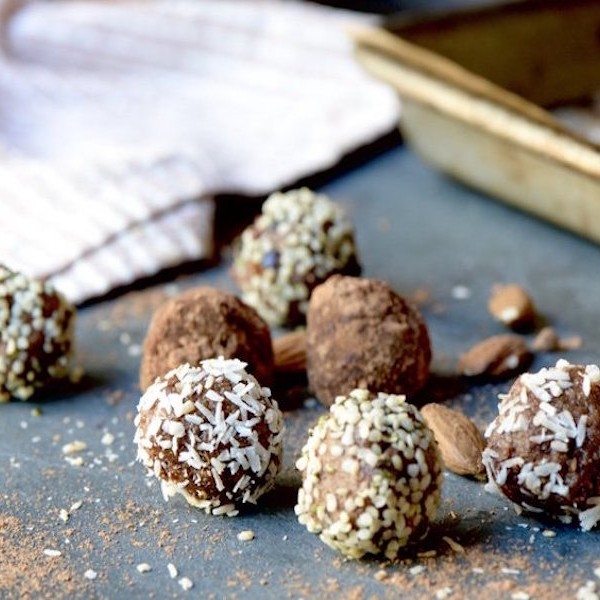 Emily Watson
Course
Breakfast, Dessert, Snack
Ingredients
1

cup

almond butter

divided

? cup unsweetened shredded coconut

I love it toasted!

2

cups

dates

pitted (about 16)

3

tablespoons

cocoa powder

1 ½

teaspoons

coconut oil

Pinch

of sea salt

Optional toppings: finely chopped almonds

hemp seeds, goji berries, cacao powder, cacao nibs, toasted coconut
Instructions
In a food processor, blend ¾ cup almond butter, coconut, dates, cocoa powder, coconut oil, and sea salt until smooth paste forms. Add remaining ¼ cup almond butter and pulse to combine. Using your hands, pinch off about 1 generous teaspoon of mixture and roll into balls. Roll balls into toppings of choice and store in the fridge or freezer. Makes approximately 60 truffles.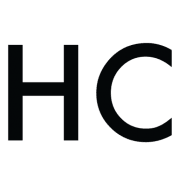 Emily Watson
Emily Watson is the blogger and recipe developer behind the blog, Nourishing Matters. She is on a mission to make whole foods delicious. Emily is also a yoga instructor and enjoys helping students cultivate that balance between effort and ease. She majored in Romance Languages at Dartmouth College, and her travels abroad continue to inspire her in the kitchen. She lives in Philadelphia and loves exploring the ever-changing local food scene.