Eating House is not a conventional dining establishment. It started as a pop-up and pushed its way to a full-blown restaurant in no time. The menu embodies the bold and novel ideas of Chef Giorgio Rapicavoli, a genius who comes up with a "mash-up" of classic dishes imbued with a mix of Miami flavors.
By Brenda Benoit
I visited The Eating House on a Sunday morning more than ready for brunch. The line coiled around the corner but fortunately we were second in line: had to get a window seat. The restaurant is small, with big windows; the ambience cozy, warm, comfortable and inviting. This time my dining companions were Miss E., my sister and Miss Y. We ordered four dishes from the menu and decided to share. The dishes were brought to the table almost simultaneously: Cap'n Crunch Pancakes, Cuban Bread Torrejas, Heirloom Tomatoes and Calentado.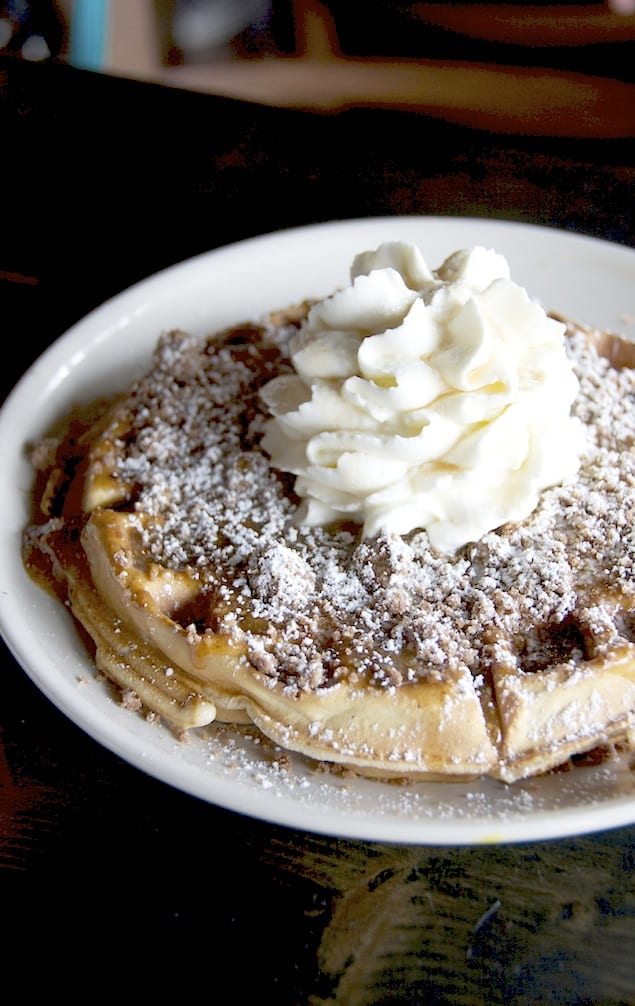 Cap'n Crunch Pancakes were gooey, sweet, crispy and marvelous all at the same time; topped with a condensed milk "syrup" and candied cereal. The pancakes themselves, instead of made of all flour, were combined with Captain Crunch cereal that had been processed to a fine crumb and then mixed with the flour so the flavor of the cereal was embedded into the pancake. The condensed milk syrup looked like whipped cream and it was Miss Y.'s favorite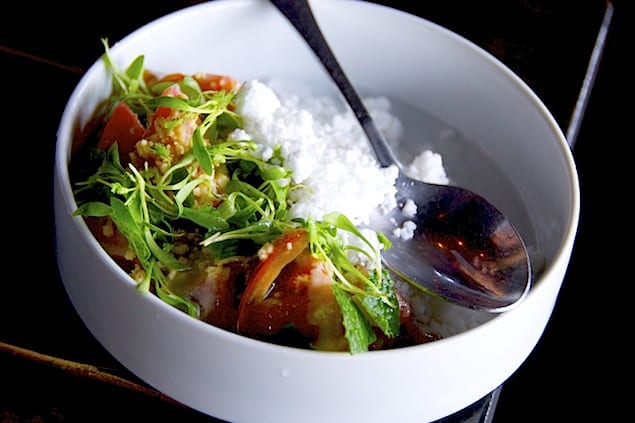 We ordered a dish of Heirloom Tomatoes from Teena's Pride that were embellished with nuoc cham (fish sauce, lime juice, ginger, vinegar), roasted peanuts, herbs and frozen coconut milk , not knowing that this was the signature dish of the restaurant. It was a crazy-weird combination of ingredients that did not seem to make any sense. These disparate flavors did come together well once tasted even though I was a little surprised by how sweet the coconut milk was. Nevertheless, the dish was quickly inhaled and the bowl left empty.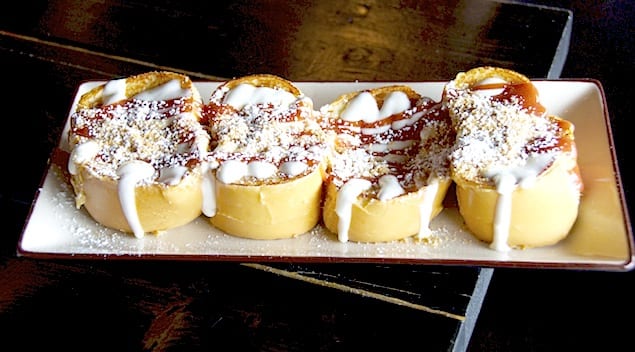 Cuban Bread Torrejas was a Cuban-inspired version of French toast made with guava/iron beer syrup and melted cream cheese. This was sweet-sweet-sweet, much to the delight of my sister whose sugar-tooth defies description.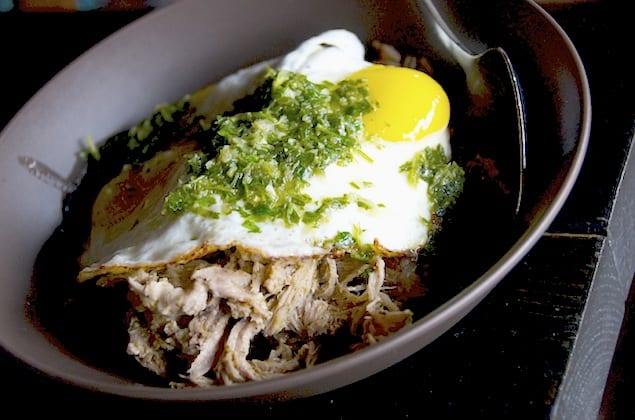 My favorite above all was the Calentado: the chef's version of a Colombian breakfast that consisted of rice and beans, caramelized plantains, braised short ribs, and fried eggs topped with 'chimichurri'. Oh my Lord, what a hearty and delicious bowl of goodness. Calentado literally means "heated" and is a traditional Colombian breakfast native to the Andean region of the country. It is very common, in this area, to eat rice and beans every day for dinner. Then, for breakfast the next day, the rice and beans are reheated and served with egg, arepa, chorizo, chicharrón, grilled beef, chicken or pork. The Calentado at Eating House is a different version with a touch of Argentinian flavor because of the addition of chimichirri, a sauce made from finely chopped parsley, minced garlic, olive oil, oregano and vinegar.
Chef Giorgio Rapicavoli is the star of this restaurant. Born in Miami, to an Italian mother and an Argentine father, he is the quintessence example of a chef whose inspirations come from everywhere: a favorite food reminiscent of his childhood, an interesting preparation technique that fascinates him or anything fresh available in the market on any given day. He learned to cook through his love of it, not from fancy chefs, apprentices or any formal schooling, just from reading cookbooks, the Internet and taking the time to master important techniques. One of his biggest role models is Jean-Michel Basquiat, an artist who would interpret classic paintings and then re-do them in his own way. That is how Rapicavoli likes to approach his food – he takes classic dishes, runs them through his brain and comes up with something completely new and different. His cuisine is a balance of it all, from farm-to-table-influences, modern cuisine, traditional dishes to what is available in the market. He is also influenced by food from other countries, which also gives his cuisine a multicultural feel. Chef Rapicavoli's idea is not necessarily to challenge the taste buds, but question, in other words, to re-invent the meaning of comfort food and be open to different influences and inspirations, wherever they come from.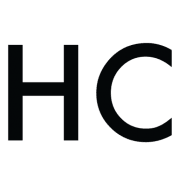 Brenda Benoit
Brenda Benoit was born in the city of St. George's in Grenada and grew up in Caracas, Venezuela. She has been living in Miami for over 20 years, loves to cook, eat and to try new restaurants & cuisines - always with her camera as a companion. She's a dedicated cookbook collector and is in the process of writing one of her own.