Indian inspired spicy carrot and ginger soup. Light, creamy and flavored with cumin and bay leaf.
By Sukanya Ghosh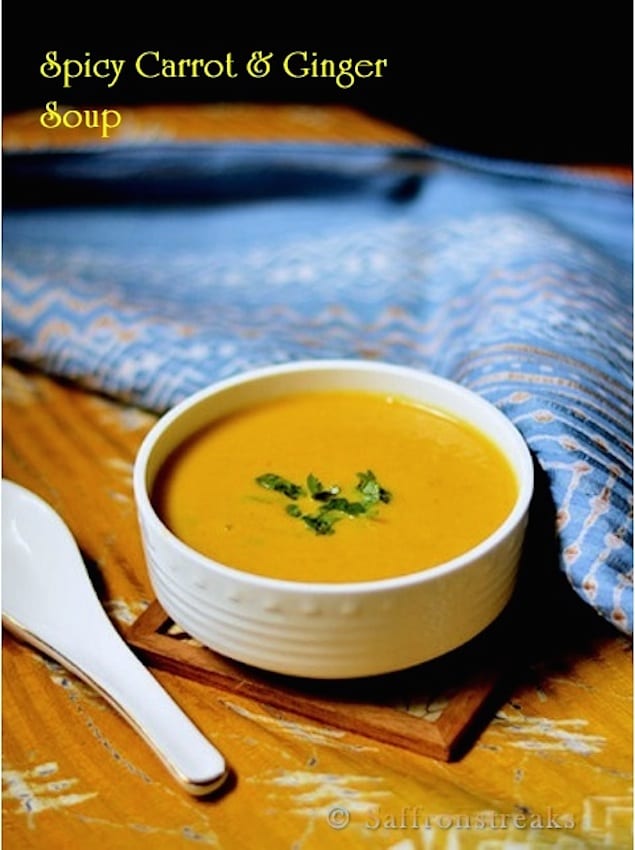 The natural sweetness of carrots spiked with fresh ginger and hint of ground cumin with a dash of red chilli powder makes this a delicious soup. Add a ladle of cream, milk, or Greek yogurt and the yellow velvety, creaminess of the soup will steal your heart away.
You will love this even more on cold winter nights or on rainy days. A good remedy for your sore throat too, the ginger will help you clear the congestion. Enjoy this beautiful carrot soup alone or with crackers, it is going to be memorable one.

Spicy Carrot Ginger Soup
Indian inspired spicy carrot and ginger soup. Light, creamy and flavored with cumin and bay leaf.
Ingredients
Carrots: 2 cups (chopped)
Onion / Spring onion : ¾ cup (chopped)
Ginger : 2 tsp (minced)
Cream / Yogurt : 2-3 tbsp
Bay leaf : 1
Cumin powder : ½ tsp
Red chilli powder : ½ tsp or more
Salt to taste
Olive oil : 1 tbsp
Cilantro to garnish
Vegetable stock or water : 3 cups
Instructions
Heat the oil in a soup pot.
Throw in the onions or spring onions and ginger. Let them sweat for a while. Do not brown them.
Add the carrots, salt, bay leaf, cumin and red chilli powder and saute for couple of minutes or more.
Add the vegetable stock or water, lower the heat and let it cook for 15 to 20 minutes on low heat till the carrots become tender.
Remove the bay leaf and blend the soup with immersion blender or standing blender till it becomes creamy and thick.
Return the soup to heat and gently reheat it. Do not bring it to boil.
Check the seasonings. Add the cream or yogurt.
Whisk it untill it blends well.
Ladle the soup into bowl and garnish with cilantro leaves or ginger sticks and serve warm.
Sukanya Ghosh
Sukanya writes the blog Saffronstreaks, a food and travel blog where she experiments in the kitchen spiced up with interesting food stories and gourmet travelogues. She loves to cook with fresh produce, enjoy both spicy and sweet and her many dining out experiences become cherished memories. Sukanya is from India but now lives in North Carolina, USA.