Our South African correspondent Alida Ryder takes a trip down memory lane, shares fond memories of family Sunday lunches and a recipe for a delicious Malva Pudding.
By Alida Ryder
I am often asked where my love (read: obsession) for food started. I have such an incredible amount of food-based memories and it's hard to pick just one, but the memory that gives me the most joy is one involving my entire family on Sunday afternoons.
I understand that Sunday lunches are a custom in many countries, but in South Africa, we've perfected the art. And in particular, the Afrikaners have left their mark with what is known as Boerekos (directly translated it means Farmer's Food). When you say the word Boerekos, the first thing I think of is intensely comforting food prepared my grandmother.
Our Sundays always involved us going to church in the mornings followed by a family lunch. As you walked through the front door the smell of onions and green beans cooking, leg of Lamb roasting and Sweet potato (Soet Patats) or Pumpkin (Pampoen) would welcome you with a warm embrace. The table would already be groaning under the weight of the amount of food already piled on top of it. Roast Chicken, Roasted Potatoes, Tastic Rice, cooked carrots, mint sauce and 2 or 3 salads would complete the main part of the meal. And I'm not exaggerating. This amount of food would lend to words like "lazy" and "slacking" being whispered, we were normally served about double this amount.
For dessert we would always have Malva Pudding (a baked pudding, almost like sticky toffee pudding), home-made custard, ice-cream and a fruity dessert, most often my grandmother's "Gone-with-the-wind" – pudding (a pineapple-mousse type pudding), so called because it's so light and fluffy that a stiff breeze would most certainly blow it off your plate.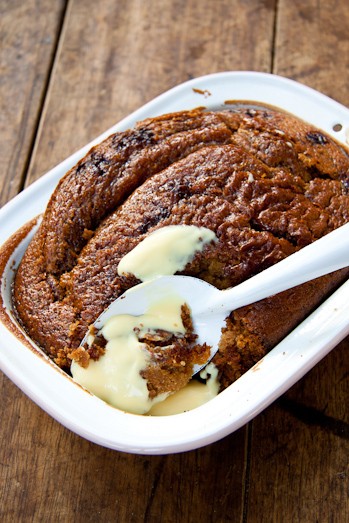 There are very few things that bring such genuine happiness into South African homes like a proper Sunday lunch does. And the main reason for this is not because of the food, but because of the laughter and memories that are being formed around the food. I suppose it's like that all over the world. Every person, no matter how rich or poor, has a memory that is directly related to food. Whether it is your mother giving you warm-buttered toast and tea when you felt ill or her feeding you chocolate-chip cookies and milk when you had a broken heart or laughter with friends over good pizza and ice-cold beer, everyone has a food memory.
I am always so interested in hearing others' food memories and also always surprised when they can't share one. These are the memories I am most attached to, probably because I am also most attached to food but because I can remember my late-mother laughing while eating Chicken Pie and the contentment my dad gets when he eats a bowl of jell-o. I urge you to take the time to think of your own food memories, it is incredibly satisfying and if you honestly don't have any, go make them…right now!
To get an idea of how delicious South African cuisine can be, why not try this incredibly easy recipe for delicious Malva Pudding?
See Also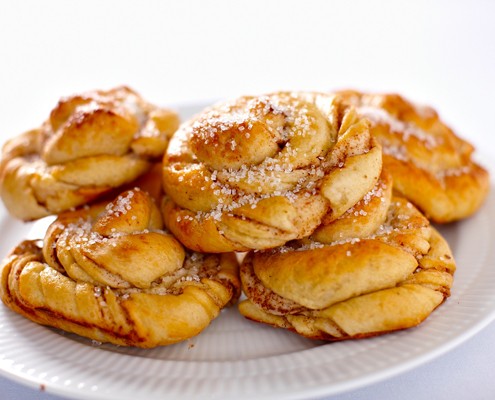 South African Malva Pudding
Serves 6-8
2tbsn unsalted butter
1 cup / 250dl sugar
2tbsn smooth apricot jam/preserves
2tsp white vinegar
2 cups/ 500dl flour
2 cups/ 500dl milk
2 eggs
2tsp baking soda
pinch of salt
Syrup :
1 cup / 250dl sugar
1/2 cup / 125dl boiling water
3/4 / 190dl cup unsalted butter
1tsp vanilla extract
1. Pre-heat your oven to 180°c / 356°f and grease a 20cm square pie/baking dish.
2. In a large saucepan, melt the butter, sugar, apricot jam and vinegar together until the sugar has dissolved and the mixture is smooth. Remove from the heat and allow to cool for 5 minutes. Meanwhile sift the flour.
3. Alternating, add the flour and milk until the mixture is smooth and thick.
4. Add the eggs one by one, beating well after each addition.
5. Add the baking soda and salt and beat well.
6. Pour the mixture into your prepared baking dish and bake for 30-45 minutes until the pudding is dark and baked through (a skewer inserted should come out clean).
7. In a small sauce pan, heat the syrup ingredients and cook until all the sugar has dissolved.
8. Pour the syrup over the cooked pudding and allow to stand for 10 minutes before serving with custard. (In South Africa it would be a sin to serve this with anything other than UltraMel custard but you can use any custard you can find)
Alida Ryder
Alida Ryder is a South African food writer and blogger. She has a passion for simple and delicious food, as well as fun and healthy family cooking. She shares her tips and recipes on her Simply Delicious blog and of course here at Honest Cooking.