Create fluffy, rich pancakes by adding sour cream and whipped egg whites. Spruce up the traditional griddle cake with added blueberries.
By Dawn Myers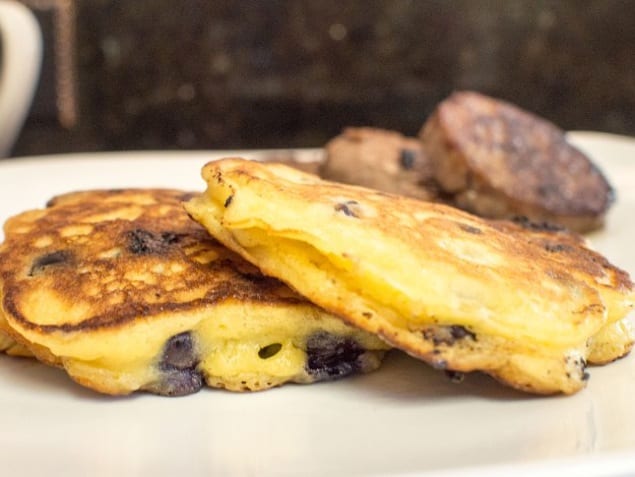 In The Great Western Cookbook by Angelina Maria Collins, written for Western Housewifes, Mrs. Collins details her very own pancake recipe in one titled: Mrs. Collins' Batter Cakes. I was particularly interested in this recipe as it would make use of my left over sour cream. I made tacos, and you just don't need that much sour cream for tacos. I ALWAYS have leftover sour cream.
The recipe is fairly modern, as Mrs. Collins used several interesting techniques, for the time, to make very light pancakes. First, she separated the eggs, and whipped the whites "until frothy". Aerated egg whites, if the bubbles are left intact through careful folding into the pancake batter, will create a very airy confection. She also employed some chemical assistance. In the days before baking powder or soda, there was, for a brief time, "saleratus". Instead of sodium bicarbonate (modern baking soda), saleratus was usually potassium bicarbonate. Using a bicarbonate with sour cream, which is acidic, and heat would also create air bubbles, also helping to lighten the pancake. Nowadays, people largely rely on baking powder or soda alone to lighten the pancakes.
The recipe also included all the usual suspects in such a concoction: flour, eggs, and milk:
I've updated it slightly to include a bit of salt and vanilla and changed some of the ratios because, well, "enough flour" just isn't a really good descriptor for a recipe, is it?
Print
Sour Cream Pancakes
Create fluffy, rich pancakes by adding sour cream and whipped egg whites. Spruce up the traditional griddle cake with added blueberries.
Author:

Dawn Myers

Yield:

16

pancakes

1

x
Category:

Breakfast
2 cups

all-purpose flour

2 tablespoons

sugar

2 teaspoons

baking soda

1 teaspoon

salt

1 cup

sour cream

1 cup

whole milk

2

large eggs, separated

4 tablespoons

unsalted butter, melted and cooled, plus additional for cooking pancakes

1 teaspoon

vanilla

1 cup

blueberries (optional), dusted with 1 tablespoon flour
Instructions
In a medium mixing bowl, sift together the flour, sugar, baking soda and salt. Set aside.
In a small mixing bowl, combine the sour cream, whole milk, egg yolks, melted butter and vanilla. In a separate bowl, Whip the egg whites until soft peaks form.
Add the sour cream mixture to the flour mixture and just combine (batter will be lumpy and that's ok). Gently fold in the egg whites. If desired, fold in the blueberries.
In large non-stick pan, or flat griddle, melt enough butter over medium heat to coat the pan. I like to use clarified butter or ghee for this step, but butter works well. You may need to add more as you work through the batches. It just has to be watched because it has a tendency to burn. When the griddle is evenly heated, add about a 1/4th a cup of batter to the griddle. When the top of the pancake is dotted with bubbles and the bottom is brown, flip over and cook for another minute or so. Remove from the griddle and serve. Alternatively, put the oven on low (170-200 degrees Fahrenheit), and keep the pancakes in the oven until needed.
See Also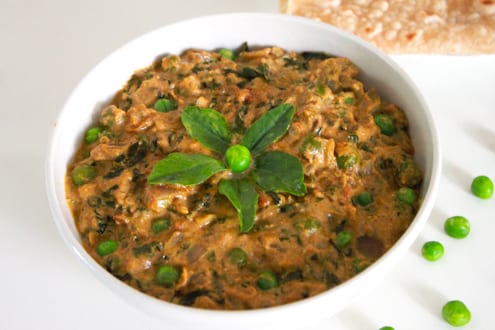 Dawn Myers
Wife, mother of 2 lovely children, MBA, lawyer, bureaucrat. I adore reading old cookbooks and am endlessly inspired by their simplicity, economy, and true connection with the food being prepared. My blog explores "historic" recipes and more modern recipes that embody the same ideals.