Simone Van Den Berg with a combination that will stir spring feelings all around.
Text And Photos By Simone Van Den Berg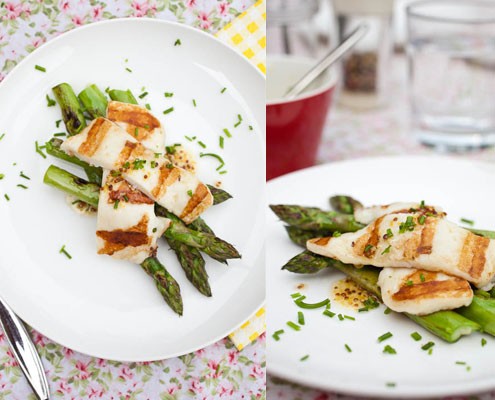 While I know that the season at hand is the season of the white asparagus, I confess I have more of a thing for the green ones. Call it lazy, as they are quicker to prepare and take a lot less work cleaning! The sun was not really doing what I wanted it to do this morning, so I figured it would be a perfect time to get into the kitchen and cook something with my favorite cheese, combined with some fresh green asparagus. I did buy green as well as white asparagus but I am still not entirely sure what kind of dish I will be making with the white ones. While the green ones can easily be grilled in a couple of minutes I have never tried this with white asparagus and I don't think it is even possible at all.
For this dish I used haloumi cheese, which is a hard cheese that is brilliant for grilling or frying.  I use it mostly in little fried cubes tossed into a salad, but it's also quite good grilled as I did with this dish. You can eat this either for lunch or as a starter. It would even be good for a light main course. Increase the amount of asparagus if you do.
Be careful with adding salt in this dish as the haloumi is quite salty so keep that in mind when seasoning.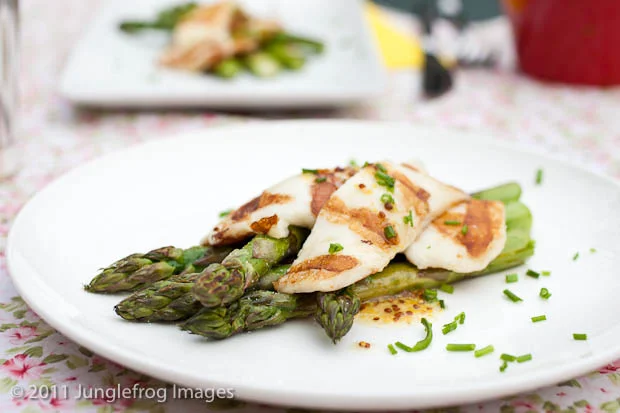 Grilled asparagus with haloumi
Delicious and fresh spring dish with green asparagus and grilled haloumi cheese
Author:
Simone van den Berg
Recipe Type:
Starter or light main course
Ingredients
200 gr green asparagus
100 gr haloumi cheese
1 tbsp course mustard
2 tbsp olive oil
1 tbsp lemon juice
1 tsp of honey
chives
½ tbsp of sesame oil
salt
pepper
Instructions
While you heat your grillpan, make the dressing
Put the lemon juice, mustard, honey, sesame oil and oliveoil together in a small bowl and whisk well to combine.
Chop the chives into small pieces, but only add them to the dressing at the last minute.
Clean your asparagus by breaking the last wooden part of the stalks.
Brush each stalk with some oliveoil and put them on the grill for about 3-4 minutes. They should still have a good bite to themm.
Cut your haloumi into slices, brush them also with oliveoil and grill for 1-2 minutes each side.
For plating put 3-5 stalks of asparagus per plate, drape the grilled haloumi over it and carefully add 1 tbsp of the dressing over the dish.
Serve the remaining dressing on the side