Similar to eggplant parmesan, this stack of panko-crusted eggplant is served in an elegant style with ricotta and fresh basil.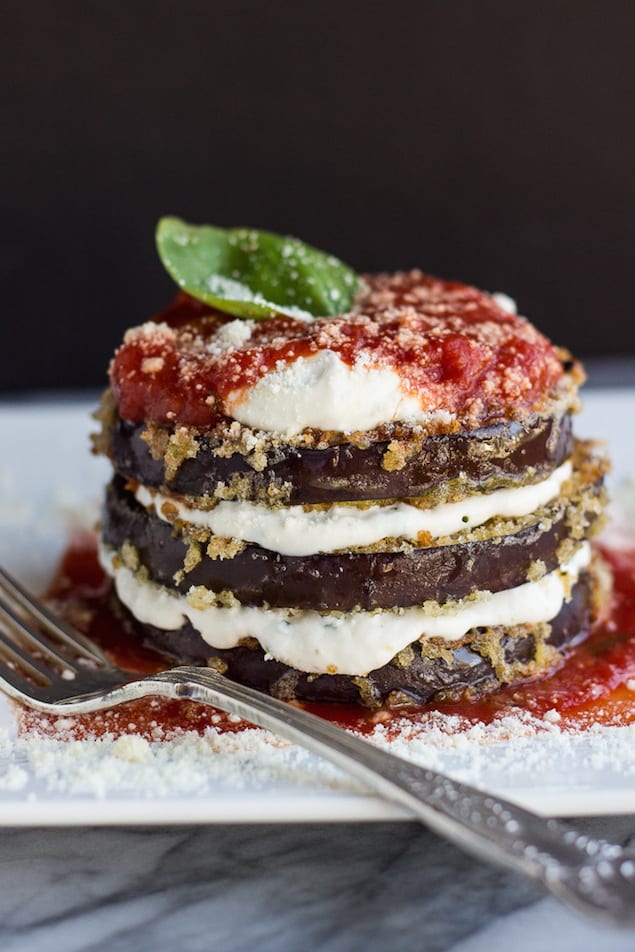 I think if there is one cuisine I could never get tired of eating it would be Italian. My favorite Italian dishes aren't fancy, just loaded with fresh ingredients, full of flavor and comforting.
This recipe is somewhat similar to eggplant parmesan, but assembled in a little stack. Layers of tender panko crusted eggplant, creamy ricotta with herbs, fresh basil leaves, topped with zesty marinara….could it get any better??
I got the idea for this recipe from a little place in Normandy Beach, New Jersey where I grew up during the summers when I was a kid. It's called the Normandy Beach Market and it's a "must visit" when you are down at the Jersey shore. They have an awesome selection of baked goods, sandwiches, wraps, salads, appetizers and pre-made items to make your vacation at the shore hassle-free around mealtime.

Easy Eggplant-Ricotta Stacks
Similar to eggplant parmesan, this stack of panko-crusted eggplant is served in an elegant style with ricotta and fresh basil.
Ingredients
1 large eggplant, sliced into 12 - ¼ inch rounds
kosher salt
½ cup all-purpose flour
2 large eggs, lightly beaten
1½ cups Italian seasoned panko bread crumbs
15 ounce container part-skim ricotta cheese
¼ cup grated parmesan cheese plus extra for sprinkling
½ tsp. kosher salt
¼ tsp. ground pepper
1 Tbsp. fresh parsley, chopped
½ tsp. Italian seasoning (I use Mrs. Dash)
1 24 oz. jar marinara sauce
12 basil leaves
Instructions
Preheat oven to 400 degrees. Line a baking sheet with foil and spray generously with non-stick cooking spray.
In a medium bowl combine ricotta cheese, grated parmesan, salt, pepper, fresh chopped parsley and Italian seasoning. Set aside.
Sprinkle each eggplant round (both sides) with kosher salt and lay on paper towels or baking rack for 30 minutes. After 30 minutes pat each round dry with a paper towel.
Dip each eggplant slice into flour, then into lightly beaten egg, then into seasoned panko. Place onto baking sheet and bake 20 minutes total, ten minutes per side. Remove from oven and let cool for a few minutes.
To assemble: Spread bottom of square baking dish (big enough to accommodate four stacks) with light layer of marinara sauce. Place each stack on top of marinara as follows: Top one eggplant slice with 1 heaping Tbsp. ricotta cheese mixture (spread out onto eggplant round), 2 Tbsp. marinara sauce and one basil leaf. Continue 2 more times. Sprinkle with parmesan cheese.
Return to oven and bake for 15-20 minutes until heated through.