In Berlin, the talented René Frank is redefining the world of desserts. He created CODA Dessert Dining, a two Michelin-starred restaurant where guests enjoy a fine dining experience composed exclusively of desserts (and cocktails), a vision that this year earned René Frank the title of the "The World's Best Pastry Chef" by The World's 50 Best Restaurants.
Berlin is one of those very few cities where anything goes. Where people authentically strive for individuality and uniqueness, where "the norm" doesn't exist and people (and chefs) get to be themselves. This is exactly what brought René Frank to the German capital to create CODA, and what made this very special restaurant such a big success, earning two stars in the Michelin guide, and many special awards.
At CODA, René changes and challenges pretty much the whole idea of what it means to go to a fine dining restaurant. The first and biggest difference is that the dessert, a dish traditionally saved to end the meal, becomes the star. A desserts tasting menu composed of 13-14 servings that are paired with specially created cocktails and petit fours is presented to every guest, all done without refined sugars or processed industrial ingredients. The key to having an extraordinary time at CODA? Leave all your expectations at the door.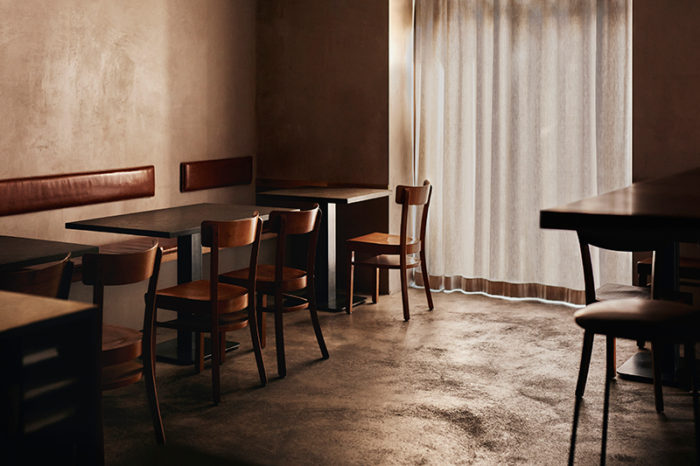 The Beginning
René Frank's career is testament to what can result from hard work, creativity and vision. He traveled the world to work in all types of restaurants and kitchens. From Barcelona at the legendary Oriol Balaguer's chocolaterie, to three Michelin-starred Akelarre in San Sebastian and Lampart's, with two stars in Switzerland.
Asia was also one of the stepping stones towards his future in Berlin. René Frank passed through Nihon Ryori RyuGin with three Michelin stars in Tokyo, and Kikunoi, also with three stars in Kyoto, before coming back to Europe and Centre de Formation from Alain Ducasse in Paris. It was during his time as head pastry chef at La Vie in Osnabrück (the restaurant received its third star during that period) that Ren´Frank realized something that would lead him towards creating CODA.
"I used to work as a pastry chef at a three Michelin-starred restaurant where I acknowledged all this and there I started to create lighter desserts just so that guests could finish my chocolates in the end. I got more and more into plant based desserts, sugar reduced and fat reduced. At that time I algo got sort of obsessed with not using industrial or refined products."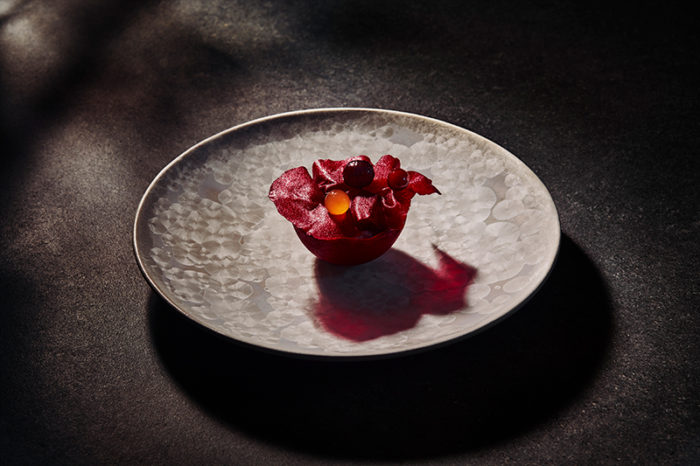 A Different Project
At CODA, René Frank, his recently appointed co-head chef Julia Leitner, who's been involved in the project since day one, and the rest of the team draw inspiration from patisserie techniques from around the world. Every course is carefully composed to be different. To deliberately challenge conventions, break boundaries and surprise their guests with unexpected flavor, temperature and texture combinations, all done without processed or artificial ingredients and being environmentally conscious.  
"In pastry all over the world, from Tokyo to Berlin, Barcelona to New York, you get a pastry, and all of them use the same processed chocolate and bases, the same fruit purees and processed fats and even the same molds and shapes. All over the world, the same result. Then even as a pastry chef you get your recipes from the same companies that sell these products and end up having no idea about pastry, and it ends up all being the same. It kills the art of pastry and that's why we do things differently at CODA," René explains.
For René Frank, avoiding industrially processed products is an obvious choice at this level of gastronomy. What he wants is to find pure, natural ingredients that have their own distinctive flavor profiles. For him, partially refined products limit the craftsmanship of a pastry chef and as a result, his creativity and potential.  
Sweet Berlin
Before 2016, when CODA opened, René Frank had something very clear. He had an idea that was going to be centered around desserts and cocktails. It's not the first of its kind as René says himself. You can find other examples of dessert restaurants like Espai Sucre in Barcelona, but they were still sure that they could do things differently and the only place that he envisioned for that project was Berlin.
"When I thought about a dessert restaurant concept I knew that the only city in Germany where you could do this was Berlin. This is why I focused on Berlin and how I met Oliver, my business partner. Berlin is a city where you can do what you want and be what you want. You can go out wearing a pink tutu and nobody questions it or judges you." 
It was that Berlin freedom that made it ok for him to jump into this adventure without having all the answers. Was CODA going to be a bar? A restaurant? A Michelin- starred restaurant? He didn't know back then. But now, with perspective he realizes that CODA dessert dining is what it is because he had time to experiment, to develop his idea and to discover his own voice in a city that gave him the space to do so.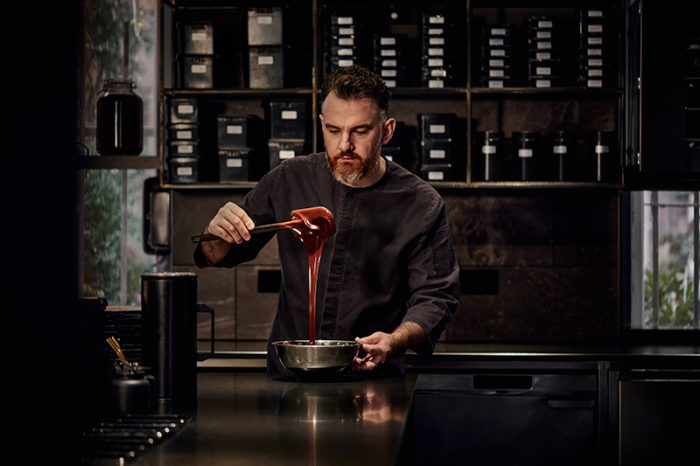 What Is A Dessert?
I personally love desserts and I'm one of those people who are convinced that a meal is not over without that special ending. The origin of the word comes from the French term desservir, which refers to the moment when the table was cleared of all plates and glasses, and left free and ready for the sweet surprises. Those surprises are very different from the rest of the meal. The ingredients, the techniques used to make them, the flavors… it's all just a world of its own. But one thing that's very important to understand is that a dessert is not a dessert because of the amount of sugar it has. 
"Techniques are different, flavors are different, textures are different, and that's what makes something a dessert for me, not the amount of sugar that's inside. Let's say you make a cake and you take out all the sugar. It's the same dish but just not sweet anymore, so I think it shouldn't be defined just by sweetness," explains René in a very simple and eye-opening way.
The cherry on top of all these aspects that make desserts different is the nostalgia. For René Frank, most desserts have that nostalgic aspect that reminds guests of a particular season, a moment, a person or a childhood memory, some savory dishes too, but to him, most desserts have that special quality. In that way, a big part of his idea was to take advantage of that nostalgic feeling and make a whole menu out of desserts. An experience of gustative memory and nostalgia.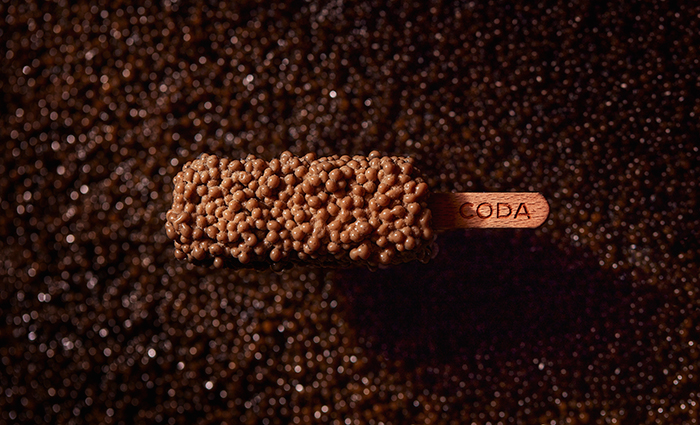 The CODA Way
Most people define desserts by sweetness. It's the one flavor you usually don't have during a meal so if you analyze it, desserts usually have and combine specific types of flavors and textures, completely different from the ones you find on snacks, starters or main dishes. But desserts also change depending on the context. It can be a pastry to end a breakfast or brunch, a piece of cake with a coffee in the afternoon, or the last dish after an eight course savoury menu.
"The context changes what the guest wants and if you have a menu like ours, then you need to include sweet, salty, acidity, bitterness, and different textures. That way, guests don't leave our restaurant missing anything." says René. But what is it that they serve at CODA?
The experience begins with the snacks, bites that will make you understand if you didn't already, that in CODA you will not find the typical cakes and soufflés. A gummy bear made from dehydrated red beet is the first one, followed by a rice churro with a miso-tofu cream that you can pair with Champagne or sake, delicate and balanced. We continue with a candied lettuce with cream cheese and pickle powder and end the snacks with a small but very rich beef cake, done by replacing the usual fat element of a cake recipe with bone marrow. This is one of the very very few animal elements of the entire menu.
My idea is not to spoil the whole experience by revealing the surprises, but to explain the types of dishes and flavors that define CODA and what a dessert can be to them. For example, one of their signature dishes is the parsley dessert, made with parsley root ice cream, crispy parsley leaf and root, parsley leaf oil and a lime vinaigrette with black garlic cream. Yes, this is a dessert and you have to try it to understand it.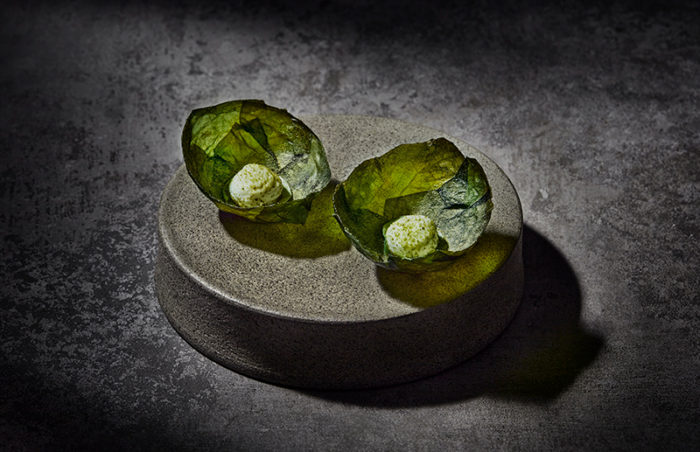 Cocktail Is The Sauce
Drinks are a key element of the CODA concept. Out of the bar come preparations that are thought to make this menu impact even more. You could almost compare the cocktail pairings of every dish to what sauces do for a regular savory menu at any fine dining restaurant. They complete the idea, round up the flavors and elevate the dish.
"We knew that we wanted a place where guests wanted to spend their evening and with that came alcohol. Not always, but most people like to accompany their special diners with wine or alcohol, and again, since we wanted to make things differently, we decided that a wine pairing would be too simple. It also happens that dessert wines are very sweet and it would have been too intense. Then I thought that some traditional desserts, pastries and chocolates include alcohol, like a Crêpes Suzette or a Baba au Rhum… So I figured that it would be a good idea to always combine every dessert with a cocktail," says René.
For example when you get a dish like the raclette waffle, served straight from the iron with dehydrated kimchi and yogurt, you also get a cocktail composed by Berliner Weisse Kennedy, Aquavit Dill Anis, Dill Eau De Vie and Pear. 
"I love challenges and CODA was a big one, so why not make it even more challenging by adding a cocktail to every dish? It ended up being a very special touch because CODA now offers not only complex dishes, but also complex drinks." René Frank.
CODA, Friedelstraße 47, 12047 Berlin, Germany, www.coda-berlin.com