St Patrick's day is nearly upon us, and some may find themselves shuddering at the thought of green bagels and green beer being pushed upon them at every turn.
By Vanessa Pastore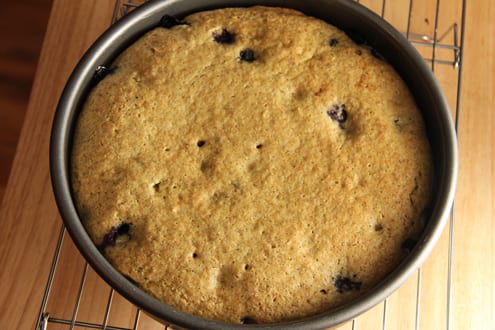 Skip out of the passive voice and take control of your life! If you're not at peace with dumping who-knows-what into your food to achieve that lurid shade of green we've all come to know and love/dread around this time of year, but don't want to appear snobbish in the face of all the festivities; don't worry, there are alternatives.
How about Green Tea Cake with Blueberries; because that conniving, two-faced rodent of a groundhog said that it would be spring by now, and I'm going to bake a springtime cake as though it isn't snowing like the dickens outside.
While 'Culinary green tea' is a distinction that concerns me, and I'm left wondering what other grades of green tea lurk in the shadows, it is readily available in Asian markets, as well as online super stores. It is indeed a powerful mojo, so make sure you have a steady hand while applying it. This recipe will give you a subtle green hue, accentuated by the fresh blueberries, and very much a calling card of the spring you were promised so long ago.

Vegan Green Tea Cake with Blueberries
Vegan Green Tea Cake with Blueberries to join the St Paddy's festivities in a subtle way.
Ingredients
1 and ½ cups Flour
½ cup Almond meal
½ tsp Salt
1 Tablespoon Baking powder
1 to 1.5 tsp Culinary grade green tea/ matcha powder
1 cup Sugar
1 and ¼ cup (2.95 dl) Coconut milk
¼ cup (.59 dl) melted Coconut oil (or canola/vegetable)
2 tsp vanilla extract
½ cup Fresh blueberries
Powdered sugar to dust
Sliced almonds for garnish
Instructions
Preheat your oven to 350° F/ 176° C and grease a 9" round pan.
In a large bowl, combine your coconut milk, oil, sugar, and vanilla.
In a separate bowl, combine your flour, almond meal, matcha powder, salt, and baking powder and mix until well incorporated.
Add the dry to the wet in batches, mixing just enough to incorporate.
Once the two are combined into a batter, toss in your blueberries and gently fold in.
Pour the batter into your prepared pan and bake for 30 - 40 minutes, or until an inserted toothpick comes out clean.
Once the cake has cooled, 15 minutes in the pan, then completely on a rack, decorate as you will. I dusted mine daintily with powdered sugar and sprinkled with sliced almonds before I devoured it.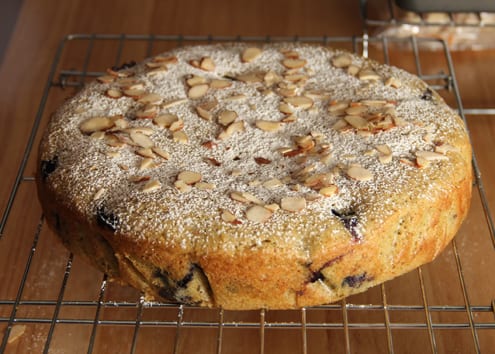 The end result is light and fluffy, the flavors grassy, with a well rounded sweetness. Green enough to happily join in the festivities, but not so green that you hate yourself in the morning.
Vanessa Pastore
Vanessa Pastore is a part time baker, blogger, and all around passionate about food. A vegan of 13 years, she has become obsessed with farmer's markets, international markets, and anything she can get her hands on. Everything is a potential ingredient, and every ingredient is a potential baked good. When she's not baking or blogging, chances are, she's thinking about it.