Crostini are simple starters to any meal or cocktail hour. Cambozola, a Brie-style cow's milk cheese with a slight hint of blue veining, tops this toasted bread with delicately roasted, sweet grapes.
By Emily Clifton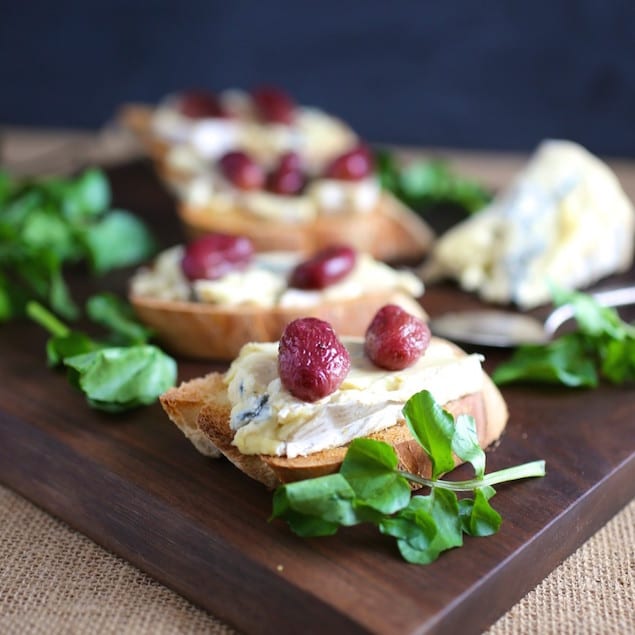 Seriously, what's quicker and easier than crostini, toasted bread with stuff on it? Not much. Especially when you can do prepare everything hours ahead.
So let me take a nerdy detour and talk about the difference between Crostini and Bruschetta. Mostly it's down to the type and size of bread used. Bruschetta, from the Italian word "bruscare" meaning "to roast over coals" is made by toasting whole, wide slices of a rustic Italian or peasant type bread. Think open-faced sandwiches. Crostini are sliced and toasted rounds from fine-grained long bread, like baguette. Both can be topped with all sorts of different things, from simple to complex.
Personally, I think a party with cocktails and several different types of Crostini would be amazing. The possibilities are endless but here's a few combinations I thought would be delicious.
Ricotta with Lemon Zest, Cracked Pepper and Olive Oil
Smashed Cannellini Beans with Lemon, Olive Oil and White Anchovy
Camembert with Roasted Pear and Hazelnuts
Ricotta with Sautéed Kale and Caramelized Mushrooms
Shaved Cucumber, Smoked Trout and Horseradish Creme Fraiche
Roasted Cherry Tomatoes with Parmesan and Basil
So, on to the one we actually prepared which was inspired by the roasted grapes from our Farro Salad recipe. For the cheese, we used Cambozola, which is a Brie-style pasteurized cow's milk cheese with the barest hint of blue veining. It's a great "starter cheese" for those who might not be fond of very assertive blue cheese flavors.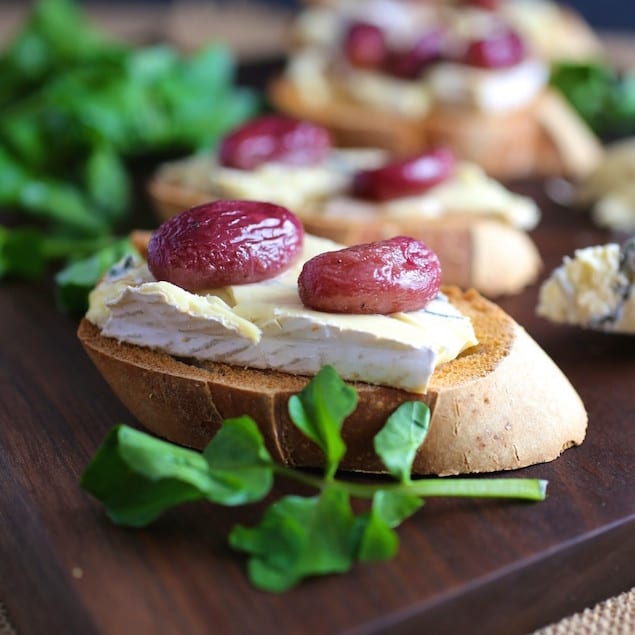 Another great option is Gorgonzola Dolce, which is a soft, blue, buttery cheese made with cow's milk. It gets its name from a town in Lombardy near Milan, where it is said to have been created in the 12th century. I love history.
Both cheeses pair extremely well with the delicate sweetness of the roasted grapes but you could certainly use a sharper blue or even a goat cheese or brie.
Print
Roasted Grape Appetizer with Blue Cheese
---
Author:

Emily Clifton

Yield:

4

-

6

servings

1

x
Description
Crostini are simple starters to a meal or cocktails. Cambozola, a Brie-style cheese with a hint of blue veining, tops toasted bread with delicate grapes.
---
12

-inch-thick diagonal baguette slices

4 ounces

Cambozola blue cheese (or Gorgonzola Dolce), room temperature

1½ cups

seedless red grapes

2 teaspoons

olive oil, plus more for drizzling
Kosher salt
Freshly cracked black pepper

½ cup

hazelnuts or walnuts, toasted and coarsely chopped (optional)
---
Instructions
Preheat oven to 400°F.
Place baguette slices in single layer on baking sheet. Toast in oven until golden, about 8 minutes. (Can be made 4 hours ahead.)
On a separate baking sheet, spread out the grapes and drizzle with olive oil and sprinkle with salt and pepper, to taste. Roast grapes for about 15-20 min, until they burst and release some juice. Shake the tray once or twice during roasting. (Can be made 4 hours ahead. Set aside in a bowl along with any juice from the pan).
Spread blue cheese on baguette slices. Top with two or three grapes and sprinkle nuts over each (if using). Drizzle each slice with some juice from the roasted grapes.
(If serving as a first course, I like to add some lightly dressed greens such as baby kale, arugula or watercress. Just toss about 2 cups with a tablespoon of olive oil and 2 teaspoons of balsamic vinegar).
Emily Clifton
I love to cook and learn about food. I was born and raised in New York City and I was exposed to a lot of different food cultures as a kid though I was weirdly picky. I hated mashed potatoes but I loved kim chee. Hated fish, loved escargot. I said I was weird, don't judge me. My mom is a great cook but I definitely don't have any "passed down from grandma" types of recipes. Both my grandmothers were horrible cooks. I mean really, truly bad. I give my mom a lot of credit for knowing that string beans are not actually supposed to be gray. In real life I'm a film/TV editor which just might be the most fun job in the world. Occasionally it can be the most annoying job in the world which is why I really appreciate it when I get to take a break and do my other favorite things which is cook, take photographs and write.