Guido Braeken is the chef of an impeccable restaurant located in one of the rooms of the luxurious Château Wittem in the south of the Netherlands. The family-owned property has centuries of history and the most recent chapter is all about hospitality and enjoyment as it not only is a dreamy twelve-bedroom boutique hotel, but also the house of Julemont, a two Michelin-starred restaurant where produce serves as the backbone to a memorable dining experience.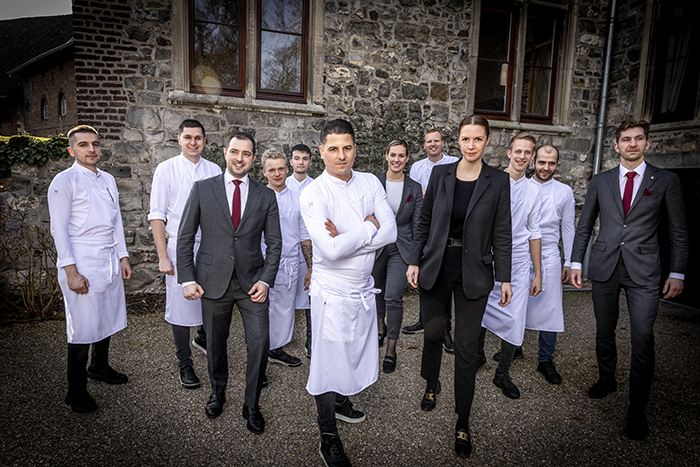 Guido Braeken is a chef of great experience and less than a year after taking the reins of the beautifully renovated kitchen and dining room of the Château Wittem, the accolades started coming his way. He became the youngest chef in the Netherlands to achieve the two starred status in the prestigious Michelin Guide, two stars that he got at once, from zero to hero. This year he also became a candidate on the list of the top 100 chefs in the world by The Best Chef Awards, and he was recognized as The Young Chef of the Year by Gault & Millau in his country.
Awards, lists and rankings that couldn't look away from the talent and the classically modern personal style that Guido has developed for himself and his restaurant in such a short time. At Julemont, the experience is centred on unbeatable produce, intense but perfectly balanced flavors and a superb combination between tradition and modernity and between local inspiration and international influences. These values also appear in the other dining options in the hotel, from breakfast to bistro.
But how does he achieve such powerful and elegant flavors? For starters he understands the power of great produce and the difference those make in a dish. So much so that Guido doesn't usually speak about signature dishes. When he explains his vision, he speaks about signature produce. Once he has those incredible seasonal vegetables, top quality seafood or carefully selected meats, then the second thing that helps him achieve greatness are his sauces. They truly are the heart and soul of Guido's cooking.
This is the story of how Guido Braeken turned a historic castle into a culinary heaven.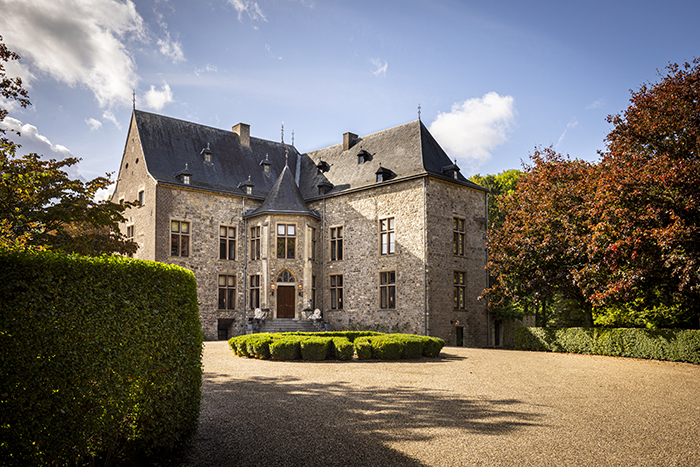 An Inspiring Father
Some people look back at their childhoods and realise that they knew what they wanted to do with their lives from a very young age. It's very common to read stories about how today's star chefs started their careers cooking at home with their grandmothers or even helping their families out in their restaurants, but in Guido's case, the influence wasn't specific to any job or industry. At twelve years old he already understood how important it was to work, and regardless of the job and responsibilities, to always strive for perfection.
"When I was a child my father worked many hours. Work was very important for him and I saw that and understood it  when I was 12. I realised that my father worked for our family and to earn money, and also he wanted all his work to be done in a perfect way. So when I do my work I'm looking at my father. He was a store manager for a big company. He was always the first to come to work and the last to leave. And his store was always perfect", Guido explains.
At fourteen years old he started working at a restaurant. It was his first contact with that world and of course, he started as a dishwasher. The excitement, intensity and hard work that he saw in the kitchen attracted him, but rhythm and the vibe of the room attracted him even more and he was convinced that he wanted to be a waiter and dedicated pretty much his entire teenage years to that job. After school, Guido found work as a waiter in a Michelin-starred restaurant in Maastricht, and after a few months a member of the kitchen left and the chef asked him if he wanted to join the team for a couple of months. He agreed, left his front of house days behind and immediately found what he was actually supposed to do for the rest of his life: cook.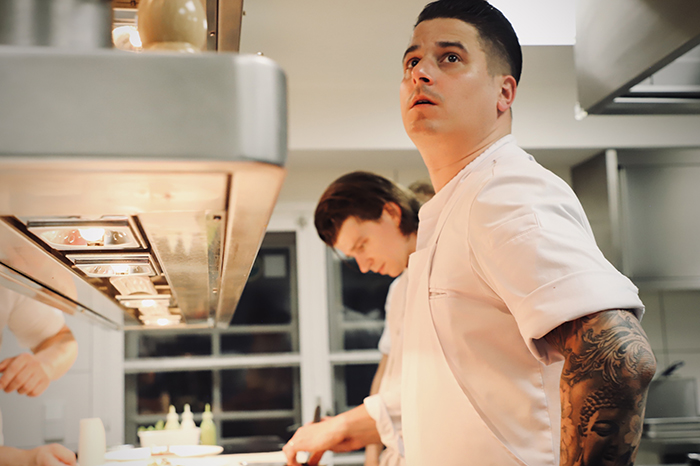 A Very Special Date Night
After changing from front of the house to the kitchen and working for three years, a date night took Guido and his wife to a two Michelin-starred restaurant named De Leuf. The experience was incredible and sparked his drive and his hunger for more. Even during the meal he would tell his wife that he needed to work there in the future. They ended the dinner, paid the bill and as they left the restaurant they bumped into the chef. He took the opportunity to talk to the chef and one week later he was already a part of the team.
"I worked with Paul van de Bunt, who tragically died in 2014, and today his son is the chef there. It was a tremendous opportunity and a great learning experience. I had the freedom of making my own dishes and also learning about molecular kitchen. I worked there for 5 years with a great team. I think that it is important to stay for long periods when you're learning and growing. Nowadays it's very common for young chefs to try to cook for three months in a bunch of famous restaurants but the truth is that that strategy reads great on a resume only. I never focussed on that. I always knew that I wanted to stay at least two years in each section of the kitchen," he explains.
After that period, he moved to Belgium and got a job as a chef de partie that in only a few months became a job as a sous chef with Ralf Berendsen. "He taught me how to cook. It was probably the hardest time of my life, but also the best. Three times I told him I got a new job and every time I stayed. The final time I said I would finish we received a second star just a month after, and I yet again decided to stay", explains Braeken with the tranquillity that only comes from reflecting on those years with hindsight. After seven years he finally took the final decision to go back to Maastricht. More years of work under other chefs went by, earning knowledge, experience and stars until COVID came and everything stopped.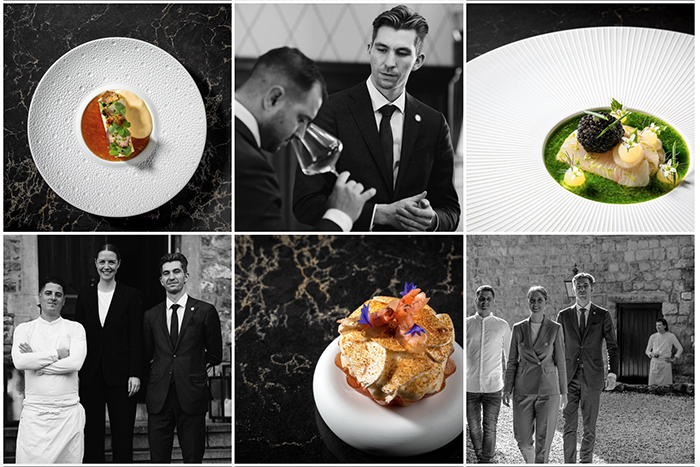 The Historic Castle And Birth of Julemont
When guests enter the property through the driveway and face this national treasure that dates to the 11th century, they surrender to its historical charm. Château Wittem is an intimate, 12-room boutique hotel surrounded by South Limburg's rolling hills. The latest chapter in the castle's almost millennium-long history is starred by the Wilden-family. In 2018, Alexander and Nicole Wilden bought it and gave the reins to daughter Victoria Wilden who undertook a huge renovation process to turn it into the beautiful boutique hotel it is today. In other words, it's a family affair and passion project. The hotel and restaurant opened its doors again in September 2019.
The castle stands in the centre between Liège in Belgium, Maastricht in the Netherlands and Aachen in Germany, and is surrounded by nature, rivers, and majestic trees. The spacious rooms and suites are named after iconic individuals who played a great role in the history of the building and each room has its own story to tell. Some examples are Anna, Floris II, Guda, Willem and Karl V. Of course one of the main attractions is the wonderful dining offering of the hotel, starting with a breakfast worthy of a real castle with one of the best Eggs Benedict in the world, followed by 'La Cuisine' a more casual restaurant that opens every Sunday with an exquisite a la carte menu of seasonal dishes.
This is all the result of Victoria Wilden's vision. During COVID and right after finishing the renovation process she contacted Guido Breaken and invited him to the property to discuss a possible collaboration. It was the moment Guido had been waiting for for years. A chance to create his own culinary language and to bring his own vision to life as the chef. It was one of those moments where everything came together. 
Guido tells: "When I drove there I thought that this was my chance to do it. There were no other chefs, no one. I saw the castle, the restaurant and then Victoria talked to me about her idea and philosophy. The best part was that after that, she asked me how I wanted to bring it to life and what I needed. So we got along very well. I gave a week's notice at the restaurant I worked in and a month after I came here with my two sous chefs.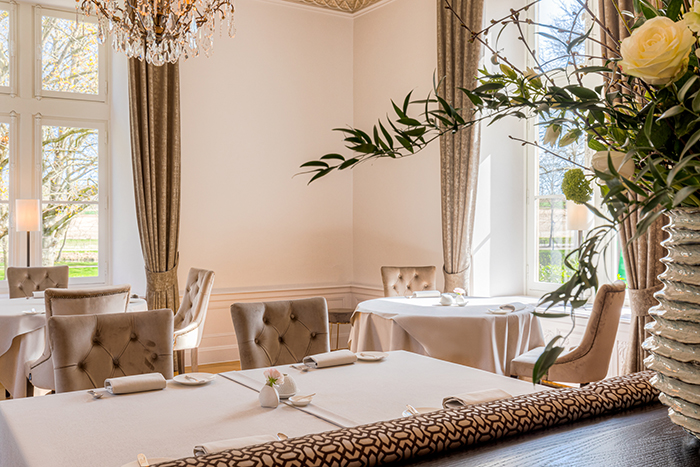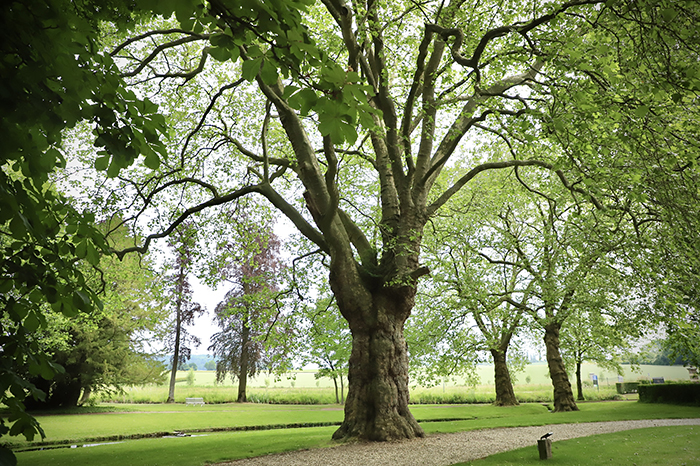 Creation Of A Culinary Voice
The menu that Guido offers to his guests at Julemont has a very strong and classic French base. Then he gets creative and plays with ingredients and influences from other countries and cultures, like Asia or Latin America, to put his own twist into things and achieve dishes that are clean but exciting at the same time. Some of his standout dishes include the Japanese Hamachi with ponzu, sesame, radish and imperial heritage caviar, or the Kagoshima Wagyu with unagi, black garlic, onion and Hollandaise. It all starts with getting the best possible products:
"My style and what we do in Julemont is all about great products and flavor. It all starts with the suppliers. When I came to Julemont I had the opportunity to find the very best suppliers for fish, vegetables, meats and so on, and after I know I have the best to cook with, my focus changes to the sauces. It's my way of creating intense and memorable flavors", explains Guido with pride. Guido and Victoria also find common ground in one of the restaurant's most important values. For them, the star should be the food. It's not an experience embellished with show, smoke and mirrors. It isn't even about the chef. It's all about the guests, the food, the produce and flavor.
The sauces are also a big part of what makes Guido's food exceptional and he describes that trade as the result of year and year of trial and error, of trying every single preparation he and his chefs have done over the years. I asked: "If you were the Yoda Jedi master of sauces how would you teach me how to achieve the perfect one?" He laughed and said: "I can teach you that in ten minutes but you need to stay for three years doing it every day to understand it. People say "I can cook and I'm 25." No, you can't cook, you need to have a process for years and years to master it. Of course I could do a turbot ten years ago, but it was different every time. Now it isn't. I've been doing this sport since I was 14 and now I'm 39."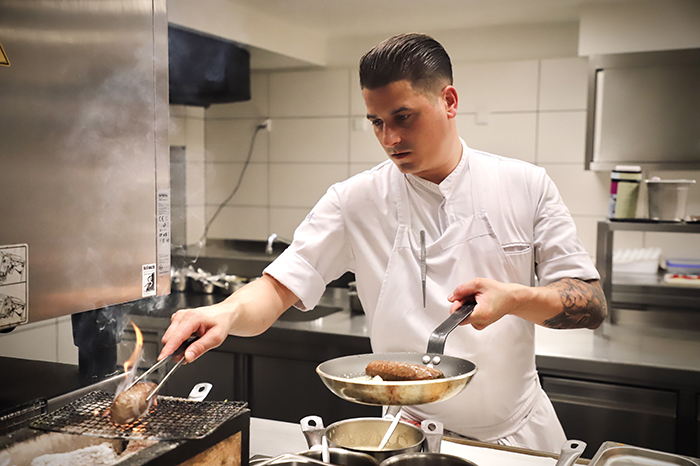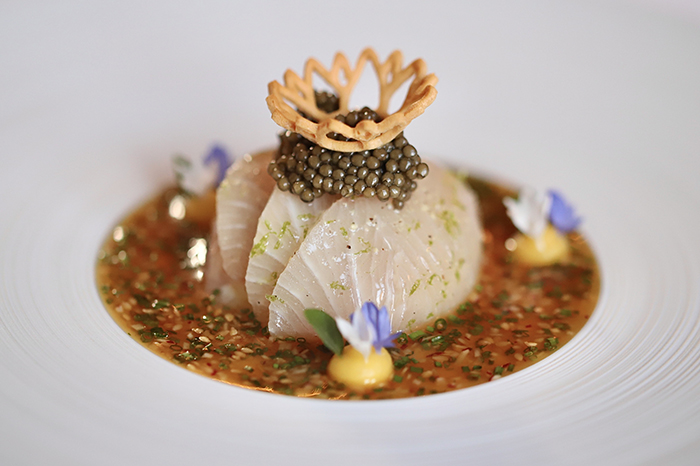 The Menu
During my visit to Château Wittem I had the opportunity to chat with Victoria Widen and Guido Braeken about my experience and there was a great moment when I asked them about what defines a great product that simply has to transcribed, as it perfectly defines the level of respect and understanding they both have as leaders of this project.
Me: "What defines a good product?"
Guido: "When you get fish it must be fresh, it must be in season. You have to see, smell, feel and taste the quality. It's also something that you learn with time. Then at the next stage you have to make something good out of this product. The starting point is the quality. When the strawberry looks good but has no taste, it's not a good strawberry."
Victoria: "And also I think that you handle the product with some kind of love."  
Guido: "When you have good suppliers and a good team, it's not difficult to find the product. When you have a good product you must handle it with love."
Victoria: "That's what I see in the kitchen. A bunch of tough guys that handle every vegetable or piece of fish with so much love."
Guido: "Like with langoustines. I only want the best size. And when you clean it you have to be gentle with it. Sometimes I see how people clean it and they destroy it in the process."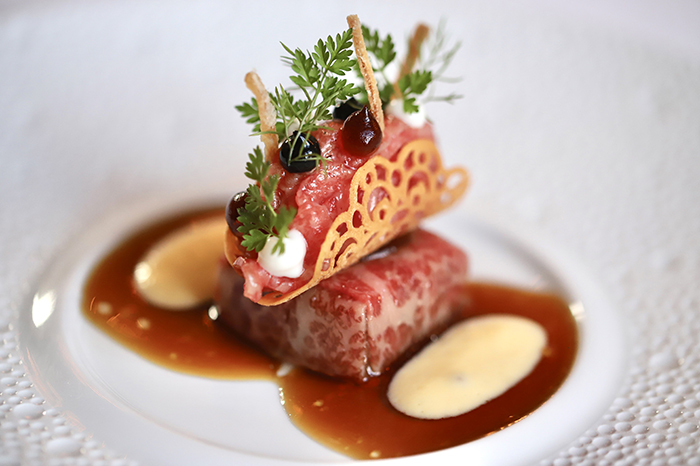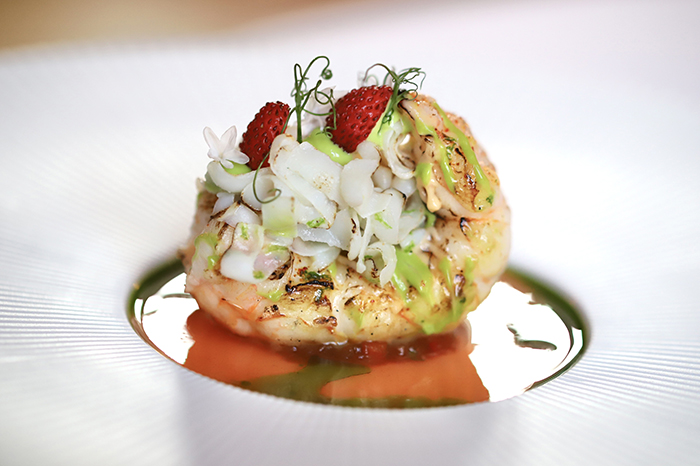 That tone of mutual respect is the core of what has made Julemont a successful endeavor. But as they explained during our conversation, it all comes down to the food. The menu starts with an array of tasty snacks served in the bar next to the restaurant. Examples can be the beautiful crab tartlet with fresh apple and trout caviar, the goose liver, apple and beetroot bite, or a crunchy and creamy bite of sea bass tartare. A quick change of scenery takes guests to the main dining room, with high ceilings and full of light, to begin with the tasting menu. A meticulously plated hamachi with sesame, ponzu, radish and imperial heritage caviar sets the tone and is a clear message of Guido's intentions. His base comes from tradition but his style is explosive, fun and takes a lot of inspiration in other culinary cultures, mostly the Asian one.
The second dish's main product comes from the southern region of Japan: The Kagoshima Wagyu is prepared as a tartare with unagi and wrapped in a perfect cube by two strips of marinated Wagyu. Then a vinaigrette and two spoons of Hollandaise round it up as one of Guido's most celebrated dishes.  The langoustine comes next, served with strawberries, sepia, green peas puree and a slightly spicy tomato sauce and tomato and strawberry jus. Unexpected, cooked to perfection, rich and balanced. A 10 out of 10. For every dish, sommelier Philipp Peter Bock recommends a well-thought pairing.
The impressive servings keep on coming. A Breton turbot with eel, dashi, fermented white asparagus Beurre blanc and shir. Kombu is another great example of a carefully treated product that got elevated by a sublime sauce. Or the red mullet, that brings a different influence of flavours with its mala, coconut and tandoori masala, topped with a generous serving of lobster. The last dish is also a star: Lamb fillet with a foam of green curry, green asparagus with tarragon and lime. A very well curated serving of cheeses follows to finally end the meal with desserts like the raspberries with goat yogurt, shiso, basil and caramelised white chocolate, petit fours and a much needed walk around the castle, before going upstairs to one of the rooms and realising what the meaning of culinary heaven really means.