The flesh of fresh cod is silky and practically melts in your mouth. Cod has a 'sweet' taste that you can just eat it on its own without seasoning, simply umami.
By Shannon Lim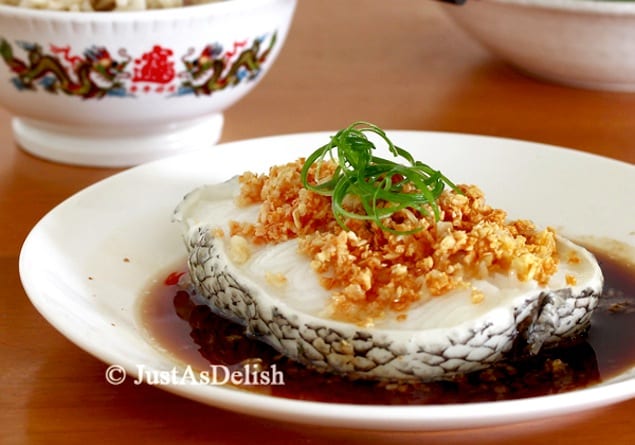 Steamed Cod Fish is another indulging recipe you can effortlessly recreate at home. This recipe is simple and absolutely delicious. Not only that, I can eat rice with just this awesome sauce alone. Steaming is a very healthy and easy way to prepare fish. Preparing a perfectly steamed fish just require a little knowledge. You will get a perfectly steamed fish with this timing:
Fillets 1 inch (2.5cm) and thicker: check at 10 minutes, add 2 minutes for every 1/2? (1.3cm) more thickness
Fillets less than 1 inch (2.5cm): check at 7 minutes
Super thin fillets: check at 5 minutes
Check to see if its done at the times indicated. Gently poke at the flesh in the middle with a chopstick or fork. If flesh flakes easily, then its done. If flesh sticks together still, then add 1-2 more minutes to cooking time. Also check to make sure you haven't run out of steaming water.

Hong Kong Style Steamed Cod Fish
Adapted from Annielicious Food
Ingredients
1? (2.5cm) thick Fresh Cod Fish Steak
2 slices Ginger
a dash of White Pepper
Sauce
1 tablespoon Light Soy Sauce
1 teaspoon Rock Sugar (or castor sugar)
1 tablespoon Water
1 tablespoon Hsao Xing Wine (cooking rice wine)
Garnishing
3 clove Garlic – finely chopped
1 tablespoon Cooking Oil
1 Spring Onion (green part) – cut into 1? length, thinly sliced and soaked in ice cold water
Instructions
Clean fish and pat dry. Place ginger in the middle of the steaming dish, and place fish on top the ginger.
Bring water in the steamer/wok to a boil on high heat and place dish to steam for 7 minutes.
While waiting, heat sauce ingredients in a pot to melt the rock sugar.
In another pan, fry chopped garlic with oil until golden brown.
Check for doneness of fish. When done, remove fish from the steamer and pour away the liquid that condensed on the dish.
Add a dash of white pepper and pour the sauce over the fish.
Pour the hot garlic oil over fish, garnish with golden brown garlic and spring onions. Serve immediately