Toast is a great addition for breakfast. You can add extra protein, fruit, fats or grains depending on how you eat your toast. We're going to build your everyday toast 4 ways. While bread and butter are definitely a favorite, sometimes we have to change things up.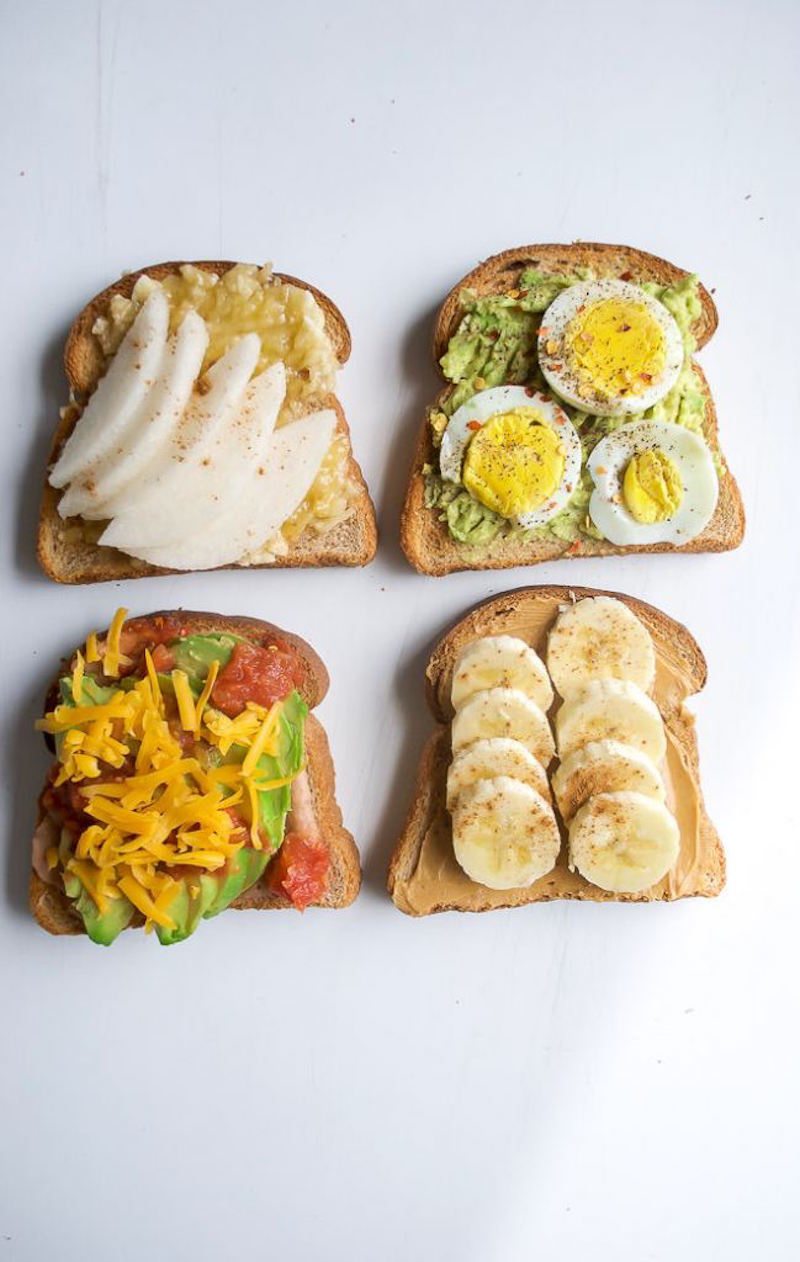 Start off your day with healthy(ier) toast ideas:
Mashed Bananas + Other Fruit – Mash half a ripe banana and place on top of toast. Top with pears or other favorite fruit like strawberries or blueberries, or add granola, sunflower seeds, cinnamon or maple syrup to add that extra bit of flavor.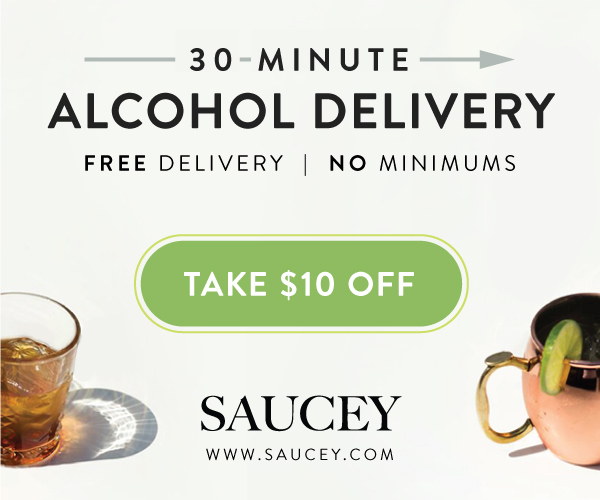 Avocado with Boiled Egg, Salt + Pepper – Cut up half an avocado. Mash it using a fork and place on top of toast. Add boiled egg, salt, and pepper. This is great for adding extra healthier fats (from the avocado) and protein (from the egg).
Beans, Avocado + Cheese – Tex-Mex style toast with beans, avocado slices, and cheese and a dash of salt and pepper. Another great way to add protein to your morning breakfasts. Use either refried beans or go a little healthier by boiling your own pinto beans (you can add a seasoning or two if you'd like and a splash of chicken broth) and blending them to a smooth consistency.
Nut Butter + bananas – Spread peanut butter on toast and top with sliced bananas.
Each of these new ways to toast takes 15 minutes or less to make. And that's only if you have to make everything right then and there. If you already have boiled eggs in your fridge or leftover refried beans then you can make this breakfast is less than 15 minutes.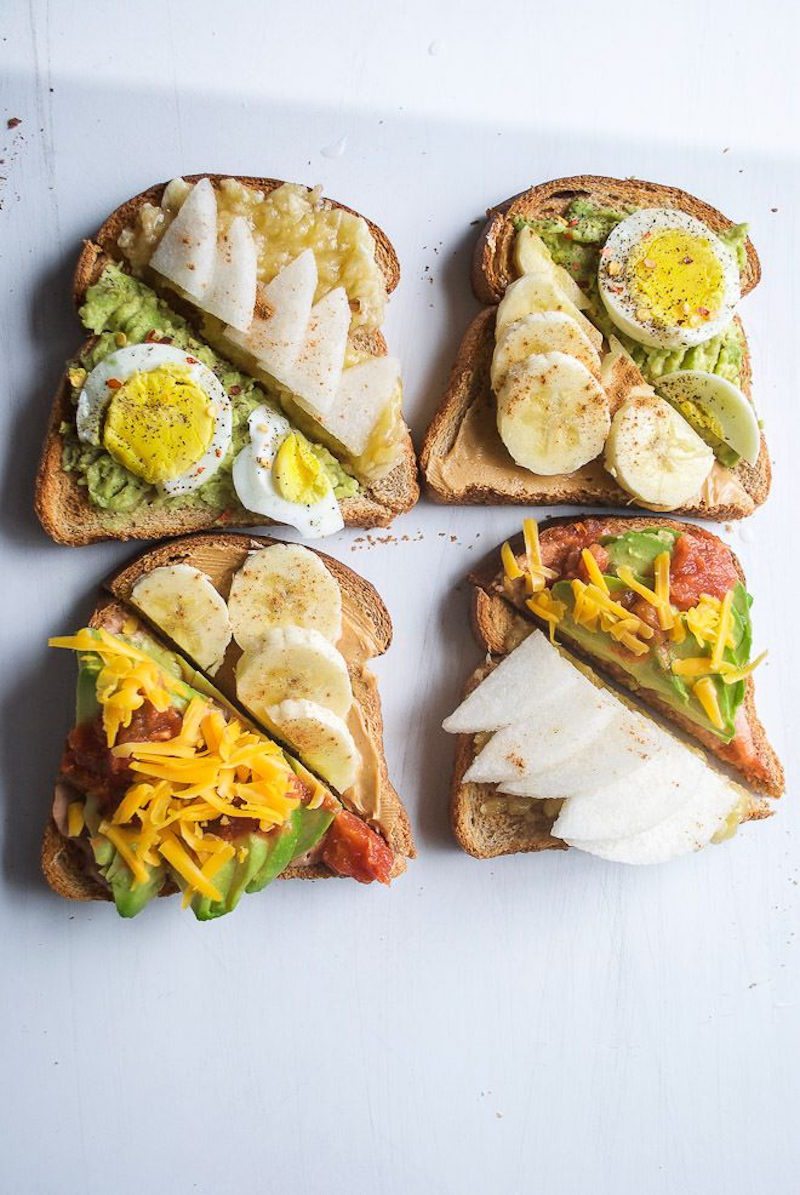 Also, the type of bread you use makes a huge difference in flavor. I love hearty wheaty breads (homemade is great for this too! – I'm still working on developing a homemade bread recipe so stay tuned.). When toasted, it has a nice crunchy nutty flavor that makes my tastebuds dance almost every time. So, I'd recommend using your favorite bread because it will also add to it's delicious flavor.
Next time you think about having toast try to build your toast in a different way! The extra fats and protein will help to keep you feeling fuller longer so you're not as tempted by all those sweet treats. Great for those New Year's goals/resolutions, right?!
Enjoy this toast and happy cooking from my kitchen to yours! Hope your New Year is off to a wonderful start!

4 Ways to Build Your Toast
Ingredients
For Mashed Bananas + Fruit
1 slice bread, toasted
½ banana, mashed
½ pear or other favorite fruit
dash ground cinnamon
For Avocado with Boiled Egg
1 slice bread, toasted
½ avocado, mashed
1 egg, boiled
pinch salt
pinch pepper
For Beans, Avocado + Cheese
1 slice bread, toasted
1 Tbsp refried beans (or homemade)
½ avocado, sliced
1 Tbsp shredded cheddar cheese
1 Tbsp salsa
For Nut Butter + Bananas
1 slice bread, toasted
1-2 Tbsps peanut butter or other nut butter
½ banana, sliced
dash ground cinnamon
Instructions
For Mashed Bananas + Fruit
On toasted bread, top with mashed banana and slices of fruit.
Sprinkle a dash of cinnamon, sunflower seeds, chia seeds, or other desired toppings!
For Avocado + Boiled Egg
On toasted bread, top with mashed avocado and slices of boiled egg.
Add a pinch of salt and pepper and even a bit of crushed red pepper to add some spice!
For Beans, Avocado + Cheese
On toasted bread, top with beans, sliced avocado, cheese, and salsa.
For Nut Butter + Bananas
On toasted bread, spread nut butter.
Top with sliced bananas. Add a dash of cinnamon for extra flavor.