Every region in Italy that produces squash – which includes most of Italy – has a special variation of this bread.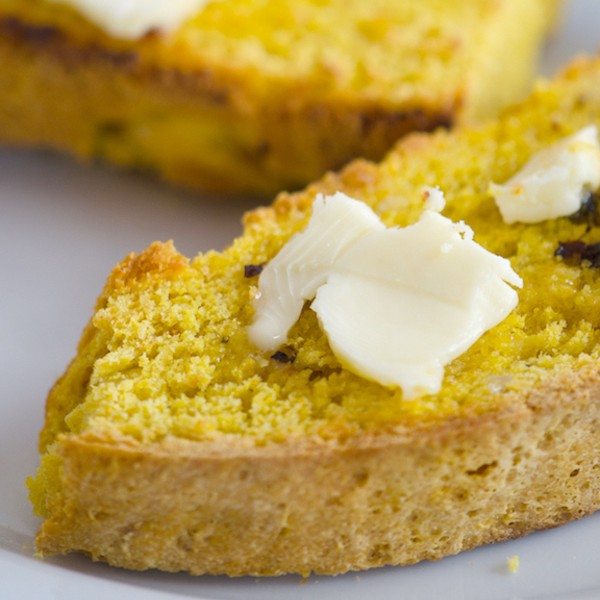 Kathy Bechtel
Every region in Italy that produces squash – which includes most of Italy, from Friuli and Alto Adige to Sicily – probably has some variation of this bread in it's cuisine.
Ingredients
2

cups

1/2 inch cubes pumpkin or butternut squash

Olive oil for coating squash and bowl

Kosher salt

2 1/2

cups

all purpose flour

1 1/2

cups

semolina flour

2 1/2

teaspoons

active dry yeast

2 1/2

tablespoons

unsalted butter

at room temperature

1/4

cup

hazelnuts

toasted, skins removed, and coarsely chopped

2

tablespoons

currants

soaked in a tablespoon of warm water, drained
Instructions
Preheat oven to 375°.

Place the squash cubes on a sheet pan, drizzle with olive oil and toss the cubes to coat them in the oil. Season with salt. Place in the oven and roast until tender, about 12 minutes. Remove from oven, and pass the cubes through a ricer to mash, or just mash with a fork until smooth. Allow to cool to room temperature.

In a large bowl, dissolve the yeast in 1 cup warm water (110°); let stand until foamy, about 10 minutes. If the mixture doesn't foam, begin again with fresh yeast.

In a second bowl, combine the all purpose flour and the semolina flour with 1 teaspoon of kosher salt. Add the smashed pumpkin, butter, and flours to the water and yeast, and, using your hands, combine to form a soft dough. Turn dough out onto a lightly floured work surface, and knead the dough for 10 – 15 minutes, until soft and elastic. As the dough becomes soft, knead in the chopped nuts and the currants.

Coat the inside of a large bowl with olive oil. Place the dough in the bowl, turning to cover the entire ball of dough with olive oil. Cover with plastic wrap and allow to rise in a warm place until doubled in size, about 90 minutes.

Turn the risen dough out onto a floured surface, and form it into a 5-6 inch round loaf. Place on a baking sheet and loosely cover with plastic wrap. Let rise in a warm place until double in size, about 45 minutes. While the dough is rising, preheat the oven to 400°.

Place bread on the middle rack in the preheated oven. Bake until the loaf is golden brown and sounds hollow when tapped, about 45 minutes, rotating loaf about halfway through. Transfer to a rack and allow to cool completely.
Kathy Bechtel
Kathy Bechtel's obsession with food and cooking began as a teenager. After years following a traditional career path as a telecommunications engineer, she left to attend culinary school and wine training, and is now combining her passions for food and wine, the outdoors, and travel as owner and Culinary Tour Director of Italiaoutdoors. In this role, Kathy leads small bicycle, skiing and walking tours that explore the authentic regional cuisines, local products and undiscovered wines of Northeastern Italy.