Although most people won't be in a position to travel internationally anytime soon, destinations across the globe are finding ways to cater to regional tourists and keep their economies running. Zermatt in Switzerland may provide a blueprint to safely re-opening and welcoming guests again.
The last decade has seen a rise in fine-dining restaurants in ski resorts. Beyond the usual après ski menu options, dining experiences have been fine-tuned to perfection by many leading ski resorts – Aspen in the United States, Hokkaido in Japan and of course, Zermatt in Switzerland.  
While many ski regions in Europe have remained closed for this 2020/21 season, Switzerland has defied many 'trends' set by governing bodies and remained open to keep locals entertained and sane in this post-pandemic year.  
The village of Zermatt is rather unique and has taken this window of opportunity to keep struggling businesses alive. Speaking to a few hoteliers in the region, the hotels are at approximately 85% occupancy – which is not bad considering there are still travel restrictions in place.  
Zermatt – Setting The Example 
Zermatt is a car-free zone for those of you with climate change on your mind. Locals conveniently stop at nearby Tasch before jumping on a train to Zermatt. Tiny electric cars await you, zipping you to cable cars, the foot of the iconic Matterhorn and of course luxury hotels and chalets.  
Despite the region boasting an array of restaurants catering to everyone's palate, restaurants are not open this Winter season because of Covid, however, hotel restaurants are able to serve their own guests for both breakfast, lunch and dinner – as well as offer limited takeaway services to other travelers. 
Could this be a model approach to how travel can be saved in our post-pandemic lives?  
If you are wondering, mountain restaurants are allowed to provide takeaway services or delivery services (as are the hotels), so yes, life seemingly is quite 'normal' in Zermatt. 
So, if you happen to be in Switzerland or in Europe, consider popping into Zermatt for a short Covid-safe trip to fuel your wanderlust.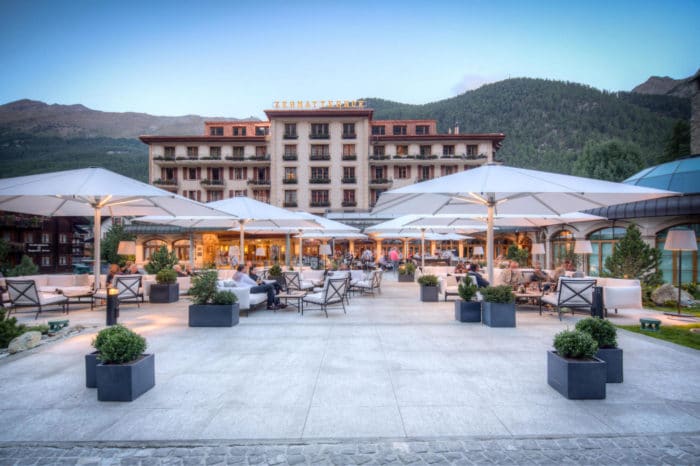 (Image Credit – Grand Hotel Zermatterhof)
Best Things To Do In Zermatt 
Fine-dining might not be an option for you self-professed gourmets but this only means you can enjoy Zermatt is all its rare beauty which include – a visit to the iconic and very dramatic Matterhorn, but if you are fortunate enough to stay in the legendary Grand Hotel Zermatterhof and find yourself in the 'Matterhorn Suite' you will wake up to the iconic natural wonder every morning without changing out of your pajamas. 
Skiing is of course a must in Zermatt – but if you are not up for the challenge, why not go on a Husky Sleigh Ride or my favorite activity – a Zermatters guided snowshoe session. You could also adhere to social distancing by visiting the Matterhorn glacial paradise – travel up by cable car to 3883m with views overlooking Italy, France and Switzerland without the crowds.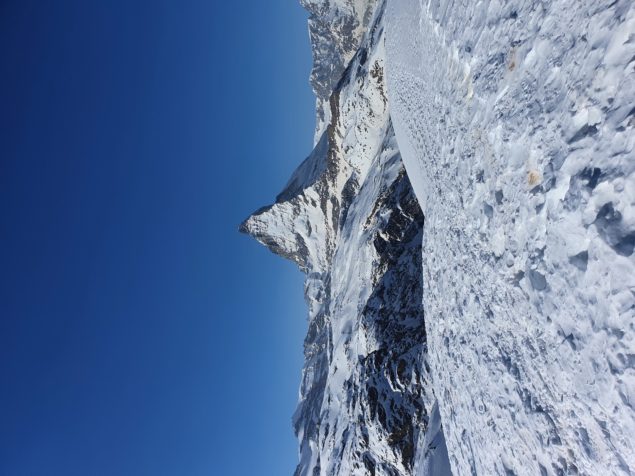 (Image Credit – Michelle Tchea)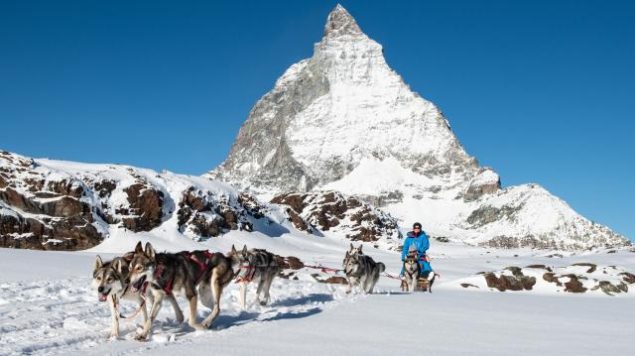 Credit – Image from Zermatters
Where to stay and what to eat 
Grand Hotel Zermatterhof, a member of the Preferred Hotel & Resorts is in the center of town with panoramic views of the village and easy access to all cable cars. Personally, I loved this hotel simply because the service is exception. Sophia, Paolo, Lukas, Julia – you can list all the names of the people you meet in the hotel and sound like you are giving an Academy Award acceptance speech and still miss out on naming one of the friendly staff members. The hotel is grand in appearance, rooms are modern yet traditional in some of their furnishings – it is one of the best customer experiences you will have in Zermatt and a top option for the grandeur which is Zermatt.  
TIP – the mixologist at Brasserie Lusi is fabulous. With many decades at the hotel mixing cocktails (I have been told), they are the best in the village – well-balanced and completely refreshing or strong – as you wish.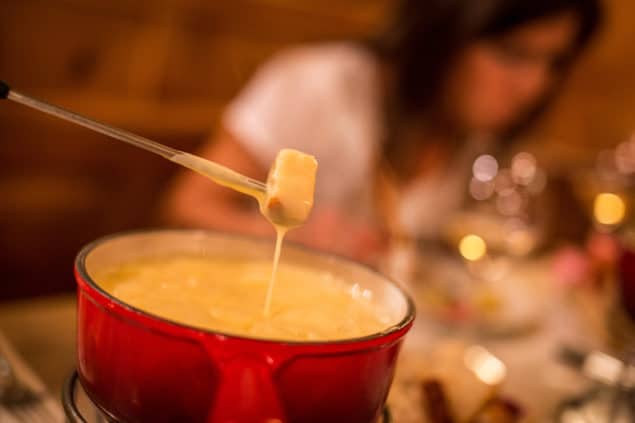 Credit – © Pascal Gertschen 
SayCheese! 
Fondue – why would you not dive into a vat of cheese after a heavy ski session? My favorite in town is SayCheese! Excellent service with a smile, a great local wine list from Valais vineyards and of course, excellent fondue.  
Schweizerhof Kitchen 
The Schweizerhof Kitchen is my favorite for lunch – great service, fresh ingredients with an Italian fare, as well as grilled meats and fresh seafood to choose from. At the hands of a very competent chef and supported by a great pastry chef, it is a treat here. 
TIP – Save room for dessert, the Baba Rum is meal within itself and definitely worth the wait. Ask for more booze and drench the dessert in it.  
Brasserie Lusi 
A touch of France in Zermatt at Brasserie Lusi with all the French classics. I loved the foie gras with sweet chutney served with a warmed chocolate toasted brioche, which was best enjoyed in front of the Matterhorn. 
Grill Le Cervin
Charcoal grilled meats, whole roasted sea bass and friendly service make this a nice restaurant for unpretentious but delicious dining in Zermatt. The Le Grill pastry chef is a nice surprise – try the Gingerbread dessert.
Michelle Tchea
Michelle Tchea is a 4-time bestselling author. Her books include, Building a Perfect Meal, My Little SoHo Kitchen, Signature Dishes (Australia's Best) and Chefs Collective. Her work can be found in other leading luxury travel and food magazines including Travel+Leisure Asia, SMILE, NUVO Magazine and The Telegraph