For creative cocktails and international bites, look no further in Bangkok than WTF.
by Jessica Smith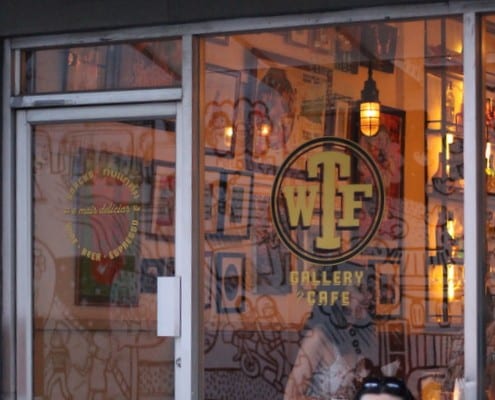 There's always room for another casual spot offering strong cocktails, small plates of good food, and ambiance that compels you to stay out far later than you planned on a weeknight night.  In Bangkok, WTF, does exactly that, with energy and style.
Although the kitchen in this charming restaurant with just a handful of tables is virtually nonexistent, the well-thought-out menu belies the location's size.  It delivers big flavor in sufficient variety for a satisfying meal.  From a spicy chorizo and chickpea stew with bread for dipping, to "Bombas" fritters of potato with tomato sauce and tart aoli, to a balanced plate of hard-boiled quail eggs, seasoned almonds, and olives, nothing on the menu disappointed.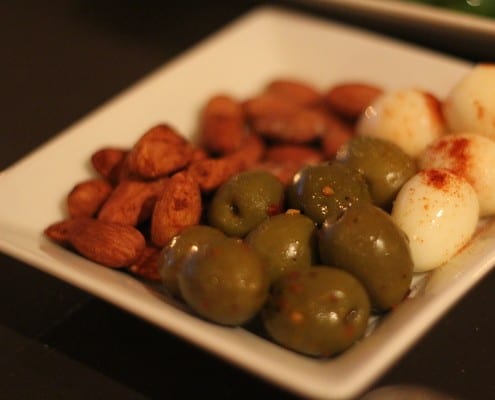 A bite-sized sandwich of spicy chorizo, manchego cheese, and over-easy quail egg was so satisfying alongside our drinks that last weekend, after eating one, our table ordered three more.
The music is fun, the vibe casual.  The upper floors feature a gallery space with an ever-changing array of artwork.  This is the sort of place where a "quick bite" turns into a late night.  And though it might result in fleeting regret when the alarm sounds the next morning, you'll quickly be looking for an excuse to return.
_________
WTF Bangkok  Cafe and Gallery
http://wtfbangkok.com/
#7, Sukhumvit soi 51 (5 minute walk from BTS: Thong Lo)
open Tues-Sun 6pm-1am
Jessica Smith
Jessica Smith is a native of the American Midwest, currently living in Thailand where she writes about food and travel throughout Southeast Asia. Jessica believes that the best way to understand a place is through its local cuisine.