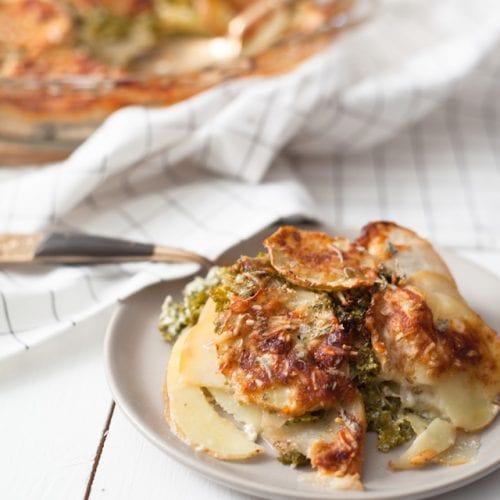 Winter Potato Gratin with Kale and Apples
A hearty winter dish loaded with nutrients, this gratin make a warm pan of kale, apples, and the versatile potato.
2

large yukon gold potatoes

thinly sliced

1

gala apple

cored, thinly sliced

1

bunch kale

roughly 2 cups, de-stemmed

a pinch of salt and freshly ground black pepper

1

tsp

crushed dry sage

1

tsp

chili powder

1

cup

parmesan cheese

finely grated

2

cups

low-fat 1% milk

2

tablespoons

butter
Preheat oven to 400 degrees F. Butter or lightly oil a baking dish (10 inch or so works well) or cast iron skillet.

Thinly slice potatoes and apples. Chiffonade kale leaves. Create a layer of potatoes on the bottom of the dish. Top with salt, pepper, half the parmesan cheese and a pinch of sage and chili. Create the next layer of apples, add kale and add one final layer of potatoes. Top with the rest of the parmesan, salt, pepper and spices. Pour milk over the top, into the dish and add pieces of butter on top. Bake for half an hour and drain off the remaining milk.

Return the gratin to the oven and bake for another 30-45 minutes until the top is golden brown and the potatoes are soft and easy to pierce with a fork.